Can you spot the wearable tech gadget in the photo below? Likely not. It's not your standard black, made-out-of-plastic, in-your-face wearable. But if you look closely, that stylish gold bracelet is actually a FitBit. Designed by Tory Burch, the bracelet is an example of the growing number of fashion-tech collaborations in the wearables industry.
Now answer this: Would you wear it? As more and more devices continue to pour into the market, making them fashion forward may be what put some above the rest.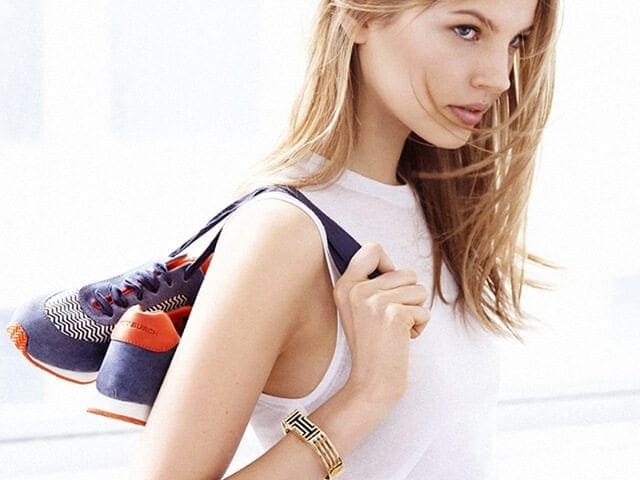 Runways around the world are fusing fashion and technology to produce sleeker, more "wearable" wearables. Recently, Toronto Men's Fashion Week partnered with We Are Wearables to feature brain-sensing headbands and wearable tech ties on its catwalk.
While consumer demand for wearable fitness devices has certainly exploded, many devices that deliver on function don't always go with every outfit.
Olga Okhrimenko, managing director of Fashion Zone, an incubator for fashion-inspired startups at Ryerson University in Toronto, says addressing form as well as function is the key to making wearables must-have, everyday consumer items.
"Lots of companies are looking into wearable technology because it's such a trend. It's tremendous in the last five years how many startups are developing the technology compared to 15 years ago. There are still a lot of questions about how technology will be used [in clothing] in terms of how washable it is or how stylish it is," she says, adding that several research projects housed at Fashion Zone are currently focusing on wearables.
Fashion first, tech second
The wearable technology market will grow into a $19-billion industry by 2018, according to Juniper Research. Experts say wearable products will have to be designed to be less discernible to increase adoption, particularly among consumers who don't necessarily care to show off their latest high-tech gadget.
A whole new generation of smart accessory companies are now emerging with a focus on fashion first, tech second. San Francisco–based Cuff has developed a jewellery line for women that is not only easy on the eyes, but also aims to keep its wearers safe. The company has received a lot of press for its accessories that act as safety devices. Squeezing the jewellery sends an alert with the user's location to contacts in her smartphone in case of danger. Similarly, Ringly has an embedded notification system within its ring line to notify the wearer when she gets a call or text on her smartphone. The company explicitly states that its "core belief is that technology can be more discreetly integrated into our lives."

Other startups, such as Everpurse and Wearable Solar, are experimenting with integrating technology into apparel beyond notification systems. Fusing gadgets into clothes and accessories that seamlessly mesh into consumer lifestyles. Wearable Solar, for example, uses the power of the sun to let wearers charge their phone. In an interview with TechCrunch, Pauline van Dongen, the line's designer, talked about her inspiration: "… working as a wearable tech designer, I know the difficulties when integrating these kind of bulky batteries that don't allow for any comfort or wearability. So that's why I thought, why not power your phone through your clothes? And eventually power other interactive qualities that our garments are becoming a platform for."
Olga, who is also a fashion designer, says she has noticed a trend in the hiring practices of tech companies that may offer insights into where the market is going.
"It's interesting how tech companies are now looking into hiring really good industrial designers with the knowledge of fashion. They need to have an understanding of styles and how the fashion trends are going, and know how to implement this into clothes," she explains.
Smart and stylish collaborations
That may be why tech Goliaths like Google are starting to partner with luxury designers to make their wearables both smart and stylish. In June, the company rolled out its "DVF | Made for Glass" collection of frames designed by Diane von Furstenberg. The company has also teamed up with Luxottica, the world's largest eyewear manufacturer for brands such as Ray-Ban, to develop and distribute smart eyewear. The evolution of the Glass prototype shows a conscious decision from the beginning to make style part of the product, all in an effort to make wearing technology a little less awkward and a lot more desirable.
By calling on Tory Burch to design a series of accessories, including pendants and bracelets, Fitbit is clearly looking to make its already successful Flex wearable fitness device more fashion forward. Consumers can pop it directly into the jewellery to track their steps without being obvious about it.

Olga says smart design like the Tory Burch pendant is what will push this type of technology into the consumer market and, more importantly, into the hands of female consumers who may want the gadget's features without the gadget look.
"Smartphone cases are a perfect example. People are using them every day, but putting different cases or different details so it becomes more customizable. People are trying to protect their phone, but at the same time, it has become an accessory," she says.
Earlier this year, a study found that women are outnumbering men among prospective buyers of wearables. Making wearable tech that appeals to fashion-conscious women (as well as men) makes good business sense.
"You can't always wear the same bracelet. If you design a wearable tech add-on for jewellery, it doesn't matter what kind of necklace or bracelet you're wearing but you can always have the wearable. When you're starting to implement this technology together [with apparel], it brings so much opportunity to the market and simplifies the lives of people," says Olga.
Here's a round-up of just some of the recent tech-fashion developments in the industry.
Read more