New workplace screening programs aim to help businesses outpace the coronavirus.
---
Stuck home in lockdown while the pandemic sunk in its first tenterhooks last March, the economist Joshua Gans began analyzing the COVID-19 policies that various governments were enacting. Their reactions to the virus seemed to only get more frenzied as accurate information about infections grew more difficult to pin down. Gans began to see the pandemic's spread as a management problem; he was certain that businesses could continue operating safely if they could get access to reliable data on who is infected. As part of a group of concerned business leaders — a group who believes good public health and economic policy can be synched — Gans started to conceive of a rapid coronavirus screening program designed to catch the disease in the workplace before it spread.
With the deployment of vaccines lagging and the economy suffocating, academics and business leaders are taking matters into their own hands. Several work-based screening programs, which employ low-cost tests that deliver results within minutes, are currently being piloted in both the public and private sector across the country. The aim? To create a shareable blueprint of the sort that Gans first envisioned last year.
"If you had that operating manual ready to go, the government could switch on the spigot and have this rapid testing used throughout the population. This is probably needed everywhere," said Gans, whose book, The Pandemic Information Gap: The Brutal Economics of Covid-19, was published last November. "You can't keep the virus out entirely. But by having a screening system, you can avoid multiple employees from becoming infected — you can break the chains of transmission — and you can keep your workplace open."
Gans is an advisor to what is thought to be the world's largest workplace screening pilot, the CDL Rapid Screening Consortium, a not-for-profit endeavour convened last August by U of T's innovation hub Creative Destruction Lab. Representatives from a dozen large companies, including Air Canada, Loblaw, Maple Leaf Sports and Entertainment, and Suncor Energy, began meeting virtually with the mission "to build the screening strategy we need to accelerate the return to normality."
"It was clear then that this wasn't a policy the government was pursuing," Gans said. "But workplaces still had the problem." They also had the growing sense it was theirs to fix.
Workplace transmission has played a significant role in the spread of COVID-19. Recent data from Peel Health Region, which has consistently posted Ontario's highest positivity rate during the pandemic, showed that one in four COVID-19 cases identified through contact tracing involved people who went to work with symptoms. Between last September and December, 66 percent of Peel's community outbreaks were traced to workplace transmission.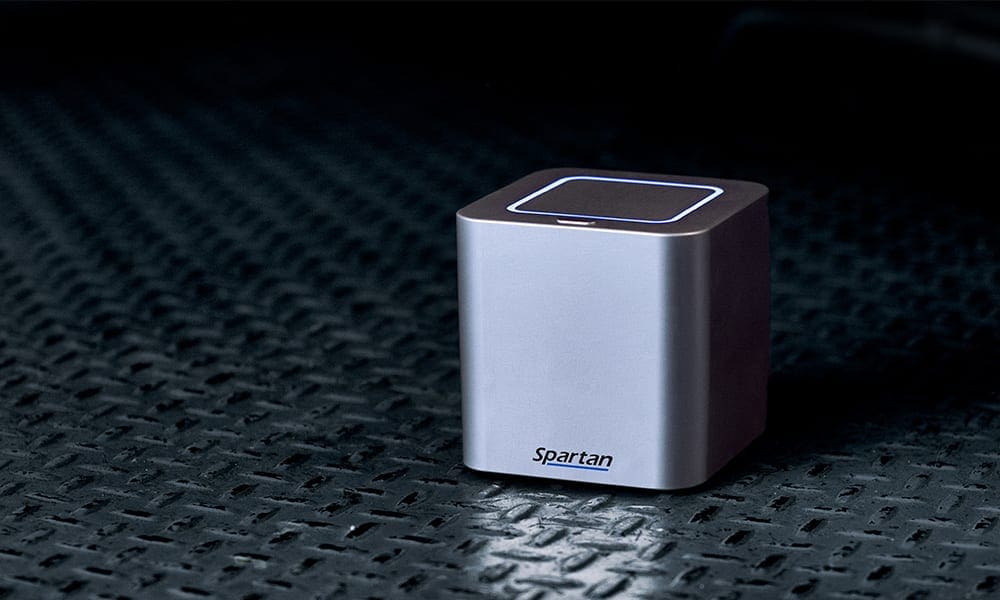 The gold standard of rapid tests
"There really hasn't been enough attention given to workplace safety and enabling businesses to get going and reopen the economy," said Roger Eacock, chief executive officer at Spartan Bioscience. The Ottawa-based company received approval from Health Canada in January to begin selling its portable, rapid polymerase chain reaction (PCR) test kit.
PCR tests, which detect genetic remnants of the virus, deliver results with close to 100 percent accuracy and are considered the gold standard for coronavirus diagnostics. However, most PCR tests require a complex, sophisticated and often time-consuming lab process.
Spartan's mobile, rapid PCR removes the lab and much of the wait time from the equation. Tests can be processed individually inside of a portable cube unit, which delivers results in less than an hour. Spartan's test can be used in a huge range of settings, including remote regions, offices or long-term care homes battling outbreaks, as well as in mining, oil and gas, forestry, and marine scenarios. Precision Biomonitoring, another Canadian test producer, received approval last November to begin selling its rapid PCR test, which provides results for nine samples in one hour.
"We've heard from many businesses that really want to provide some measure of safety for their employees and reassurance to their customers that they'll be able to continue business successfully," Eacock said.
Creating a first line of defense
While rapid PCR tests are effective, the cost — Spartan's runs at about $100 per test — may represent a barrier to frequent use for some companies. "PCR tests are diagnostically superior, there's no doubt," said Laura Rosella, an associate professor of epidemiology at the University of Toronto and an advisor to the Rapid Screening Consortium pilot. "But if we really are talking about testing billions of people around the world twice a week, we need something that's much more inexpensive. We need something quick that relies on minimal processing."
For now, as the national vaccination program rolls out slowly, rapid antigen tests are the answer. Where PCR tests look for genetic evidence of the virus, antigen tests look for proteins on the surface of the virus to determine its presence. Processing low-cost antigen tests takes less than 30 minutes and does not require a lab (they have often been compared to home pregnancy tests). But the tests have been criticized for their accuracy; those approved for use in Canada detect positivity in between 84 to 96.7 percent of cases and are most reliable when a person's viral load (and infectiousness) are high.
Still, experts are advocating for their widespread use as a screening tool that functions as a first line of defense. One pilot led by the Government of Ontario is using antigen tests in an eight-week project underway across 160 workplaces in the province, including long-term care homes, health care, industrial and other essential settings.
"A rapid antigen test in a school or workplace is much better than no test at all," Dr. Irfan Dhalla, co-chairman of the Canadian advisory panel on testing and screening for COVID, said in a recent tweet. The panel has recommended Canada increase use of the rapid tests.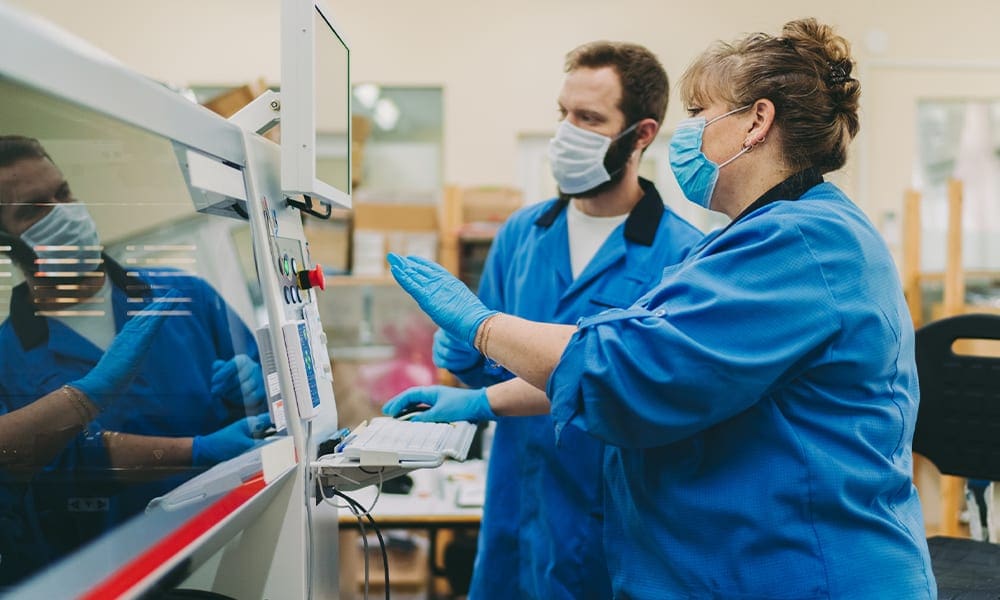 After four months of careful planning, the CDL Consortium launched their 10-week pilot across a dozen companies in January. Participants will test employees twice per week and, by the beginning of February, about 2,000 screens had been administered. Those who screen positive, Rosella said, will be directed to a public COVID-19 testing centre for a lab-determined PCR test. Consortium members continue to meet virtually each week to discuss lessons learned as well as effectiveness, efficiency and the operational impact of the pilot.
In addition to limiting the spread of COVID in their workplaces, the consortium's goal is to use their experiences to develop a blueprint that can be shared across a huge range of sectors to companies big and small. The next step will be figuring out how to make it financially sustainable.
"This can't just be for those who can pay for it," Rosella said. "If it's only accessible to a small group it's not going to be useful in ultimately controlling this pandemic."
For information on how MaRS-supported startups are helping in response to the pandemic, visit our COVID-19 directory.