Missions from MaRS
We are living in extraordinary times. Forest fires are becoming more frequent and more intense. Ditto extreme weather events. Parts of northern Canada are already warming up at three times the global average. To avoid irreversible damage and keep global warming under 1.5 degrees, we only have 10 years to find solutions.
Uniquely poised to help lead a global initiative, MaRS is making the climate crisis a priority. We are accelerating the adoption of carbon-reducing solutions through scaling cleantech ventures, working with business and government to create sustainable markets, and using our innovation hub as a platform to explore ideas and inspire change.
Join our Mission from MaRS and help us lead the charge toward a brighter, cleaner, more sustainable future.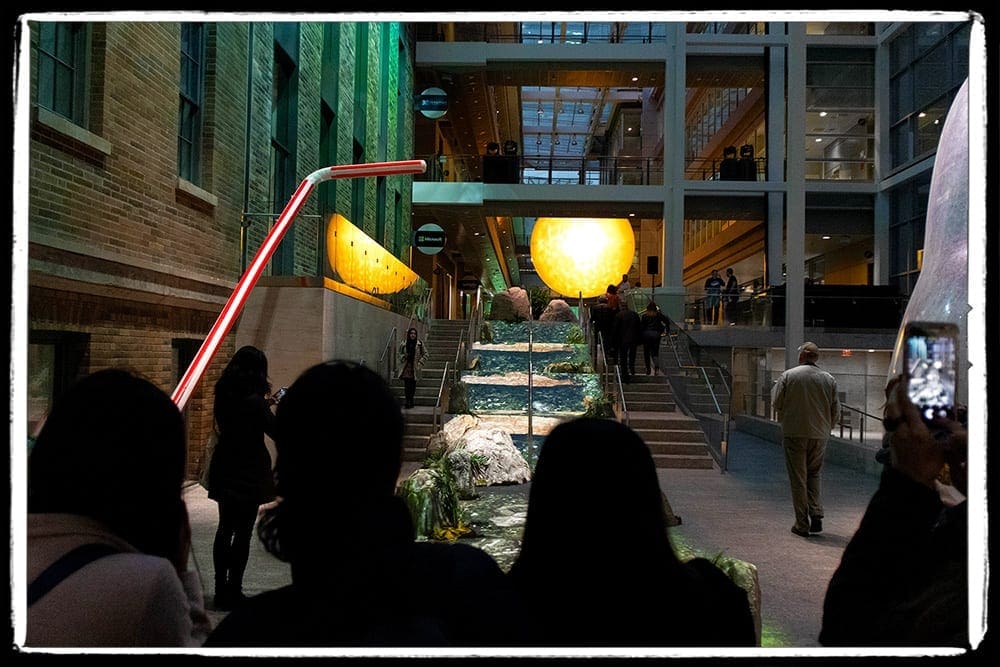 Transformation
A Rallying Cry For The Planet
Transformation is an interactive art installation designed to highlight the challenges and opportunities of the climate crisis, and how MaRS-supported ventures are leading the way to a more sustainable future. Housed in the soaring MaRS atrium and exhibited during Nuit Blanche, the largest contemporary art festival in North America, Transformation is a rallying cry for our planet.
Inviting visitors to wade through a 3D-projected river, stare upwards at a blazing sun, stroll through a 21st-century Eden and listen to special contributions from author Margaret Atwood and Grammy-Award-winning producer Daniel Lanois, Transformation was a sobering look at today's greatest environmental threats, and a hopeful vision of a sustainable future.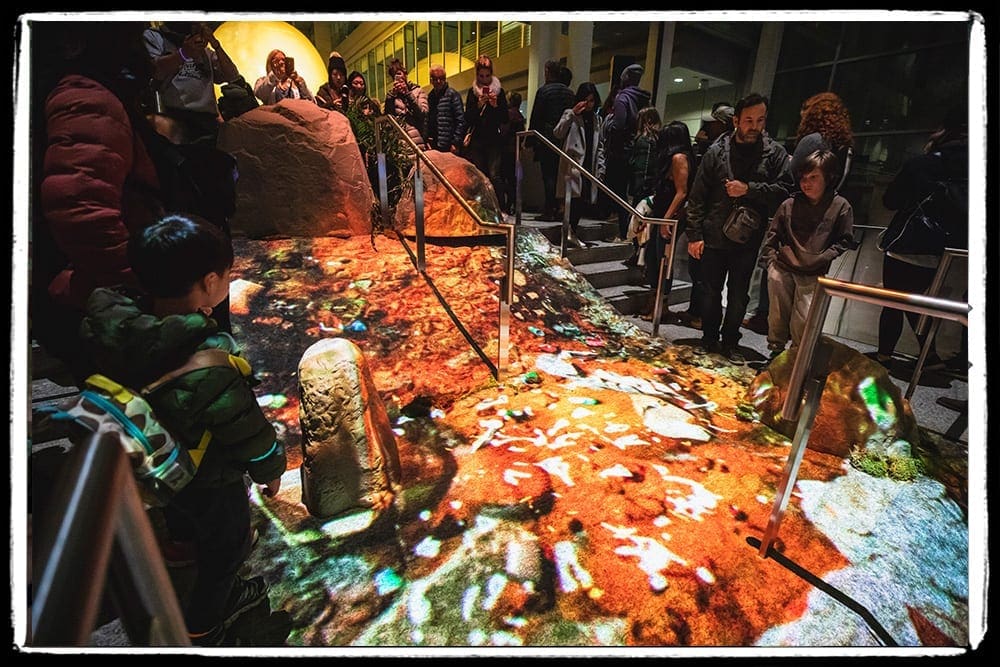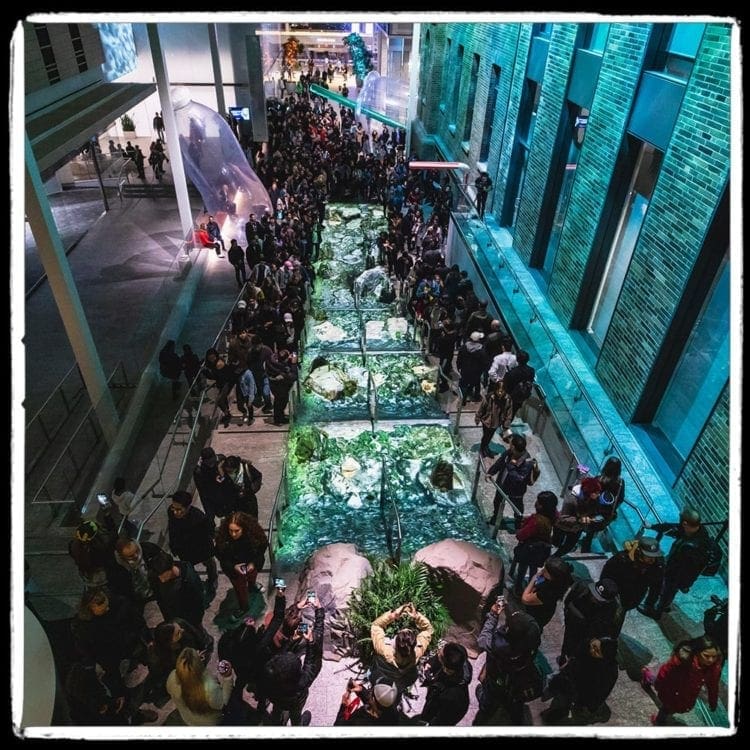 A River Flows
An interactive exhibit highlighting the effects of plastic waste
This interior projection mapping exhibit designed by Fezz Stenton of Occupied VR and projected by Jason Riordan of Pixel Magic Design, brought the MaRS atrium to life, inviting visitors to wade through virtual plastic-clogged rivers projected on the atrium floor and see the effects of plastic waste on our ecosystems.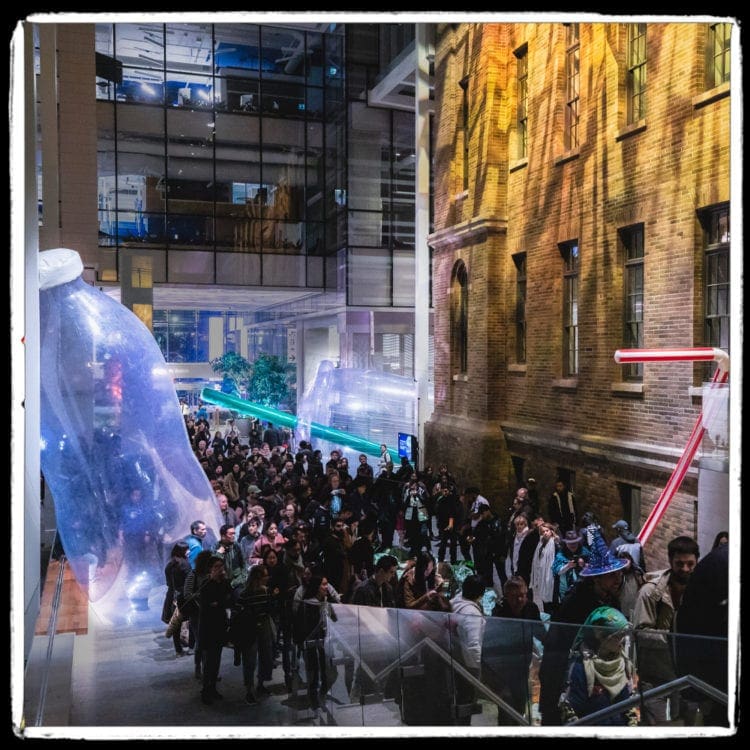 Natural Plasticitity
Sculptures that put single-use-plastics into perspective
As visitors waded through our projected river, they confronted massive, 20-30-ft. inflatable sculptures of discarded plastic objects designed by US-based artists Matthew LaPenta and Jana Cruder. These supersized sculptures of water bottles and iced americano cups prompted visitors to reexamine their own behaviours around single-use-plastics.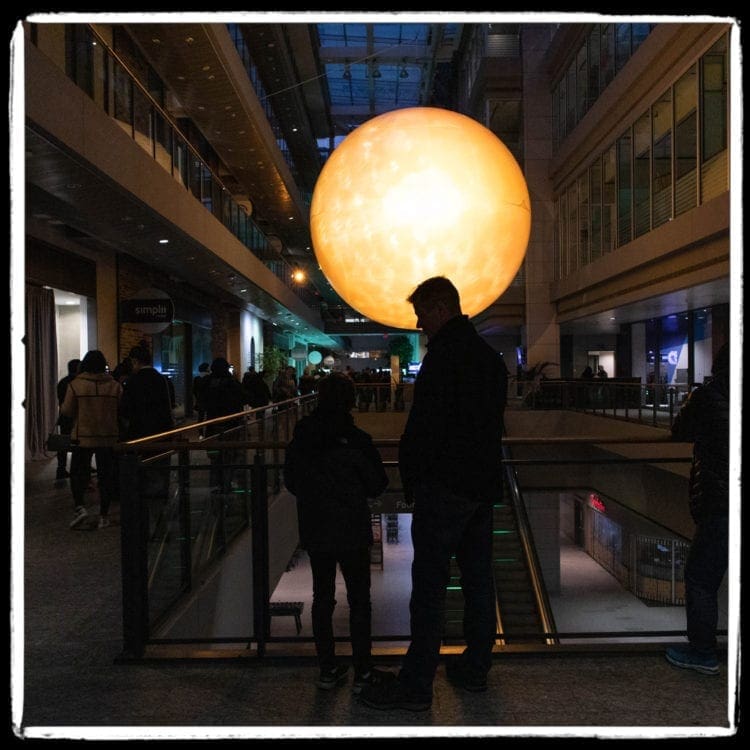 Global Warming
A warning that's impossible to ignore
In addition to 'A River Flows,' Jason Riordan's Pixel Magic Design also assembled a massive starlike orb that hung from the ceiling of the MaRS atrium, meant to remind visitors of the catastrophic effects of earth's rising temperatures.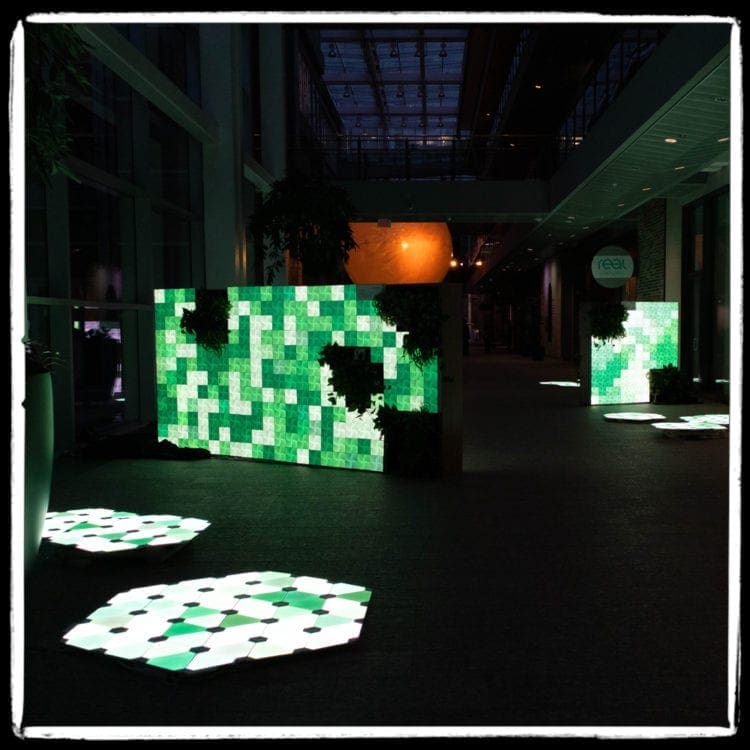 A Garden Glows
Light at the end of the tunnel
Meant to depict a more hopeful future for our planet, this installation featured 1,000 Nanoleaf panels arranged to form a glowing, living "garden" complete with real plants and LED "lily pads."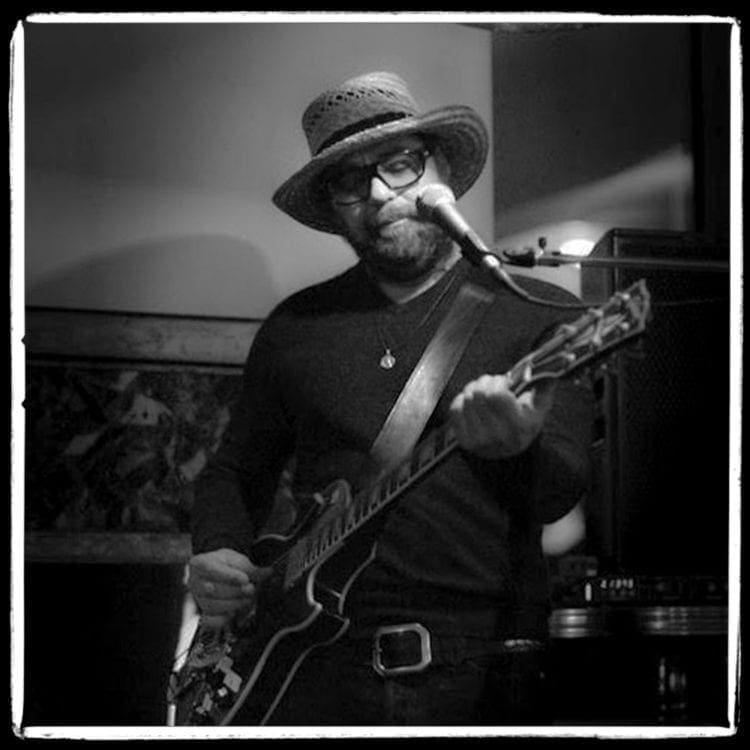 An Immersive Soundscape
Music and sounds designed to envelop the listener
Custom music compositions were created for Transformation by acclaimed Canadian musician and Grammy-Award-winning record producer Daniel Lanois, including a never-before-released song. Visitors to the atrium were also enveloped in a dreamlike, foreboding soundscape designed by Graham Bertie, meant to reflects the catastrophic effects of climate change and serve as a rallying cry for collective action.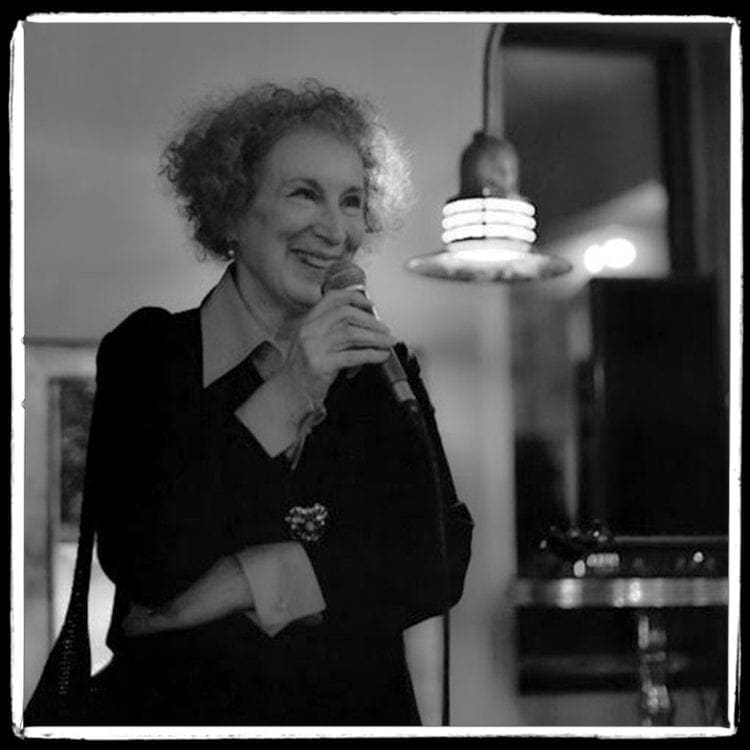 Two Visions For Our Future
Forward-thinking stories from some of our brightest minds
A video installation in the CIBC LIVE lounge featured readings of two provocative pieces of writing. Acclaimed Canadian author Margaret Atwood contributes an excerpt from her short story Hardball, in which she describes how the future will roll toward us like a "giant iron snowball" if we don't act now. London-born spoken word performer George the Poet reads a hopeful manifesto titled 'A Climate of Change,' which calls for grassroots collaboration to save our ravaged planet.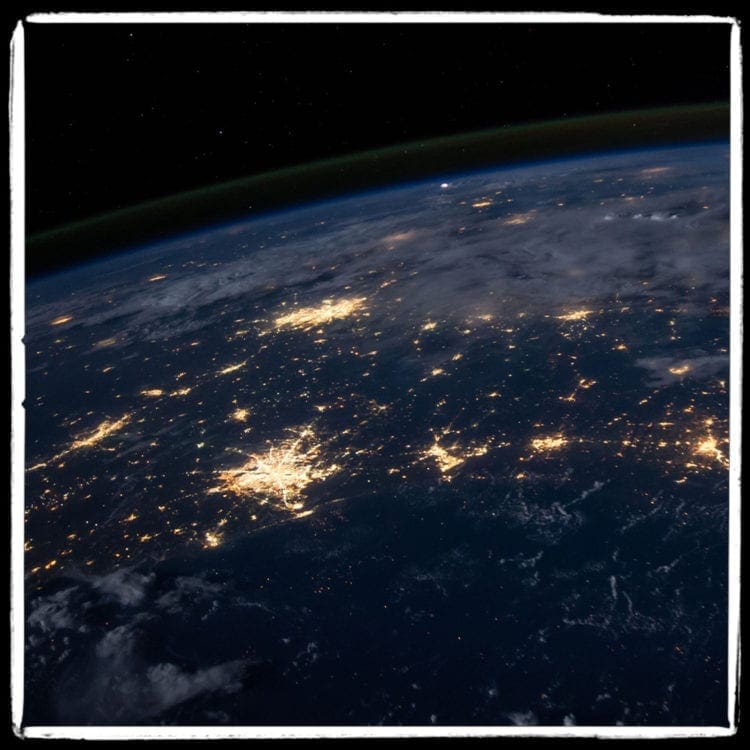 A Spotlight On Canadian Cleantech
Giving forward-thinking companies a platform
Throughout the atrium, we ran videos highlighting 16 MaRS-supported companies that are transforming the world for the better, using innovation to combat today's mounting threats to our environment. Whether through eliminating plastic waste, storing and generating clean energy, or improving the efficiency of our transit infrastructure, these MaRS-supported ventures are building a more sustainable future. Click the company name to view: Greenmantra, Pyrowave, Genecis, CarbonCure, Carbon Engineering, Carbicrete, TransPod, InMotive, Solar Ship, Magnovate, Hydrostor, Hydrogenics, NRStor, Nanoleaf, ecobee, Syngraffi.
Nuit Blanche
A world-class cultural event
Nuit Blanche is an annual all-night arts festival held in cities worldwide. Kicked off in 2006, Toronto's event is now the largest contemporary art festival in North America, drawing over 1.2 million attendees and significant local, national and international media attention. Nuit Blanche presents a key opportunity to raise awareness about MaRS, the work we do, and the positive impact our startups have on society.