Heavy trucks rule the roads of the industrial suburbs north of Toronto's Pearson airport — jamming traffic, fouling the air and shattering whatever peace may once have existed here in the engine room of the Canadian economy. This is not a place for the eco-conscious. But it serves as a useful dose of modern reality, a reminder of facts that many people — including government regulators — have long preferred to ignore.
Greenhouse-gas emissions from Canada's transportation sector rival those of the Alberta oil sands — the country's single greatest source. Between 1990 and 2015, emissions from the freight truck fleet tripled. In fact, diesel-powered trucks now cause more pollution than coal-fired power generation, and yet the federal government still has not announced the tighter regulations promised.
But not everybody is waiting for Ottawa to act. Here in the midst of the din, one bold startup is perfecting technology that promises major gains in the efficiency of long- haul trucks. Using heat energy from the exhaust of diesel engines that otherwise goes to waste, EnerMotion Inc.'s "Hyper" unit is able to supply emission-free cooling and heating to the trucks' cabs. Hyper improves fuel efficiency and eliminates the need for constant engine idling during rest stops.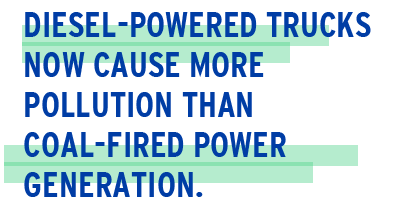 Had he known it would take nine years to bring the product to market, "I probably wouldn't have done it," admits Jack MacDonnell, EnerMotion's chief executive officer. But the first factory-made Hyper boxes are now rolling off an assembly line at auto-parts giant Linamar in Guelph, Ont., and undergoing final testing in some of the largest trucking fleets in North America.
EnerMotion's biggest challenge in attracting investors was its ambition to build "a box, a physical product," rather than software, according to MacDonnell. In a world where new apps from Silicon Valley can make instant millionaires, manufacturing in Ontario is not the sexiest proposition for investors. But with an advanced industrial infrastructure and abundant technical support available for the project — and despite the boss working without pay for five years — Toronto served the unorthodox startup well. "Because of our focus on clean energy, this has been the right location to be in," MacDonnell says.

Toronto is driving innovation in heavy transportation
EnerMotion is not alone. The Toronto area has become a hotbed of innovation in the often-overlooked but critical effort to bring clean technology to heavy transportation:
All located in Toronto and the surrounding area, these companies are also united when it comes to global reach. To test its new transmission, inMotive has teamed up with a major South Asian automaker. TransPod received its first round of funding — $15 million — from Italian high-tech holding company Angelo Investments. Hydrogenics fuel cells are powering a new zero-emissions train that is built by Alstom in France and operating in Germany. And Solar Ship is working with a freight hauler in central Africa to provide that region with disaster relief.

Finding success by refining existing products or disrupting others
With international connections built into their DNA, the companies are finding new ways to make the perilous journey from inspiration to commercial success, a road Canadian entrepreneurs have often found blocked in the past. The projects are as diverse as they are far-reaching, ranging from targeted refinements of existing technologies to plans for revolutionary disruption.

EnerMotion has chosen the former: "There's always emerging technology," Jack MacDonnell says, "but you can't replace infrastructure overnight." Cleantech visionaries describe a future of electric-powered trucks that drive themselves. "But what do you do during the transition period of 20 to 30 years?" he asks. "You have to do something now, and this technology does something right now. That's what's important."
At the other extreme, replacing infrastructure overnight — to "disrupt and redefine" commercial transportation in general — is exactly what Sebastien Gendron, the young founder and chief executive officer of TransPod, plans to do.
"The bigger it is, the better chance we have to bring it to fruition," he says. "The stars are aligned at the moment, especially in Canada. So we are pushing forward."

High-speed, levitating trains by 2025
With 30 employees in Canada and Europe, the company expects to have its first line — a magnetically levitated and propelled tube train that can travel between Montreal and Toronto in 30 minutes — built and running as early as 2025.
"Many people are telling me that Canadians are risk-averse," Gendron says. "I disagree with that. I still think there is room for innovation — more than we think here."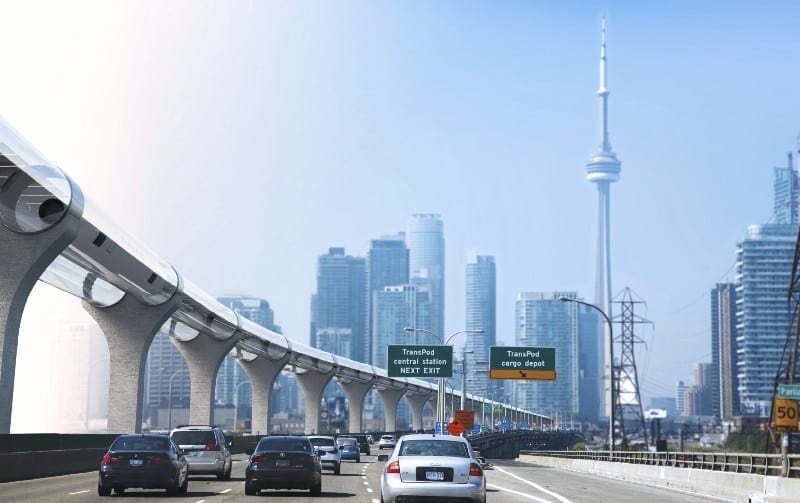 What's missing in Canada, he adds, are investors willing to finance home-grown innovations. "I think we can change that."
Paul Bottero, co-founder and CEO of inMotive, is not so sure. Innovation, he says, is plentiful. But his firm is a "textbook example" of Canada's failure to commercialize its own inventions. "We can't say enough about how well the Canadian ecosystem supports innovators," Bottero says. "In our sector, there's a lot of technical knowledge here, a lot of support in terms of fabrication, testing and so on. But the commercialization piece happens elsewhere."
In his case, Bottero adds, the reason is simple: "There are no car companies headquartered in Canada," he explains, "and the major decisions around something as important as a powertrain typically happen where the centres of power are." For inMotive, that means India, where its transmission is now being tested in electric vehicles made by one of Asia's largest auto manufacturers.

Roadblocks on the way to launching the "flying Tesla"
Solar Ship founder Jay Godsall has run into more complicated roadblocks on his decades-long quest to build what he calls a "flying Tesla" — a helium-filled blimp that can manoeuvre like an airplane. Being powered by hydrogen fuel cells and the sun allows it to be fully autonomous, operating far from roads or runways.
"The biggest hurdle is not so much money as doubt," he says. "Your greatest drag coefficient on your business is being around a bunch of people who don't believe you can do it, even if you show them all the things you can do."

Canada is "a great place to come up with ideas," he adds. "The universities are stacked full of fabulous people and, once you're up and running, this is a fantastic place to own and operate a business. But it's a really terrible place for support of its own innovations."
While Godsall says local investment remains sparse, he adds, "global money likes Canada, so I think the clear message for innovators today is, 'Do not stick to home.'"
And the message for local investors is that perhaps it's time to recognize what the rest of the world already seems to know: You have to start somewhere, and the Toronto region's growing expertise, established industrial base and advanced skills in new technology have made it one of the world's best places to do just that.