Join us for the next MaRS Mornings on March 9, 2016, with co-founder and CEO of Nanoleaf, Gimmy Chu. Register for the event.
On February 4, in honour of World Cancer Day, MaRS Mornings hosted not just one but four entrepreneurs who are working to improve the lives of cancer patients. Here are some lessons that I took away from this panel for those thinking of a career in healthcare.
No matter what your background is, you can make a difference in healthcare
It was heartwarming to hear Dianne Carmichael speak about her journey to the healthcare sector—one that I think resonates with many health entrepreneurs. Despite having a long and impressive career as a CEO in the financial services industry, Dianne decided to leave everything she knew after serving as an advocate, caretaker and decision-maker for her father during his struggle with cancer. "For me, my defining moment came at the side of my father's deathbed…I had no connections, just passion." This passion led Dianne to build Best Doctors, which now serves 40 million people across 40 countries. The company helps users attain important second opinions remotely, which helps them make informed decisions when it comes to their health and the health of a family member.
Be sharply focused in solving a clear, unmet need
I was shocked when Paul Weber, CEO of Perimeter Medical, shared this statistic: in North America, 170,000 women will undergo a breast lumpectomy this year and one in four of those women will need a second surgery because cancer cells get left behind. This is an example of a large problem, one that innovative startups like Perimeter Medical are capable of solving using proven technologies.
Perimeter's OPTIS system allows surgeons to see in real time if they've removed all the cancerous tissue. Paul emphasized that it's important for entrepreneurs to focus on one issue at a time, as it is easy to get distracted when a technology can be used in multiple ways. The risk is that if you stretch yourself too thin, you will not be able to fully understand what the customer needs and how the technology will be adopted.
Don't forget that sickness affects more than just the patient
Tamara Green knows from first-hand experience that food can heal, but after seeing her young friends in their 20s struggle to find food they could eat during their cancer treatments (which leaves many with nausea and a loss of appetite and saliva), she realized that her knowledge of holistic nutrition could have a greater impact than she thought. Tamara expanded the scope of her Living Kitchen catering company and created meals that could be delivered to people and their families during stressful times. Tamara pointed out that "many friends and family just want to help, so they come over with a big lasagna" that goes uneaten. After a lot of research and recipe testing, Tamara created a service that not only helps the patient but also allows others to express their love and concern for them.
Better data has the potential to transform healthcare
Jeff Chemeres' mother was diagnosed with stomach cancer in 2009 and passed away 500 days later, after which Jeff asked the oncologist if there was anything else they could have done. The oncologist replied that he didn't know. At the time, Jeff was running a customer experience management company that included clients like Starbucks. The company was analyzing 25,000 customer responses from 8,000 Starbucks locations across the US every month and could determine which locations were performing better than the rest. For Jeff, it was incredible that this kind of technology was being used to get a better cup of coffee but not to make lives better.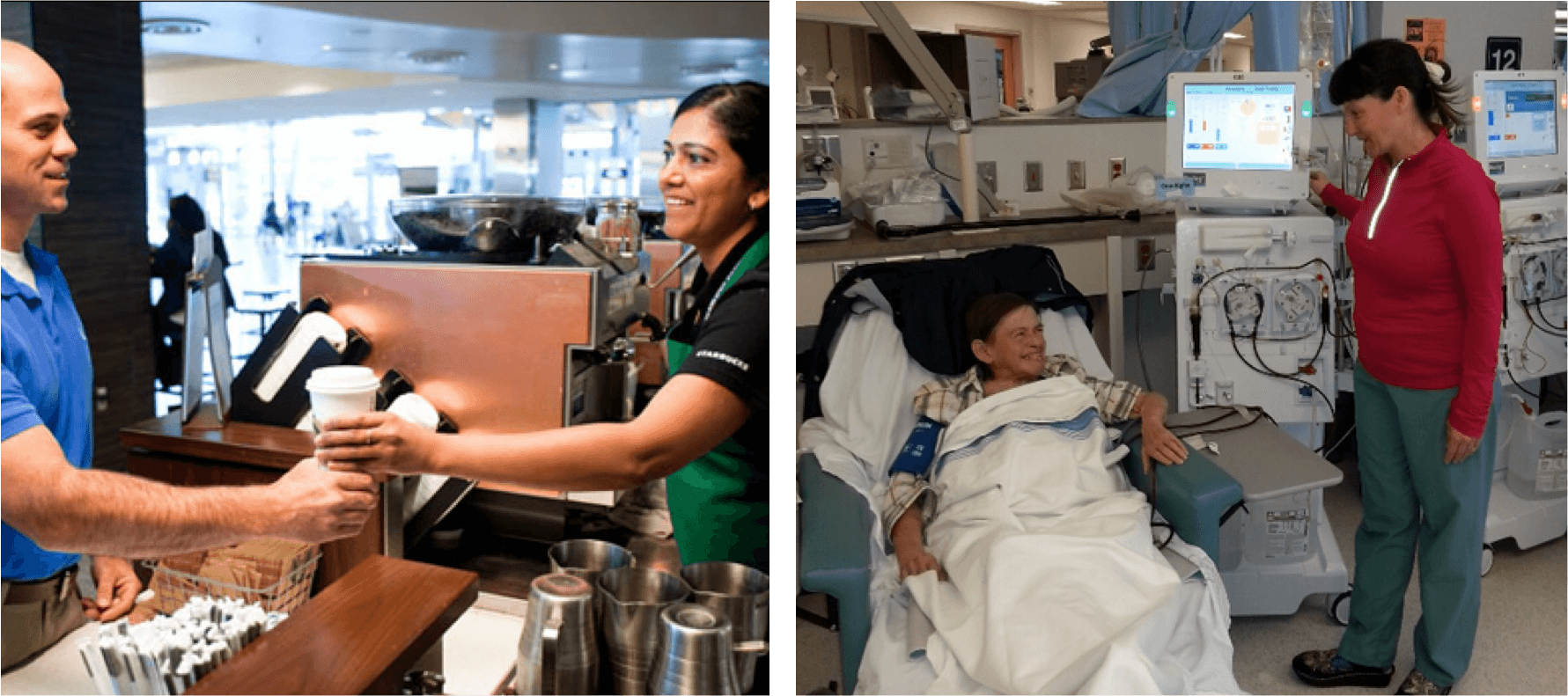 Jeff pointed out that "it costs pharma $2.6 billion for a new treatment, yet it only tracks 5% of patients who take the drug—that's a very scary proposition." With Pulse Infoframe, Jeff is using technology to track patients from point of care to after discharge, so that clinicians can learn best practices based on relevant information, including survivability rates. Pulse Infoframe is helping to identify patients for clinical trials and has created the largest and deepest registry of patients with melanoma so that together we can save time, save money and save lives.
Q&A with the panel, moderated by Dianne Carmichael
Can you talk about some of your strategies for getting a health technology adopted in Canada?
Paul: It is very difficult to get adoption for medical devices, and a lot of companies like ours focus other markets first. We built great relationships with researchers to prove out the technology, and have gone to the US or Europe. Once things are further talked about abroad, clinicians then have the power to ask for the technology here. It is a challenge and there has been a lot of effort to address this issue. The MaRS EXCITE program, as an example, is helping to get companies aligned with the regulatory and reimbursement bodies.
How has it been trying to find investment in Canada?
Jeff: We haven't raised a dime in Canada. There are many opportunities in Boston, especially for healthcare investment. When it comes to healthcare, do your research on where the money is being invested, and find seed and VC/angels that have invested in things like you are doing and try to find out who has received investment. Then don't necessarily go to them, but go to other investors like them. Investors are always looking for comparators and it is helpful when you go to try to raise money to compare your technology to something like it.
Is it a good or a bad thing that the Canadian government has control over healthcare?
Jeff: It is a challenge and can be a big barrier to entry. In the US, you have to go from hospital to hospital and make arguments based on making money for them. In Canada, if you can get that one person to believe in you, they can mandate a system-wide adoption of your technology.
Any nuggets of wisdom for the entrepreneurs in the audience?
Paul: Just do it. It is much more intimidating from the outside.
Tamara: Have a good support network and team. There are going be times when you fail and you need a team around you to console you when you question yourself, and also times when you need a team to celebrate with.
Jeff: If you have something more important than your market share, if you are solving the problem, not only do I hope you get compensated, I hope you also change the world.
Save the date! RESI on MaRS (conference formerly known as MaRS HealthKick)
If you are an early-stage health company looking to raise funds, join us on June 23, 2016 for RESI on MaRS. Hundreds of global investors and fundraising CEOs will arrive at MaRS for a day of pitches, investor panels, workshops and partnering.