Startups are hitting the ground running at MaRS Waterfront.
---
Toronto's newest tech hot spot is grabbing the attention of some of the most exciting innovators, and it's easy to see why. Located down by Sugar Beach in the Waterfront Innovation Centre, MaRS Waterfront is just steps away from the amenities of Canada's largest city with unbeatable views.
Featuring offices, meeting rooms, as well as access to retail and event space, MaRS Waterfront provides innovators with a quiet nook to collaborate, an impressive boardroom to host clients and an amphitheatre to celebrate big team wins. There's the Nexus event space, programmed by MaRS, and the Nucleus workspace, which was created in partnership with the University of Toronto Entrepreneurship. The floor-to-ceiling windows and views of the lakefront don't hurt, either.
Here's a look at some of the innovators who have recently set up shop here: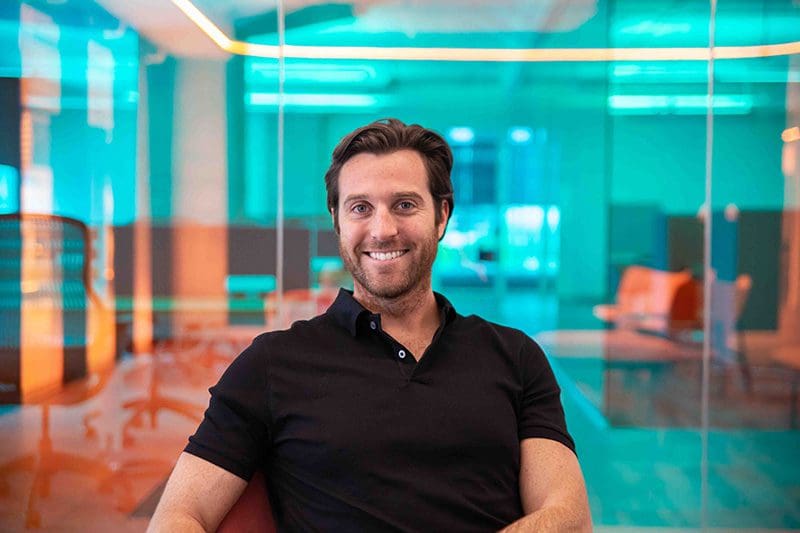 Autonomous Vehicle Organization (AVO)
David Hayes, founder and CEO
The elevator pitch: AVO started out developing computers and cameras required for self-driving vehicles and has expanded technology to help digitize spaces, such as construction and mining sites. "We can tell those companies what's running efficiently, and what could better streamline their resources and expenses," says Hayes. "Think of it like an operating system where you can plug in autonomous vehicles down the line."
Latest development: "We're about to launch our first global project in the Australian outback. Point to the middle of Australia on a map, and that's basically where we're shipping supercomputers and camera equipment to digitize a mining site."
Perks of office life: "It's like changing gears on a bike. When your startup gets to the point where you need to generate revenue, increase innovation and collaborate on difficult problems, you want to give your team the best setup possible," says Hayes. "There's a reason why the most successful companies in the world have private office space. MaRS Waterfront is a completely turn-key solution. We moved in on October 1, 2022, and there was no set up time — our team was working that same day in the office space. And the sheer size of this place means we can grow as a company and stay here. Plus, I love being close to the water. I was a professional windsurfer on the world tour for eight years. As an entrepreneur, if my day is going well or poorly, I can just go for a walk along the water. I mean … you can't do that in the downtown core, right?"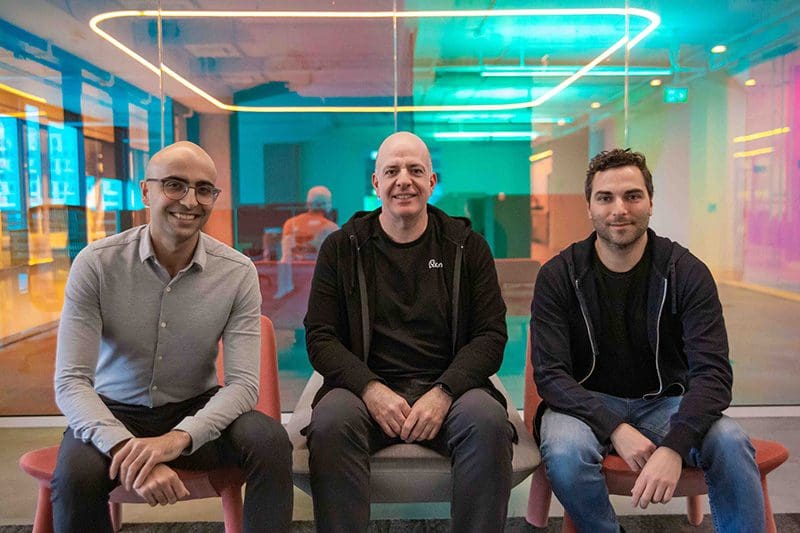 KeyOps
Dr. Saeed Darvish-Kazen, cofounder; Peter Doulas, CEO; and Dr. Sam Elfassy, co-founder
Elevator pitch: "KeyOps is a two-sided platform that solves a collaboration problem," says Doulas. "When a pharmaceutical company releases a product, it needs to work with physicians to sell that product and achieve its commercial objectives. However, the way pharma companies interact with doctors is very outdated, and there's room for modernization. That's where KeyOps comes in. We came up with a physician engagement management solution that allows physicians to do this on their own while retaining an arm's length relationship."
Latest development: KeyOps currently has 17 customers and more than 1,200 physicians in its network, and is looking to expand into the American market. "We've solved that classic product-market fit problem, and now we're ready for scale and growth," says Dr. Darvish-Kazen.
Perks of office life: "We launched virtually during the pandemic, so getting people back into the office is critical. The space should be inviting and warm and collaborative — otherwise people are going to want to stay home. Amenities matter. And from the conference rooms to the desks and chairs to the kitchen and communal spaces, this is an awesome atmosphere," says Doulas.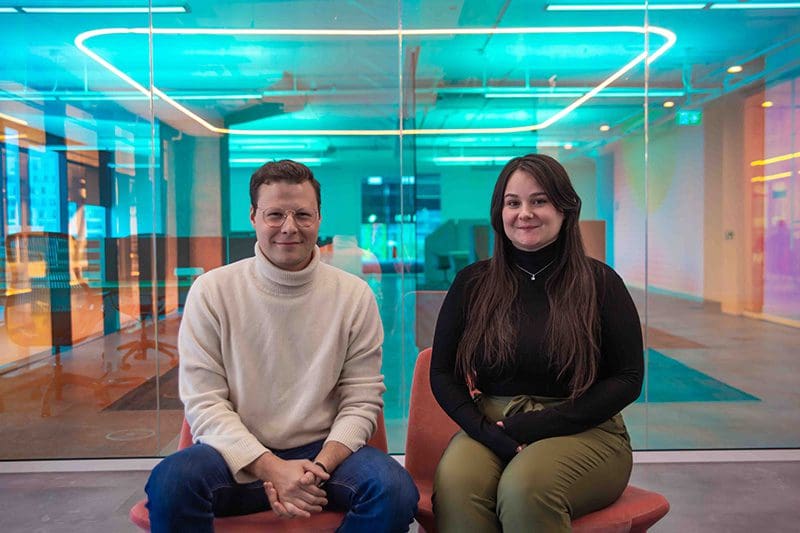 Oncoustics
Raul Blázquez-Garcia, deep machine learning scientist, and Meaghan Gray, program manager and design lead
The elevator pitch: Oncoustics is developing AI solutions for low-cost diagnosis of diseases. "Our device uses AI to quantify the data and delivers a report back to the doctor," adds Blázquez-Garcia.
Latest development: This summer, Oncoustics raised $5.5 million in seed funding and is in the process of getting FDA approval.
Perks of office life: "We have a communal candy jar. Our colleague Miriam puts out these terribly strong mints. Some people can't even eat it, but she absolutely loves it, which is probably her secret plan so nobody steals her mints," says Gray. "I think people might underestimate how important it is to surround yourself with a good working environment. And this is an exciting place to be. We're neighbours with really innovative companies, which is always inspiring."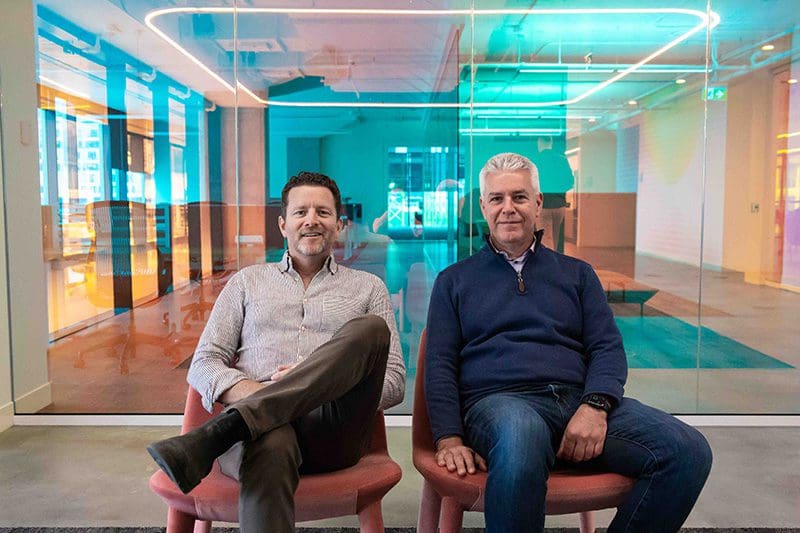 Qui
Kirk Simpson and Peter Carrescia, co-founders
The elevator pitch: Qui is developing software to make it easier for people to verify their identity online for such things as opening bank accounts or applying for a mortgage or getting a job. By using decentralized technology, Qui puts users in control of storing and sharing their information. "Our desire is to give that control to users in a privacy-centric way, so they can take better control of their identity and the existing world of sharing files through unsecure means or big companies having access to more data than you'd like goes away," says Simpson.
Latest development: The team is making great strides in both user research and product definition, and is finalizing technology stack decisions. "It's still relatively early days for decentralized identity, so we're spotting the gaps that we can help fill," says Simpson.
Perks of office life: "It's state-of-the-art, brand new and it's beautiful," says Carrescia. "We love the location — it's great being right here on the lake with easy access to downtown."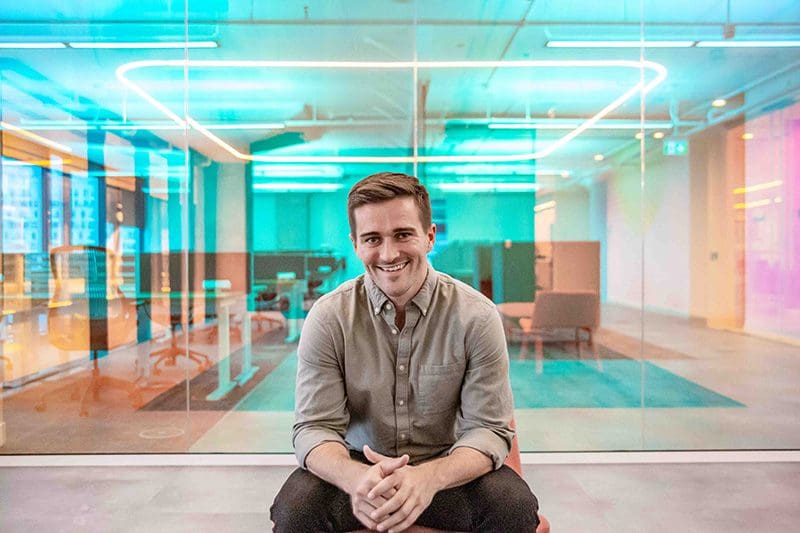 Tango
Mark Provost, founder and CEO
The elevator pitch: Tango makes life easier for restaurateurs. "There are three pillars of the hospitality world: sales, inventory and staffing. For someone starting their own restaurant or bar, these systems are built by different companies, and they're not designed to actually talk to one another, which is problematic," says Provost. "At Tango, we've built everything under one roof. Our tech solution makes systems that weren't designed to work together do just that. Our solution lets owners focus on making a good bar or restaurant great."
Latest development: "We're moving into phase two of our product development, so that means building all of our tech solutions in-house, and then layering AI on top of it all. It turns our product into what will essentially be the greatest restaurant general manager in the world. So far we've received market validation from one of the top hospitality operators in the country."
Perks of office life: "The biggest draw for me was the location. I knew we were going to need to recruit people in a very competitive labour market and this has given us the leg up. In this space you can go from one desk to a 40-person office. And there's a lot of similar-minded people at similar stages. Whether they're building a medical device or autonomous vehicle tech, you can collaborate on the same issues and challenges they might be facing in a different market."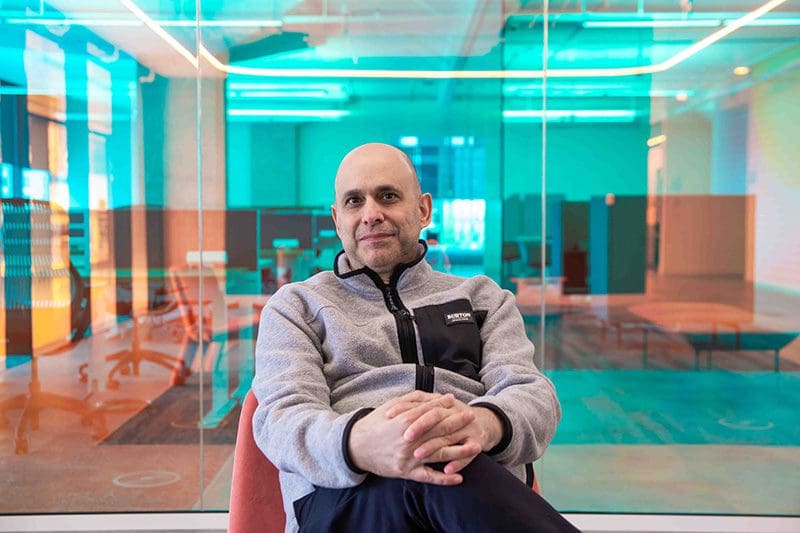 Uplinq
Ron Benegbi, founder and CEO
Elevator pitch: Uplinq provides a simple credit scoring assessment platform for small business lenders that helps them approve more loans. "I was inspired by my experience growing up. My family came to Canada in the early 1970s, and we were poor. My father was baking bread at night to put food on our table. In 1973, he went to a bank and asked for a small business loan. He didn't fit the bank's criteria, but the lender told my dad he believed in him and gave him $5,000, which my father used to start a small business to support our family," says Benegbi. "Small business has always been a traditionally underserved segment in financial services, so if we can help small business lenders to say yes more often than they did before, we'll have served our purpose."
Latest development: "We're working with a pilot project in Brazil, where it's especially difficult for small business owners to gain access to capital."  
Perks of office life: "I've been in other workspaces before and they don't compare," says Benegbi. "This place has really good energy to grow a business."
Want to build your business by the lake? Email waterfront@marsdd.com for information on leasing space at MaRS Waterfront.