When Gimmy Chu was a little kid growing up in Mississauga, he tried to build a perpetual motion machine in his basement. He failed (obviously), but that obsession with pure sustainability informs his business approach today. "There's no point in making tech for its own sake," says Gimmy Chu. "If innovations aren't widely adopted — if people don't buy your products — you'll never make a lasting impact."
Gimmy is co-founder and CEO of Nanoleaf, a Toronto-based startup that produces modular LED light panels that react to human touch and can be programmed with everyday digital devices. Beautiful, affordable and energy-efficient, the tech emits room-draping, technicolour light that mimics sunshine, making it perfect for both design installations and therapeutic exercises.
Nanoleaf is driven by the triple bottom line, a framework that measures success based on social, environmental and financial impact. "I've always believed in a more holistic notion of sustainability," Gimmy says. "I want Nanoleaf to create jobs, contribute to the economy and serve the planet long after I'm gone."
Gimmy's mission to make meaningful impact through entrepreneurship began shortly after studying engineering at the University of Toronto. Fascinated by solar power, he wanted to use his abstract knowledge to make real-world applications. So, after completing an Entrepreneurship 101 masterclass at MaRS, and raising funds through various crowdsourcing campaigns, Gimmy and his co-founders launched Nanoleaf in 2012.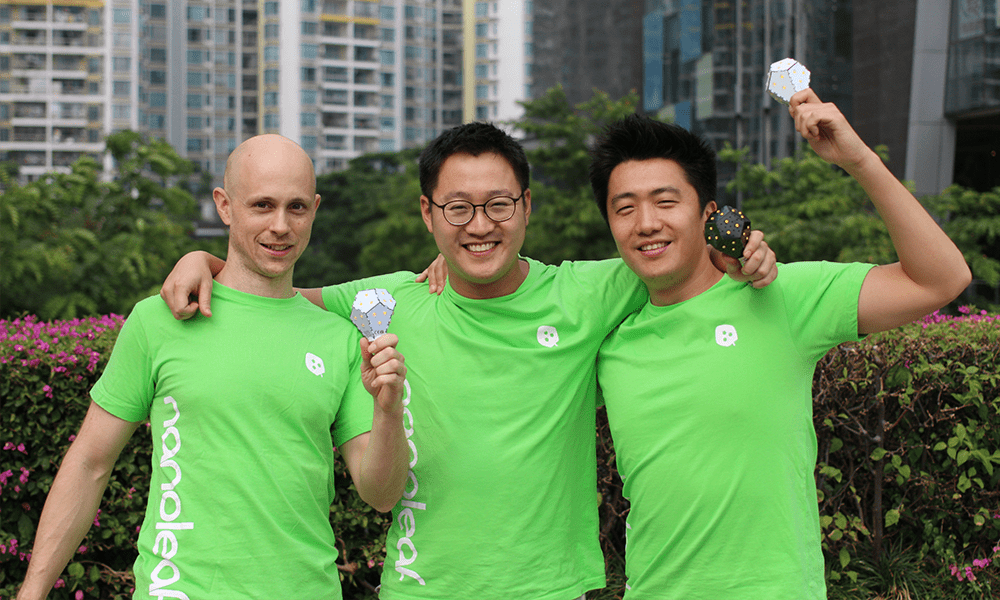 It took a few missteps before the company struck the right balance between altruistic science and business savvy. Nanoleaf's first product (the world's most energy-efficient lightbulb), for example, was an ingenious invention, but sales weren't as high as Gimmy hoped. "It was a strong device but too expensive for the average person. It was then that we realized broader market appeal was the key to broader impact."
Brilliant aesthetic, then, had to become a larger part of Nanoleaf's strategy. That meant trading some of the team's sacred engineering philosophies (like maximum efficiency) for more sentimental flourishes. "If you want to create something revolutionary — something people love — you have to think like an artist," he says. Indeed, Gimmy believes this renewed focus on the art of user experience is what elevated Nanoleaf from promising startup to global player.
Today, Nanoleaf sells products in 45 countries and its Toronto headquarters has never been busier. Always hiring, the company looks for passionate people who share in its sustainable mission. Nanoleaf's product list has also expanded, with a range of new environmentally friendly products set to launch in the coming year.
When pressed about the secret to success, Gimmy can't seem to wrap his brain around it. "I'm always shocked when I meet someone who even knows what Nanoleaf is," he says. "I still feel like that kid from Mississauga, tinkering with stuff, trying to create perpetual motion for the world."
But that, of course, is the secret.