The second generation of IoT technologies is helping organizations keep employees safe and facilities running during the pandemic, and Canadian tech is poised to lead.
---
The second generation of the Internet of Things (IoT) is here, and just in the nick of time.
As the pandemic continues to threaten public health and the global economy, businesses have gone from following five-year strategic plans to needing real-time data in order to make timely, informed decisions. Companies — whether they're in manufacturing, logistics or retail — need viable solutions that will help them navigate this precarious business environment. They require automation and remote monitoring to keep their employees and customers safe throughout the pandemic. They need tools to unlock customer insights, create nimble supply chains and streamline transactions. And they need to cut costs at a time when revenues are down while also planning for whatever might happen next.
Fortunately, IoT is maturing when it matters most: its ability to collect and analyze data and provide key insights are proving essential during this period of massive disruption. And Canadian IoT startups are well positioned to benefit.
Toronto-based InnerSpace Technology, for instance, has developed a Wi-Fi–based indoor location system for monitoring building occupants and their movements in real time. Prior to the pandemic, building managers were using that real-time information to perform such tasks as developing cleaning schedules, measuring use of meeting rooms and identifying underperforming real estate. Now those tasks have become a necessity as a way of enforcing COVID-19 safety protocols. InnerSpace's system also allows for COVID contract tracing, tracking and notifying workers if they come into contact with someone known to be impacted by the virus.
To help implement physical distancing requirements in factories, manufacturers are increasingly looking to automation measures, such as Canvass Analytics's IoT platform, which can predict process inefficiencies and equipment failures, anticipate defective parts and foresee energy usage, thereby limiting the need for human presence in buildings.
These new abilities stand in contrast to the first generation of the IoT, when firms and inventors were focused on getting sensors to communicate with central computing servers. In those early days, IoT technologies depended on the data infrastructure and analytic capabilities of an organization to deliver value. Sensor deployment was, in isolation, insufficient to transform operations. Now the final technology layer — that of intelligent applications such as those from InnerSpace and Canvass — have started to take root, showing IoT's real potential. Startups within the IoT are providing holistic technology that not only collects, but usefully interprets data and delivers cost savings and new capabilities to both businesses and users.
"What was missed in the early days of IoT was the value proposition that the connection of sensors and intelligence makes," says Jason MacFarlane, head of advanced manufacturing at MaRS. "IoT's capabilities are starting to be distilled down to the things that make most sense. It's now more focused in areas that bring a lot of value."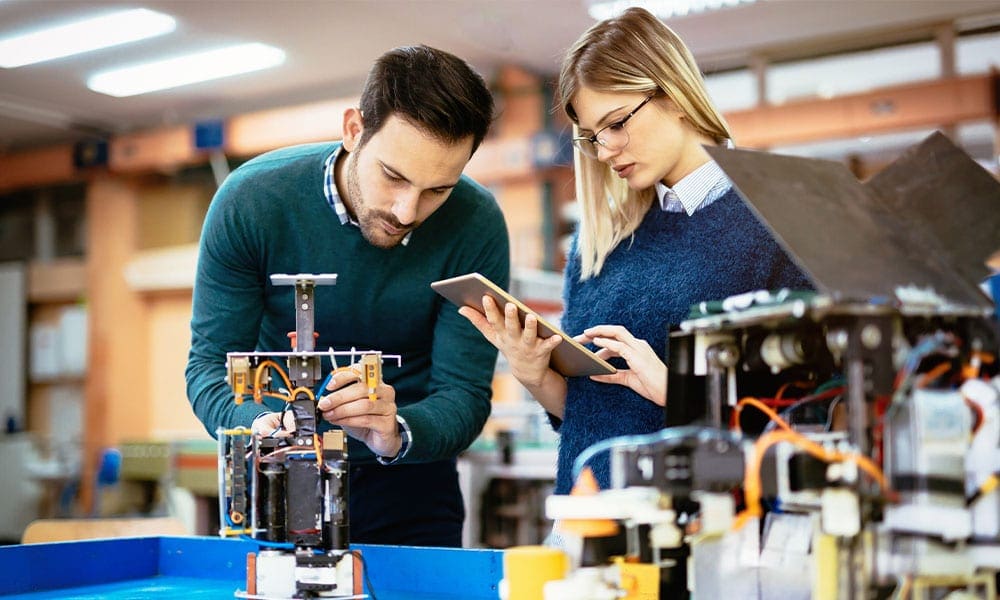 Canadian startups stand to benefit, given the advantage of a strong talent pool they can draw from when it comes to developing the various technology layers, especially in communications networks, software and artificial intelligence. Over the last decade, Canada's AI private sector has grown dramatically, with $3 billion in new investment and 50,000 jobs. In fact, Toronto has the densest cluster of AI startups in the world.
Interest and demand for IoT applications is ramping up. Toronto-based Litmus Automation reports a spike in interest in its factory management platform, which uses sensors to track the health of machines. BehrTech, also based in Toronto, is seeing its building-occupant monitoring system rolled out in 43 buildings across Canada. The company has accelerated plans to add air-quality sensors to its platform because of the pandemic.
"Many big organizations, especially the telcos, such as Rogers and Telus, have propelled their IoT initiatives through accelerator and incubator programs, partnerships, venture capital investments or even mergers and acquisitions," says Ha Nguyen, vice president at Toronto-based investment firm McRock Capital. "As the local giants realize the potential of IoT, they have become one of the driving forces for the development of the space, and local companies have benefited greatly from these activities."
The pandemic has been difficult to navigate for businesses of all stripes and has forced many to reconsider and rethink how they operate. With the Internet of Things maturing at the perfect time, it is presenting an unexpected opportunity for businesses to improve their processes and add new capabilities. But IoT technologies alone won't be enough. The IoT needs bold and creative leaders who can effectively realize the full potential of these technologies. Businesses that figure out how to take advantage of this technology will be poised to benefit from more information and speed than ever.
For more on how IoT is affecting cleantech, health and enterprise software please contact MaRS Partner Solutions: partnerships@marsdd.com.