If you think there's no excuse for putting on a dull conference, EventMobi could be the perfect workplace for you.
This Toronto-based company is breaking through the usual haze of presentation decks and event booklets with real-time mobile apps that enable planners to connect with audiences to make their events lively and interactive. EventMobi's apps turn attendees into participants with live polls and games that incentivize users to get involved. Its apps also support marketing, ticket sales, digital signage and post-event feedback, and can be tailored for any size of event, from staff meeting to industry summit.
Growth curve ahead
With 25% of some companies' marketing spends going to events, EventMobi is playing in a major market. Founded seven years ago, it is growing fast and now has almost 100 staff members between its offices in Toronto and Berlin. EventMobi counts major companies like Verizon, Black+Decker, TD Bank and Cineplex among its customers.
Give your career a makeover by trying on many hats
EventMobi is currently recruiting for roles in marketing, design and account management, but it's not necessary to think linearly when it comes to career paths. Curiosity is one of the company's values and management encourages employees to develop their careers by trying new roles and expanding their skills.
"At most other large firms, you're one of 15 people vying for new positions. Here, you feel like you're being heard. You get mentored. People actually care about your future," says Kristy Sadler, EventMobi's chief marketing officer. Unsurprisingly, the company has been certified as a Great Place to Work.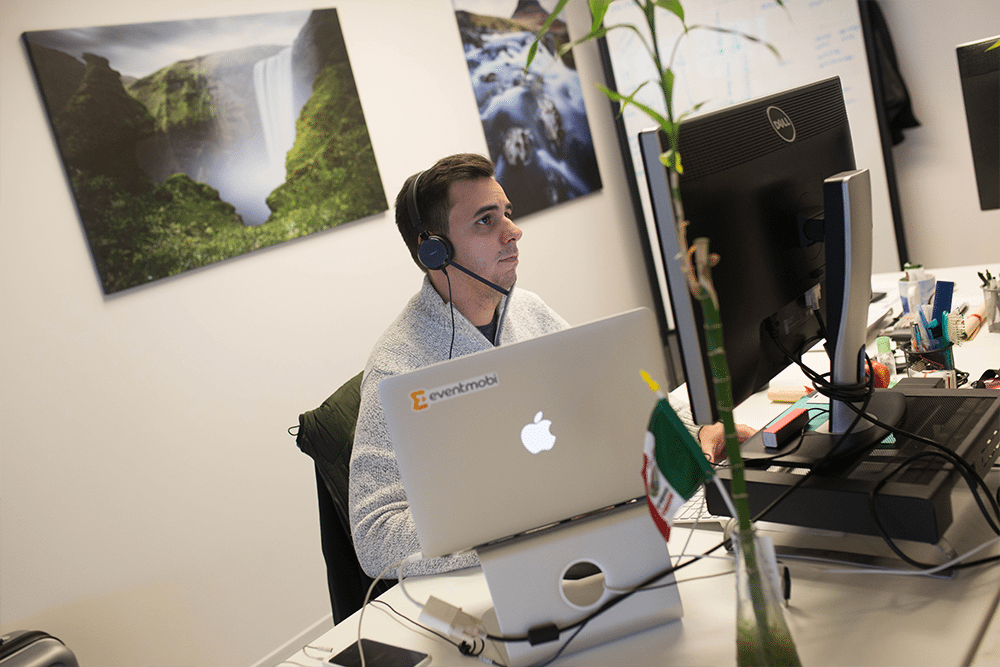 Better you, better company
In addition to honing your technical skills, you'll also get the chance to work on personal development. EventMobi offers every employee free sessions with a leadership coach to help them find better approaches to issues such as communication and teamwork. The company also helps managers hone their team leadership skills through a management training program, which takes place over six half-day sessions a year and aims to help all workers to develop their talents and achieve their career goals.
Are you a creative thinker who embraces ambiguity? You're just what they're looking for
Who thrives at EventMobi? Kristy, the company's chief marketing officer, likes candidates who love ambiguity and who don't get too wrapped up in processes. People who don't need a ton of structure, and who are curious and excited by change, tend to do well at EventMobi. Having a decent softball game won't hurt your chances of success either.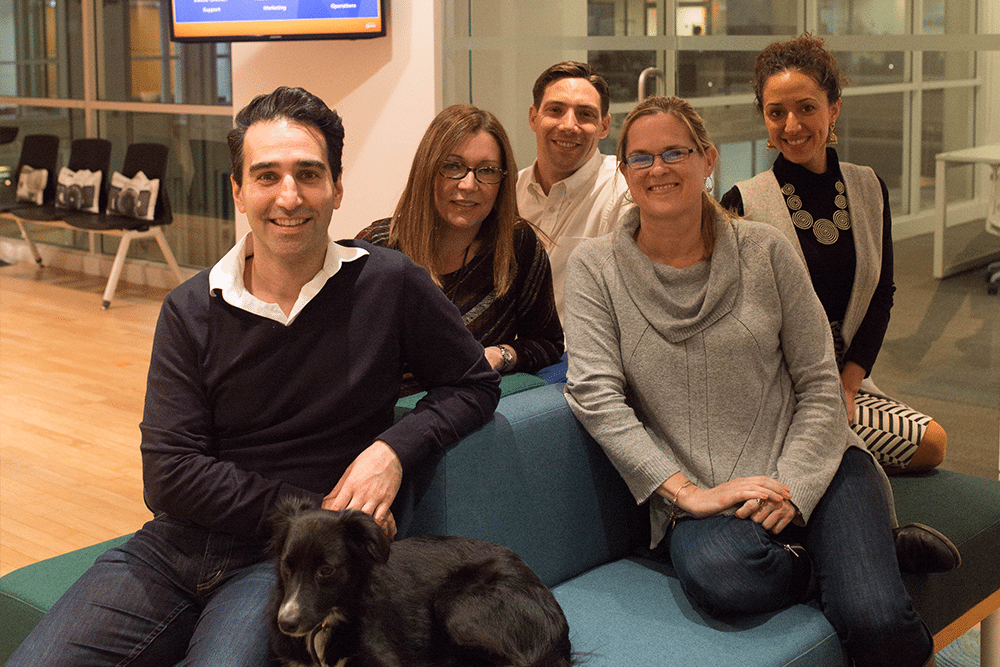 Feels like family
"There hasn't been a day when I haven't felt like coming to work in the four years I've been here," says Rebecca McDougall, manager of customer support. "We are family, we love working together." Every Friday, the entire company gets together for a town hall where founder Bob Vaez celebrates achievements and milestones.
Work on water
Cubicle claustrophobia isn't a danger in EventMobi's light and airy space on Toronto's harbourfront. In need of inspiration? Find it by gazing at the shimmering waters of Lake Ontario just outside your window or by taking a stroll through the nearby waterside trails and walkways. You can recharge using the in-office treadmill and massage chair or simply channel cottage country in one of the Muskoka chairs on hand.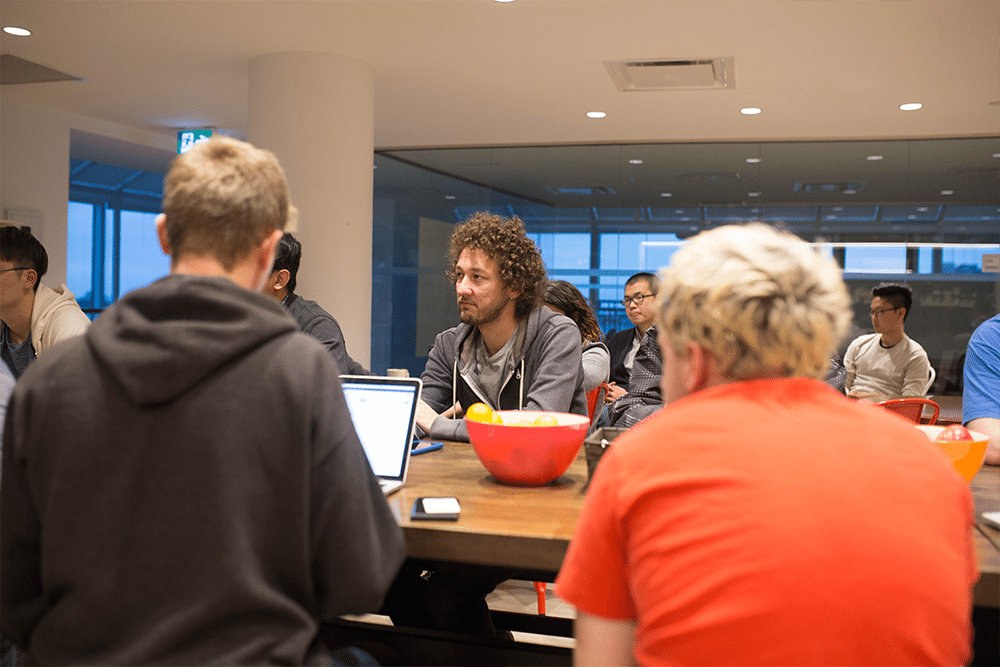 Keyboards are crumb-free zones
EventMobi is generally a chill place. The one hard and fast rule: no lunch at your laptop. Instead of having the typical sad desk lunch, staff members gather around a communal dining table in the open-plan kitchen.
"You can chat with everyone in the company, from engineering to operations, at the same table," says Rhys Smith, who works on the customer success team.
You can also get to know your co-workers better at regular team events. The company's Slack channels are alive with news of the softball team's latest feats on the diamond. Staff also use exercise apps like RunMobi and CycleMobi for some healthy group exercise.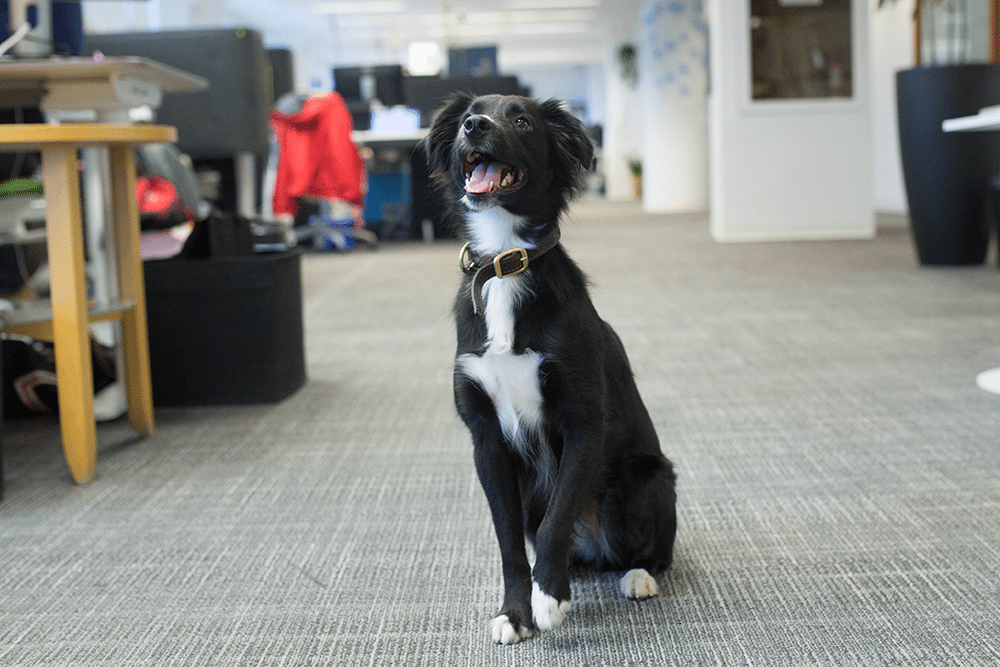 Ready to apply?
Get the latest startup jobs delivered to your inbox with the MaRS Startup Careers newsletter.
Work at a startup