5G and Multi-Access Edge Computing: How it works - and what it means for you.
5G is the fifth generation of wireless technology that provides higher speeds, lower latency and greater capacity than its predecessors, such as 4G LTE. This innovative telecommunications platform makes cutting-edge digital experiences that require high-speed network connectivity possible.
Multi-Access Edge Computing (MEC) is the future of the internet, allowing developers to create products and services that can't be supported by traditional coverage. This real-time computing drastically increases connection speed, reduces latency, and improves capacity limits and security – a game changer for mission-critical projects and business transactions.
Together, these technologies are leading the way for the next generation of smart applications for cities, transportation, manufacturing, healthcare and more.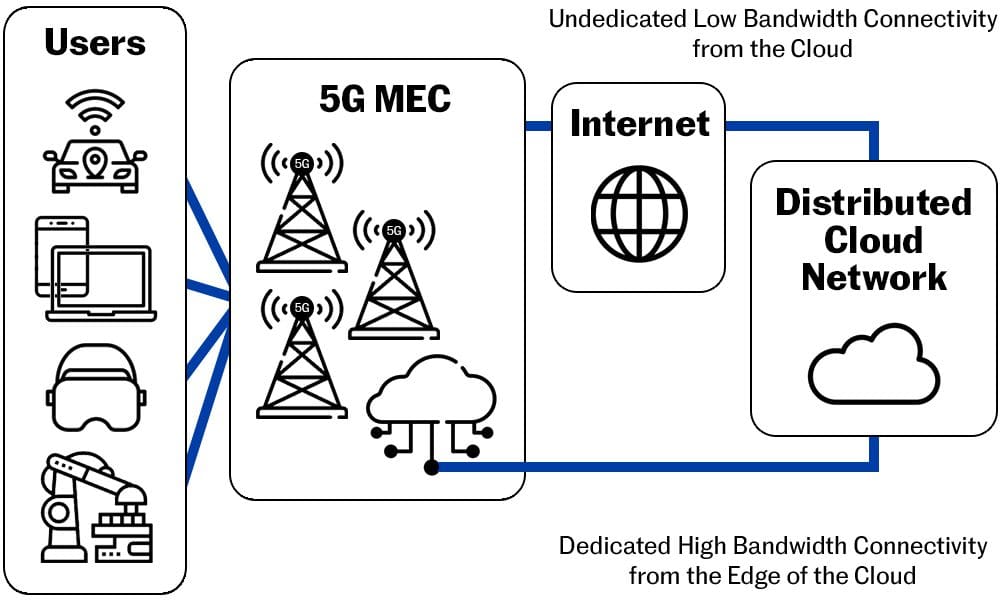 Multi Access Edge Compute (MEC)
Multi Access Edge Compute (MEC) adds cloud processing power at the edge of the network closer to your connected cars. MEC decentralizes computing and traffic from Global data centers and cloud providers with a local context vehicles and connected experience. This provides enhanced customer experiences with high bandwidth, reduces transport time, and enables new real time interactivity between your platforms and your customer vehicles.


MEC Benefits
Latency reduction for time sensitive applications
Industrial automation and immersive content enablement
Optimized data traffic
What are the benefits of 5G and MEC?
5G opens the door for developers to create life-changing technologies that couldn't be supported by traditional fixed or wifi technology accesses. Advantages include:
Enabling high-speed connected applications: 5G and MEC creates opportunities for wireless solutions that require higher data transfer speeds.
Improving capacity limits for connected devices: 5G and MEC can connect up to a million devices per square kilometre that require multi-point bi-lateral data communications.
Protecting data with secure networks: 5G network providers frequently monitor for traffic and hackers.
MEC allows new devices to compute at the perimeter of the network. Advantages include:
Enhancing operational efficiencies: A shorter round-trip time between data collection and computation allows applications to make real-time automated decision making.
Transforming customer experiences: Allows users to develop both digital augmented and virtual reality applications, while reducing costs, power needs, and end user hardware.
What are some applications of 5G and MEC?
Mobility
Autonomous traffic management and routing of drone delivery services.
Autonomous and connected vehicle operations.
Health
Remote training of surgical practices and procedures through virtual reality.
Wireless in-home health monitoring networks.
Manufacturing
Extensive network of sensors for predictive maintenance of factory machines and robots.
Cloud robotics (cloud-based processing for smaller, less expensive robots that can be centrally controlled).
Energy
Monitoring and operation of autonomous trucks on remote mining sites.
Distributed management of energy resources.
How is MaRS supporting startups with 5G and MEC?
MaRS works with partners to develop technology programs that support the developments of emerging technologies. Through these partnerships we provide opportunities for startups to test, deploy, and commercialize their solutions.

The above diagram illustrates the emerging technology program that is best suited for your 5G and MEC application in accordance with where you are in the development of your solution. Participants in the Bell 5G MEC Accelerator have a clear understanding of the 5G and MEC technology, and are looking for support to deploy their solution to market.
For more information, visit the Bell 5G MEC Accelerator.