Opportunities for investment & innovation in Nepal's energy system
In May 2015 (after Nepal's devastating earthquake), the Advanced Energy Centre wrote that "Nepal's energy sector is full of untapped potential" both for large-scale investments (in hydro) and small-scale, innovative projects such as SunFarmer's solar projects (MaRS Cleantech Venture Services company) and the World Bank's micro hydro power plant.
The Advanced Energy Centre's Ron Dizy travelled to Nepal in September, 2015, to learn more about the opportunity, and the apparent barriers that have prevented these projects from being developed. [inlinetweet prefix="" tweeter="@MaRSDD" suffix="#futureofenergy "]"There is tremendous opportunity in Nepal – both to supply power to the people, but also for export to growing[/inlinetweet], energy hungry neighbours. The development of this resource represents a crucially important human and economic development opportunity for Nepal."
The Advanced Energy Centre and Dolma Impact Fund, the first international private equity fund focused purely on Nepal, have co-published a report aimed at investors, technology providers and innovators who may be considering participation in Nepal's electricity sector. Going Global Nepal provides a 360-degree view of Nepal's energy system and highlights the development of hydropower as the largest opportunity for investors and innovators, as well as for the people of Nepal.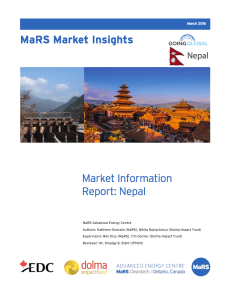 The Government of Nepal's plans to develop 26 GW of hydropower capacity by 2035 (out of 42 GW of financially feasible hydropower) present significant opportunities for international companies to participate in Nepal's hydropower sector. Hydropower development is required to meet the country's growing demand for power and to address the current reality of controlled power outages, now running at up to 16 hours per day. In addition, India and Bangladesh's significant growth and increased demand for energy present significant export opportunities for Nepal.
High rates of solar radiation and strong wind characteristics also indicate substantial prospects for the development of diversified renewable generation in the country. Hydropower, solar, wind, and other renewables present significant opportunities specifically for the following:
Large international investment and infrastructure funds, both equity and debt
Providers of technology and electromechanical equipment for hydropower
Engineering, environmental and other consultants
Innovative technology providers that could help Nepal improve efficiency in hydropower
Going Global Nepal aims to provide objective and in-depth energy market insights, drawing on key findings from Nepalese organizations and third-party sources including the World Bank, International Energy Agency (IEA). To learn more about the Nepalese energy market, please read the report.
Filed Under