Unlocking innovation in the energy sector
Advanced Energy Centre Hosts Summit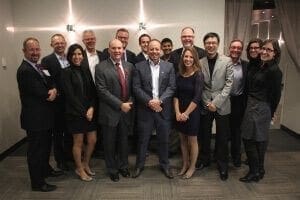 The first annual Advanced Energy Centre Innovation Summit at the MaRS Discovery District convened energy actors from the private sector, government and non-profits and put them to work. Entitled "Unlocking Innovation", the event engaged key stakeholders to address barriers to the adoption of energy innovation in Ontario and Canada.
Joeri van den Steenhoven, Director of the MaRS Solutions Lab, moderated the Summit- a collaborative session that facilitated open discussion of the most 'wicked' energy problems of our era. First among them being how to facilitate adoption of energy innovation in a sector that prioritizes security, reliability and cost savings. There was widespread agreement on the need for strong leadership and a multi-stakeholder approach to solutions.
Energy innovation is critical to meeting the challenges of our future. It is happening now in Ontario and Canada. The Advanced Energy Centre is creating the conditions and partnerships necessary to drive its adoption.
Filed Under