Labs for Systems Change: Looking back
Last May, MaRS Solutions Lab and Social Innovation Generation (SiG) convened leading public and social innovation (PSI) labs from around the world. It was the first time so many PSI labs had gathered, and we were thrilled to have so many innovators and experts together. We are delighted to be publishing the event report today, along with intimate interviews with four lab practitioners (below), with the aim of summarizing the learnings of the conference. Download the Labs for Systems Change Report here.
We invited over 40 international guests to join in the discussion, including Christian Bason of the Danish Design Center and MindLab, Beth Noveck of GovLab, Geoff Mulgan of Nesta, Adam Kahane of Reos Partners, Frances Westley of the University of Waterloo Institute for Social Innovation and Resilience, Sarah Schulman of InWithForward and Chris Sigaloff of Kennisland, among many others. The result was a phenomenal three-day conference that we hope attained the goal of driving the field of PSI forward in achieving more widespread impact globally.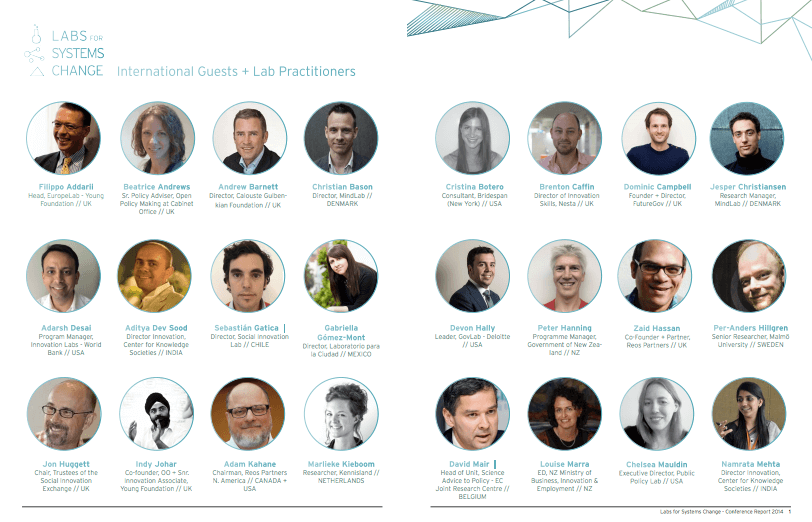 Overview of public and social innovation labs
Around the world, PSI labs are increasingly seen as vehicles for helping to solve complex social challenges that require systems change. These labs help us to understand such challenges from new perspectives, often using the principles of human-centred design. Based on the principles of experimentation and learning, PSI labs help convene stakeholders from across society to develop, test and scale new solutions. They also often help governments to develop new policies and to redesign public services. In short, PSI labs support public and social innovation on the local, national and global level.
We now see PSI labs being established around the world, from Europe to Australia and from North to South America. As PSI labs gain momentum globally, we need to pay attention to what makes them valuable and to what is required to make them successful. PSI labs are still a fairly young construct and we need to further develop their strengths while also overcoming their weaknesses, as we deeply believe that they are a useful—and perhaps even critical—new approach to solving complex problems in a transforming world. This is why we organized the Labs for Systems Change conference—so that the world's leading lab practitioners and thinkers could share, develop and capture knowledge of global PSI lab practices.
Labs for Systems Change conference report
The Labs for System Change report is our humble attempt to capture the overwhelming richness of the conversations that took place both within the conference and online via Twitter (we captured over 2,000 tweets over the few days of the event). We hope that the report will also surface some of the most pertinent questions and challenges of the ever-growing social innovation and PSI labs space.
You will find the following information within the report, summarizing the insights and knowledge captured at the conference. Videos of each of the keynote sessions and panel discussions are available here.
Role of design in public policy: Christian Bason, who currently heads the Danish Design Center, shared insights gained from his previous work at MindLab, emphasizing design's unique contribution to establishing effective public policy. His new book, Design for Policy, details more of his innovative approach to public policy.
Role of technology in PSI Labs: Beth Noveck vividly presented how technology has enabled a more collaborative world where governments and citizens are better equipped to solve society's biggest challenges.
Future of PSI Labs: We explored many key issues that labs need to address in order to become true catalysts for long-term change. Adam Kahane, Zaid Hassan and Chris Sigaloff shared their insights into the future of the field.
Alongside the report, and in partnership with SiG, we are also proud to present one-on-one interviews with the following four lab practitioners.
MaRS Solutions Lab, moving to 2015
Looking back at the end of this first full year of MaRS Solutions Lab, I can only be proud and satisfied. The Labs for System Change event was just one of our achievements this year. I want to thank everyone who made it possible: Satsuko van Antwerp, Terrie Chan and Fariha Husain, who helped organize the event, and Fariha and Terrie for producing the report. I'd also like to thank our sponsors—the J.W. McConnell Family Foundation, Deloitte, SIG and MaRS—and, of course, all of the lab participants from across the globe.
This report is only the first of a series of publications. Over the upcoming weeks you will hear much more from us. We will publish a design brief, as well as a report on the Ontario Tender Fruit Lab, the final report of the Youth Employment Lab in the US and a research paper on behavourial economics in health. You'll also hear more on our GovMaker activities and on our project on entrepreneurial thinking in schools with the Toronto District School Board. We're also cooking up some exciting new projects! So stay tuned and look forward to 2015—but first, enjoy the holidays.
Filed Under