When I go into a bank, I get rattled," the legendary Canadian humorist Stephen Leacock once wrote.
Today it's the banks that risk getting rattled, as technology moves financial services to your tablet and smartphone. The movement has given birth to a whole new sector: financial services technology, or fintech.
Yet, rather than recoil from fintech, financial institutions are looking for ways to hook up with the innovators. Banks have formed partnerships with groups like the financial technology (FinTech) cluster at MaRS Discovery District in Toronto, which is working with 15 financial services firms, and has inked 50 other partnerships.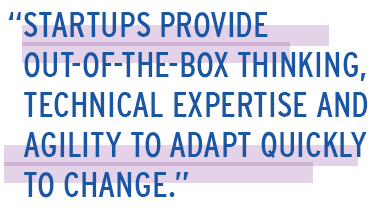 MaRS FinTech is working with major players such as CIBC, Interac Association/Acxsys Corporation, Manulife, Moneris, PayPal and Sun Life. Among the startups that the cluster supports are companies deemed to have high growth potential such as BioConnect, Tacit Innovations and Trulioo. There is also the physical space, the MaRS C Suite, where corporate firms such as CIBC, Manulife, Moneris and IBM have embedded teams to collaborate with a range of startups.
"If you're a major institution, it's difficult to do financial technology innovation off the side of your desk," says Adam Nanjee, head of the financial technology cluster at MaRS. "We connect the startups to the financial institutions, the institutions to the startups, and we connect the entire community to the venture capital world."

There is considerable imperative for large institutions to stay up to the moment in fintech; otherwise, they risk being overtaken by new digitally-based competitors.
"There's some real change occurring and, therefore, some real potential threat," notes David Williamson, senior executive vice-president and group head of retail and business banking for CIBC. "Our approach is to see the opportunity.
"Technology is redefining convenience. We want to use technology to offer banking in the way that Canadians either like to bank now or will want to bank in the future."
Fintech's rapid growth and the need to move fast make it more attractive for big finance to collaborate with startups rather than compete.
"Big banks and fintech startups have a great deal to offer each other," says Stephen Ufford, CEO of Trulioo, a startup that has developed a new platform for online identification. "Collaboration is fundamental to financial inclusion and international expansion. Banks have a large customer base, stable infrastructure and capital to fund new projects. Startups provide out-of-the-box thinking, technical expertise and agility to adapt quickly to change."

CIBC collaborates with MaRS FinTech across three "horizons." The first is looking at "what is" — how to apply fintech to the core services offered by bankers, such as mortgage applications.
"The second is innovation at the boundary — things like how you hold your phone, how you touch your phone to connect. It's close to what we do now, but just outside 'what is.' The third horizon is further out there — things like cryptocurrencies [which use encryption for security]. MaRS facilitates us across all the horizons," Mr. Williamson explains.
"We started building this type of capability about two years ago," notes Sebastian Blandizzi, senior vice-president, head of global solutions delivery and CIO of the investment division at Manulife. "It lets us explore, research and prototype new ideas to determine [which] are worth investing in."
The idea behind collaborating at MaRS, Mr. Williamson adds, is "to get some really bright people together, give them an idea to work with and unfetter them, see what they can do in a short time."
For example, CIBC worked with a MaRS team to develop a system for clients to negotiate mortgages entirely through smartphones.
Collaboration among the big financial institutions is common, but there are limits, he notes. "We have shared space on the ground floor [with Moneris and Manulife] and we have other space upstairs for when we have some really snappy idea that we're not ready to share."
If anything, collaboration might ensure that the financial sector isn't rattled. Partnerships and collaboration help startups get their starts and help accelerators grow; they help big institutions determine which young companies have the most potential.
"Bringing together established institutions and new startups is not just a matter of finding the best in class among startups," Mr. Nanjee says.
"It's also about finding the best fit, and we help do that," he adds.


This article appears in our special report on Urban Innovation, which highlights how downtown density is driving the new economy. This report examines all the elements that fuel innovation at MaRS, showing how our building and location, corporate and academic partners, and the tenants and the startups in our network all contribute to getting high-impact solutions to market faster, both in Canada and beyond.