Innovation is a word one hears often these days — perhaps too often.
It has been so widely applied that it no longer drives excitement. But it should not be discounted. What the 21st century has taught us so far is that there is no more powerful driver of positive economic and social change than innovation.
At MaRS, we view innovation as a fundamentally human quest for progress — a quest to find new and better ways to create things of value. These could be modest improvements to daily life or massive breakthroughs that reorder entire sectors, but in every instance, innovation is the key to success. More than ever before, innovation is pervasive — touching and changing every aspect of our lives.
With its highly educated population, Canada is well placed to thrive in this innovation age.
But we also face challenges. Our long reliance on resource extraction and imported technology has resulted in an economy with low business research-and-development spending and poor performance in commercializing intellectual capital.
On the positive side, Toronto, Montreal and Vancouver have all been drawing international notice as innovation regions. They also deserve domestic attention for two reasons.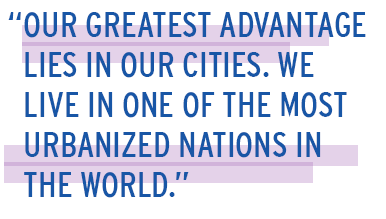 First, Canada is one of the most urbanized nations of the world, with a massively disproportionate share of national income generated in and around those three major cities. Second, international data shows that innovation is a process that runs best with an urban engine. In particular, urban regions have a huge scale advantage in convergent innovation, exemplified by various fields, such as precision medicine, advanced materials, financial technology, artificial intelligence and green technology.
Above all, urban regions are magnets for ambitious, well-educated young people from diverse backgrounds. For all of Canada's bountiful natural resources and unspoiled natural spaces, its future depends on our human resources. That means our single biggest social advantage, arguably, is our vaunted pluralism. And Canada's biggest structural advantage may well be our widely admired, ethnically diverse and highly livable cities.


This article appears in our special report on Urban Innovation, which highlights how downtown density is driving the new economy. This report examines all the elements that fuel innovation at MaRS, showing how our building and location, corporate and academic partners, and the tenants and the startups in our network all contribute to getting high-impact solutions to market faster, both in Canada and beyond.
Want to download the issue?