The geography of innovation is changing. Cities are becoming the leading engines of entrepreneurship and commercialization, surpassing the suburban office parks that were once the gold standard.
Smart governments everywhere are rethinking the innovation model exemplified by Silicon Valley. The new paradigm borrows from Jane Jacobs' vision of the importance of urban community, only in this case, an entire innovation ecosystem — scientists, entrepreneurs, investors, and corporate partners — shows up for work every day, under one roof, to collaborate in unexpected ways. Downtown density is the driving force of the new economy.
No city has exploited that potential more successfully than Toronto, which is home to MaRS Discovery District, the largest urban innovation hub in the world. In this 1.5-million-square-foot property — which houses more than 200 organizations — scientific know-how and business acumen meet to create the cutting-edge medical breakthroughs and technological advances of tomorrow.
The founders of MaRS bet on the power of location by constructing an innovation hub right across the street from the top Canadian research university, next to an enormous hospital complex and close to one of North America's leading financial districts.
By creating the conditions for serendipity, this group of forward-thinking academics and businesspeople put the institution on course to become a new staging point for economic development.
Most cities are still searching for similar locations with anything like the same degree of concentrated brainpower that Toronto's pioneering innovation hub has assembled in the heart of the city.
And to think it all started with an aging urban building.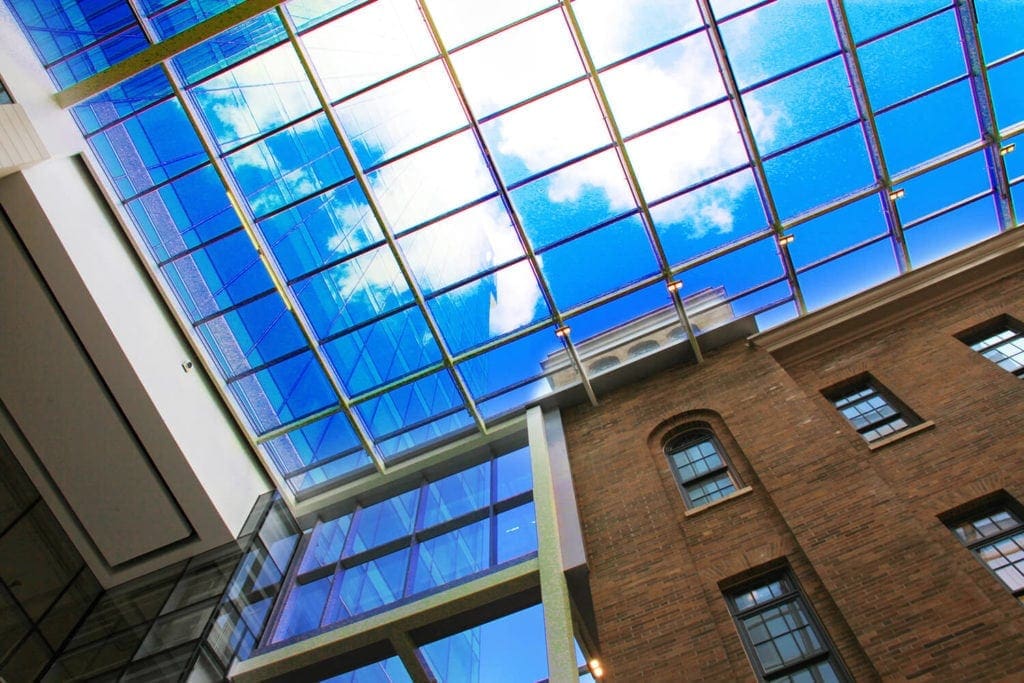 Moving medical discoveries from bench to bedside
MaRS has a vaunted history that spans from 1913 to 2002, when it was the home of the Toronto General Hospital's College wing, a place where Nobel prize-winning Canadian scientists and physicians Frederick Banting and Charles Best first treated a diabetes patient with their miraculous new discovery, insulin. This development would revolutionize medical practice worldwide, as would other medical and surgical treatments pioneered at TGH's College wing, including heparin (an important blood thinner), the first kidney transplant, the first artificial kidney and the pacemaker.
The research legacy continues, but with its expanded footprint, the hub now also serves to commercialize the types of discoveries that have long been associated with the district.
"We took a site that served medical innovation for 100 years and repurposed it for the next century," says Ilse Treurnicht, CEO of MaRS Discovery District.
The mastermind behind MaRS was the late physician, businessman, former president of the University of Toronto and founding dean of McMaster Medical School, Dr. John Evans, who, along with a group of co-founders, came up with the concept in 2000.
"There was a recognition by the founders that Toronto performed with the top peers in the world from a discovery perspective — the productivity of our research engine, the breakthrough activity in the science pipeline — but we had underperformed as a region relative to our peers on the commercialization side," says Ms. Treurnicht, who joined the organization in 2005.
The idea proposed by Dr. Evans to spark a transformative change was a simple one: in order to get discoveries from bench to bedside, there needed to be cross-fertilization between the research world and the business world.
In addition to mixing the academic with the corporate, Dr. Evans also saw the value of creating a place where different sectors came together. This would be an innovation epicentre focusing on science, on information and communications technology and on social innovation.
In 2002, a "catalytic" event happened to get Dr. Evans' idea off the ground, says Ms. Treurnicht. TGH decided to sell its College wing, which was in close proximity to the University of Toronto and "hospital row" along University Avenue.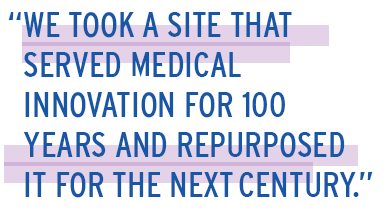 The nearly-century-old hospital — so full of history and positioned so dynamically — seemed like the ideal spot to build a forward-thinking new innovation hub.
The co-founders were quickly able to raise $14-million, which ultimately sparked enough private and public funding to make the property a reality. The façade of the old hospital remained as the centrepiece of a modern facility that grew around it, with offices, event space, state-of-the-art labs and everything promising startups could need. (The name MaRS came from Medical and Related Sciences, a file name-turned-acronym that stuck.)
Today, MaRS embraces the entire lifecycle of entrepreneurs — from education to incubation and validation in the marketplace. Its education programs target both early-stage startups and corporate innovation teams, while MaRS Venture Services works closely with over 1000 companies, including scaling firms spanning key sectors such as health, cleantech, fintech and commerce, and those aimed at improving education and the workplace.
In the years since that first spark of an idea, Dr. Evans' vision has proved prescient. The idea of a large-scale urban innovation hub that brings together researchers, entrepreneurs and corporate partners across sectors has become a growing phenomenon, worldwide.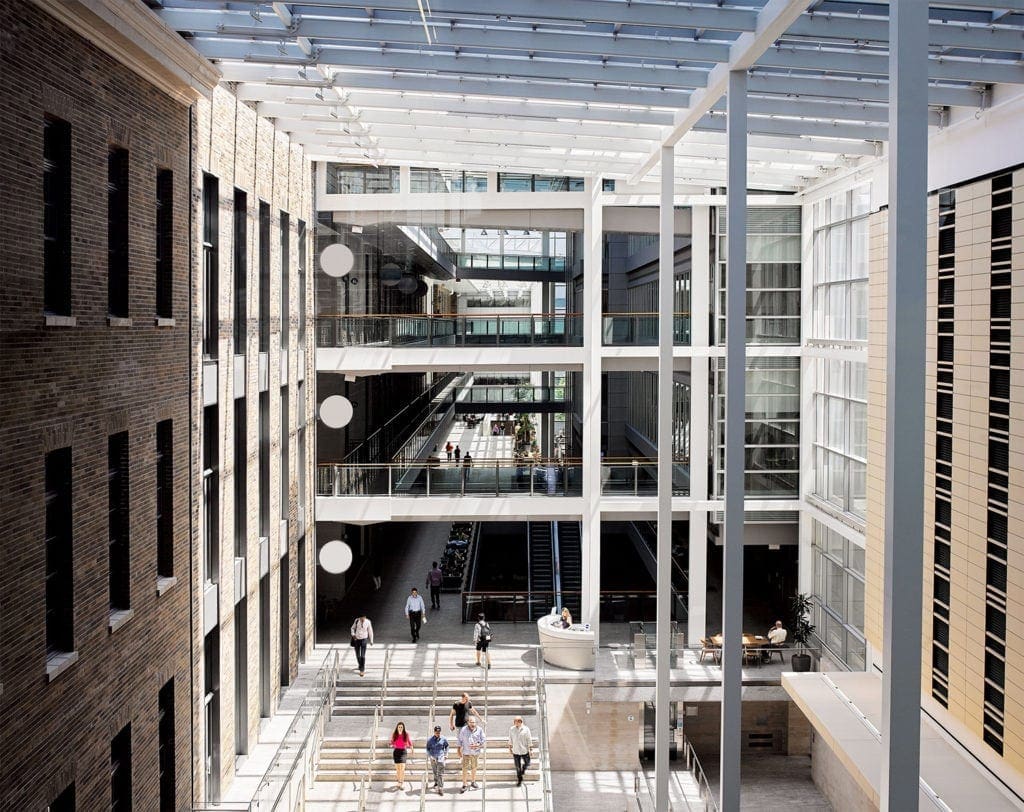 Innovation moves downtown
In Silicon Valley, the suburbs don't hold the allure they used to.
Traditionally, top tech companies like Apple, Google and Facebook set up campuses in the suburban towns surrounding Stanford University, like Palo Alto, Menlo Park and Mountain View. However, many of the newer tech hotshots, like Airbnb, Uber, Salesforce and Twitter, chose to set up shop in downtown San Francisco instead.
It's a migration from the suburbs to vibrant downtown cores that's leading a trend in innovation, an "innovation densification" trend.
Meric Gertler, president of the University of Toronto (which is one of MaRS's founding partners), says that the trend partly stems from the migration of talent.
"We see increasingly that high-quality urban environments are offering the sorts of amenities and quality of life that highly educated talent is seeking when they are deciding where to live and work," says Mr. Gertler.

Cameron Piron is president of Synaptive Medical, a startup that is part of the MaRS network. His company develops medical equipment and applications for neurosurgical procedures, including a life-like simulated brain for practising neurosurgeons and high-definition 3D imaging tools for use before and during surgery. The company began as a MaRS startup four years ago, and it has been successfully selling its products for about 18 months, mostly in Canada and the U.S.
Mr. Piron says that being located in downtown Toronto has given his company an edge.
"I think it's been important for many reasons — close to the universities, close to the many hospitals and also for talent. We're in a market where there's a lot of companies hungry for experienced people in medtech, particularly in software and medical imaging, and so there's a real battle for talent and having a location that's downtown is very attractive to people," says Mr. Piron. "Toronto is a very livable city. They can walk to work. The quality of life here is hard for other groups to compete with."
While traditional suburban hubs like Research Triangle Park in Raleigh-Durham, N.C., scramble to add more amenities to try and attract talent, more hubs around the world are springing up in urban areas.
A recent benchmarking project conducted by MaRS Data Catalyst compared its hub with other similar entities (in cities of 4.5 million people or more, with a world-leading university within or adjacent to the hub).
It found that Toronto's biggest strength was its entrepreneurial talent — the city has one of the most highly educated, skilled and diverse workforces in the world. Also strong is Toronto's research talent, which is top-ranked globally, and Canada's high rates of consumer-led technology adoption.
But the benchmarking also found there were deficiencies to address. In a Canadian economy dominated by low-tech exports, there's low business-led R&D (research and development) expenditure. "Commercialization culture" is still developing in Toronto, with a lack of sophisticated investor networks at the scale required to be globally competitive.
The report concluded that MaRS is well positioned to compete in the top tier of urban innovation hubs, leveraging the innovation capacity of the Toronto region. However, as Canada's market size and availability of capital will always be modest, MaRS needs to be better at creating connections, at home and abroad, and getting innovations into global markets effectively.
"This is a huge quest for cities right now — How do I make sure that I harness the brainpower that's in my city and create an environment that's attractive enough, so that the brainpower goes to work for the economic growth of my city?" says Ms. Treurnicht.


This article appears in our special report on Urban Innovation, which highlights how downtown density is driving the new economy. This report examines all the elements that fuel innovation at MaRS, showing how our building and location, corporate and academic partners, and the tenants and the startups in our network all contribute to getting high-impact solutions to market faster, both in Canada and beyond.