If technology can solve your problem, why not have it made-to-order?
That's the question a dynamic new program at MaRS is addressing and, in the process, it's turning traditional healthcare procurement on its ear.
An experimental project launched last year in Ontario, it started with a simple idea: the team issued an open call to healthcare providers to describe a challenge their institution faces, and then directed these asks to entrepreneurs who will work collaboratively on solutions.
Launched in August 2016 in conjunction with the Ontario Ministry of Government and Consumer Services, the Innovation Partnership: Procurement by Co-Design Program is a "collaborative design exercise" aimed at helping leading-edge technologies reach the organizations — and patients — that need them most.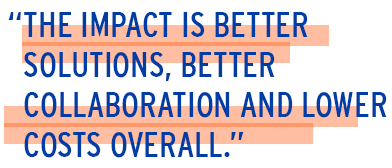 Overall, the response was enthusiastic — almost two dozen healthcare providers issued 29 challenges that were then listed on the program website. The entrepreneur community came back with over 140 proposed solutions.
Some of the challenges were quite broad in nature, others were looking for very specific outcomes.
"For example, one provider said they wanted a better way of managing wheelchairs and gurneys in their hospital to reduce the number of patients waiting for transfers," says MaRS associate Lily Lo, who also serves as the project manager.
Pitch sessions helped to narrow the field, and the providers then selected the vendors they wanted to work with. In total, 17 project teams spent 12 weeks co-developing their innovations.
At the end of February, the teams came back to MaRS to compete for up to $25,000 to spend testing the co-developed solutions right where they'd be put to use. Four of the 17 teams ended up receiving funding, including QoC Health, which is working with the Michael Garron Hospital to help manage post-anesthesia recovery, and VitalHub, which got the green light to proceed with two separate solutions for providers Markham Stouffville Hospital and Trinity Village Care Centre. The next step will see the teams present the results of their testing in July, potentially receiving another $25,000 for procurement.

But program manager Hadi Salah says the grants aren't the central goal — the venture is more about fostering a new "challenge-based, co-design approach" to procurement.
"This could be an open-source toolkit that a procurement department within a hospital could use and scale up on their own," he says, adding: "The impact is better solutions, better collaboration and lower costs overall."

Two case studies
QoC Health responded to a challenge from Michael Garron Hospital (formerly Toronto East General), which wanted to better manage traffic in and out of a post-anesthesia recovery room.
"We proposed an application that the staff scheduler would use to co-ordinate everything, all the way from the surgical procedure through to the recovery room," says company president and co-founder Raymond Shih. The two organizations will be working together on the app over the next several months.
Mr. Shih not only likes the co-design concept — procuring based on "the problem you're trying to solve and not on a set of specifications" — he finds the process useful from a business sense too because it provides "an opportunity for us to work with some folks that we may not have been directly connected to before."

VitalHub, a Toronto-based mobile health startup, is developing two solutions: an app to streamline the physician onboarding and orientation process for Markham Stouffville Hospital; and an app for Trinity Village Care Centre that provides quick access to a variety of forms and schedules, and also enables on-the-fly note-taking, task-tracking and team collaboration.
Andre Vandenberk, VP of mobile technology, says their proposed solution for Markham Stouffville Hospital would change how the hospital shares information and documents with its physicians, and how it collects their data, questions, feedback and signatures as part of the onboarding and orientation process.
In the case of Trinity Village Care Centre, he says the goal is to streamline the way frontline staff document and access information about residents, explaining that they currently use multiple paper-based and electronic documentation systems located on separate computers throughout the facility.
He says he's had "a very positive experience" in the program so far because it enables providers to truly collaborate with the vendors who can help solve their problems.
"Without going through such a process, providers and vendors are often on different pages when it comes to the interpretation and understanding of problems and how to solve them," he says. "This program provides a repeatable approach to ensure the provider's real-world problem is appropriately addressed and successfully implemented."