So, you'd like to quit smoking: Why not collect points in the process?
Canadians are among the world's most eager consumers of rewards programs, and now our collective appetite for loyalty incentives can actually be good for our health thanks to a new health prevention app developed by the Public Health Agency of Canada, in partnership with Carrot Insights, that is being rolled out across the country.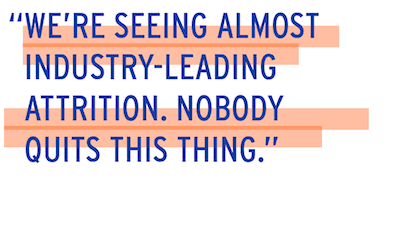 Carrot Insights is a rewards firm launched in 2015 by Toronto ad-agency veteran Andreas Souvaliotis. The Carrot Rewards app serves up points for most large consumer loyalty programs such as Aeroplan and Scene when the user performs tasks such as filling out an easy online quiz on smoking cessation or managing some chronic condition, exceeds a daily walking target, or even checks a map showing where to get a flu shot.
"[Canadians] love getting a bit of a deal," says Souvaliotis, who notes that the app's conversion rate — the proportion of users who act on the information they encounter — is enormous compared with conventional public health or wellness ads: 70 per cent click-through levels compared with 1 per cent for typical direct-marketing blitzes. In Newfoundland, the app captured fully 4 per cent of the province's population within a month of roll-out last June. "We push out 100,000 messages and get 70,000 responses."
In Ontario, where the app was released in the middle of February, Souvaliotis expects to quickly see up to 250,000 active users. He also expects to see even more types of offers and earning options on the app, as governments continue to identify more ways of using Carrot as a public engagement platform. For example, beyond using it as a health and wellness promoter, it is already being used to encourage financial, environmental and civic/elections literacy, and to foster participation in public surveys.
What's more, Souvaliotis adds, users don't appear to tire of collecting points. "We're seeing almost industry-leading attrition," he says. "Nobody quits this thing."
If Carrot's insights are correct, all those incentives will pay off at the next check-up, as well.