The company that Nicole Verkindt started five years ago in Toronto bears little resemblance to the one she heads today. Called OMX, it began as a database where aerospace and defence contractors could identify suppliers. Sometime after year two it made the transition from a "startup" to a "scale-up."
Through repeated iterations, OMX has become a data analytics firm, assisting some 3000 companies in aerospace, defence, oil and gas, and mining to track and manage the economic impact of their supply-chain decisions.
"It's another animal now; every two weeks, we release new features," says Ms. Verkindt, 32, the company president, who knows from experience the challenges of the innovation economy. While startups need nurturing and capital to adapt, adopt and commercialize, those at later stages like OMX must open even more doors, with the support of policy-makers and an innovation process more focused on the downstream.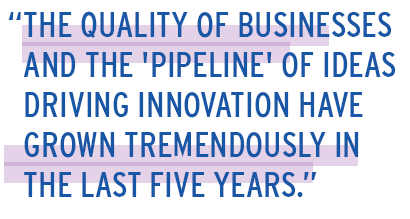 Critical levers that can encourage existing companies to gain better traction in the marketplace include focusing on specific technology clusters, smartening our bureaucracy, eliminating barriers to technology adoption as well as increasing the demand for — rather than just the supply of — innovation.
"We could be doing a lot more," says Salim Teja, executive vice-president of the Ventures program at MaRS Discovery District.
"These are the companies we really want to double down on," he says, noting that a key focus at MaRS is to get firms to the next stage of development. "Starting companies is not the hard part; the hard part is scaling companies."
Indeed, the quality of businesses in Canada and the "pipeline" of ideas driving innovation "have grown tremendously in the last five years," Mr. Teja says. "We are at a stage where our entrepreneurs are thinking about disruptive and important technologies. They're thinking about big global problems and market opportunities to bring real science and technology-driven innovation."
Tech trends on the innovation horizon include artificial intelligence and machine learning; cyber-security, sensors, networks and the "Internet of things"; data science; advanced robotics; advanced visualization and virtual reality. The goal is to identify industries that will require such technologies, with energy, health care and finance among the prime candidates. Corporations, policy-makers and regulators within these sectors must be prepared to welcome innovation, as well as to lower barriers to its adoption.
"Entrepreneurs may have the latest and greatest breakthroughs, but sometimes they're going to hit a brick wall," Mr. Teja comments. Collaboration and developing an innovation-friendly culture are essential to nurturing new ideas.
Investment, procurement and regulations are needed that promote systems change and technology adoption, says Joeri van den Steenhoven, director of the MaRS Solutions Lab. For example, fostering businesses that are part of the new sharing economy means not just cutting red tape but also helping government interact with them differently. "We need smart regulation to become a smart country," he says.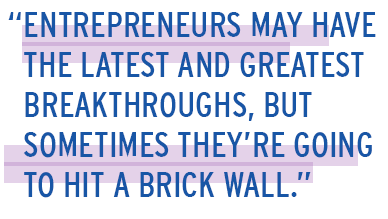 It's important to future-proof markets that are highly regulated, such as health, education and energy, allowing them to accept waves of new digital technologies that bring rapid change.
"The future of our country is not just dependent on the supply of innovation but also the ability of our economy and our society to receive those innovations," Mr. van den Steenhoven says. This means encouraging institutions to acquire new Canadian technology, from hospitals rethinking their procurement policies to utilities embracing transformation. This way, supply stands a better chance. It's also critical for government to become a customer of innovation.
"Companies absolutely need to sell" in order to be successful, Ms. Verkindt comments. "Sales are your oxygen and the fuel to growth."
The more that entrepreneurs can work on product development with large corporations and sell into their global value chains, the better. International customers and investors are particularly critical; OMX has found markets in countries such as the Netherlands and Denmark and is working on further expansion into Kuwait and India.
"This stuff doesn't get solved with one new program with a fancy name on it," she says. "It's a culture that has to evolve."
The next five to ten years are going to be important "for us to be coordinated and focused on developing good companies and good success stories and getting the world's attention focused on us," Mr. Teja notes. "We need momentum."

It begins with the release, expected this autumn, of the federal government's much-anticipated innovation agenda. Its support for scaling companies will determine if Canada can position itself as a global innovation player.
"There's a role for public policy here," says Dan Breznitz, the Munk Chair of Innovation Studies and co-director of the Innovation Policy Lab at the Munk School of Global Affairs at the University of Toronto. "I would like to see actions that reduce the inherent uncertainty with regard to innovation."
He says it's critical to improve the environment for rapidly growing Canadian scale-ups, so they stay in the country rather than head to the U.S. This means everything — from addressing regulations so that companies that develop products are able to sell them here to marshalling the financial resources to support innovation activities, especially beyond the ICT and biotech sectors. Canada should also be part of the increasing global discussions that are setting rules around innovation, which will affect everything from intellectual property rights to technology standards.
Beyond innovation by entrepreneurs themselves, radical experimentation is needed in terms of policy instruments that help such companies scale up, Mr. Breznitz says. Of course, some policies will fail, so it's important to institutionalize these levers within the bureaucracy or political careers will be derailed. This will also ensure that the commitment to innovation goes beyond the next political cycle.
"Whether we like it or not, innovation is the only agent of long-term economic growth," Mr. Breznitz adds. "If we want our children to have a better life and better life prospects, we need to ensure that Canadian companies grow and that they grow in Canada."

This article appears in our special report on Urban Innovation, which highlights how downtown density is driving the new economy. This report examines all the elements that fuel innovation at MaRS, showing how our building and location, corporate and academic partners, and the tenants and the startups in our network all contribute to getting high-impact solutions to market faster, both in Canada and beyond.