Since Justin Trudeau's federal Liberals embarked on testy negotiations with the provinces over health transfers for the next decade, Canadians have seen the re-emergence of a persistent public-policy issue: runaway medical expenses.
Those expenses now soak up more than 70 per cent of some provincial budgets, and Ottawa's initial proposal — another 3.5 per cent a year — is widely seen as inadequate. The provinces feel that, even with an added $11 billion the feds say they would spend on mental health and home care over the coming decade, that is simply not enough for a population that is both aging and ailing. Almost four Canadians in 10 over the age of 20 report that they suffer from at least one of 10 major chronic conditions.
But in the face of over-stretched budgets (and rising political friction), there are now other options, many of which represent the long-sought shift in emphasis to prevention from cure. A growing number of entrepreneurs have recognized that, with the assistance of cutting-edge technology, employers can play a role in reducing stress on the healthcare system by helping their employees fend off illness.
One such entrepreneur is Toronto investor and philanthropist Michael Serbinis, co-founder of Kobo and now founder and CEO of League, a startup that provides digital access to a "marketplace" of health and wellness services.
He looks ahead and predicts the rise of "life-optimization companies" that will "provide you with a personalized, always-on, preventative health plan."
Newtopia, another Canadian startup, already specializes in personalized medicine, and Jeff Ruby, its founder and chief executive officer, says some employers have begun to offer health plans that include new and highly individualized methods for helping people with metabolic disorders, ranging diabetes and cardiovascular diseases to an elevated risk of stroke.
Some of the players in this field are leveraging the ever-expanding connectivity between various fitness wearables, big data, home-based medical monitoring devices and smart phones. Others are marketing digital technologies that provide individuals and physicians better ways to manage chronic diseases.

There is little doubt about the financial windfall for governments and, therefore, taxpayers. According to Newtopia's research, a healthy adult consumes about $3,400 in health services annually, while the figure for someone with a controlled metabolic disorder, such as Type 2 diabetes, rises to $5,400. For those suffering from active diabetes or strokes, the numbers balloon to $15,000 to $20,000.
Newtopia works with employers and private health insurers to identify workers susceptible to metabolic conditions. Employees are invited to take special biometric tests to evaluate their risk factors. With the findings, Ruby says, the company will recommend a personalized set of lifestyle moves for exercise, nutrition, stress management and other behavioural changes. "You have to understand the person genetically and behaviourally," he says.

The company is testing its approach with Aetna, the insurance giant, through a three-year randomized control trial on 445 employees. The first results, published last fall in the New England Journal of Medicine, show 76 per cent of participants lost weight — an average of 4.5 kg each — and their overall health improved enough to yield savings in benefits payments of $1,464 per person in the first year. The study's authors concluded the long-term cost reduction could be significant, and Ruby adds that "we're waiting to see what happens at the end of year two."
For employers, having a healthy labour force pays clear dividends: fewer sick days, improved productivity and the possibility of less-expensive health insurance premiums.
League, launched a year ago, is pushing the employer-focused approach one step further. It has created a wellness-minded health plan built around a flexible "lifestyle spending account" that allows employees to use their benefits plans to buy prevention-oriented services that range from yoga and meditation to stress management and even registered naturopaths.
Indeed, the strategic insight that launched League has to do with building a health benefits plan that provides services employees actually want, such as stress management. "Most employees have health plans that offer benefits they don't use" because they're have too many restrictions or don't cover areas such as mental-health services, says Serbinis, who is targeting the 70 per cent of small and mid-sized firms that have never had health plans, either because the company is too small or hasn't been sufficiently profitable to offer this kind of benefit.
With all such ideas, the ultimate goal is to improve lifestyle choices and increase adherence to health programs designed to manage chronic conditions, and thus to prevent the onset of other medical problems. While an employer-based wellness or health-improvement plan has an implicit stick to accompany the carrot of better fitness, Ruby, at Newtopia, says employees who freely choose to participate in these prevention programs are much more likely to stick with them.

Serbinis, for his part, has his eyes on a demographic — millennials — whose members tend to be more comfortable with technology and oriented toward these kinds of lifestyle decisions. He cites such examples as an ad agency client with many younger employees who weren't making use of the company's health plan because it simply didn't offer the kinds of services they were looking for.
In fact, at a time when many firms are scrambling to retain talented employees, such non-traditional benefits packages may also be an attractive recruitment and retention tool.

Last October, Starbucks boosted annual spending caps on mental-health therapy from $400 to $5,000 per employee. Likewise, many tech companies have introduced yoga and meditation to their workforces as a productivity-enhancing perk in a sector with a lot of competition for talent.
But some health insurers are less interested in enticing employees than they are in using the power of technology to make sure they have the best information to guide their ongoing prevention efforts.
Amos Adler, president and co-founder of Memotext, has created a phone messaging service that pumps out timely reminders about medications and notifications about off-kilter glucose levels by connecting with an individual's health devices or the data from their electronic patient records. The service also provides users with motivational content specific to their condition.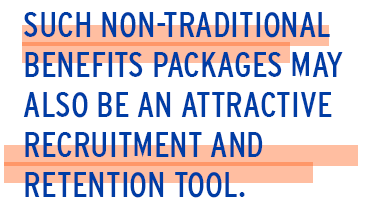 The service, which is purchased by health insurers and pharmaceutical firms, relies on algorithms and user questionnaires that produce what Adler describes as a "dynamic" flow of highly personalized medical advice, but also educational information. He describes the return on investment compared with using a call centre as "very significant" because users receive highly tailored information automatically instead of having to deal with customer service representatives.
More broadly, he says, the explosion of health data — drawn from wireless wearable devices, electronic medical records and other sources — flowing into smart phones has finally created a means for individuals to keep abreast of all the little decisions they need to make in order to prevent lifestyle-related diseases.
As he puts it, "We're trying to 'action' the data so we can make use of it for patient purposes."
The broader point, say the entrepreneurs working in these emerging markets, is that with governments increasingly pressed to stretch health budgets, the rapidly expanding troves of personalized health data has the potential to create a formidable digital bulwark against the skyrocketing cost of keeping an aging population healthy.