A wave of sustainable architecture is taking over Canada's largest city.
---
Buildings are some of our most prized creations. They're also some of our worst climate offenders. According to the United Nations, buildings, along with their materials and construction, account for a staggering 39 percent of global CO2 emissions; and they represent 13 percent of general emissions in Canada according to a report from the federal government. The good news is that we have the power to quickly turn the tide, and at a relatively low cost.

In Toronto, a wave of green architecture (made with sustainable supplies and techniques, as well as the latest innovations) is washing over the city — with new green homes, offices, schools and community centres rising over the coming years. The potential for climate progress is huge: Toronto is the fastest-growing urban area in North America by population, with the most construction cranes on the continent. And the city's flourishing cleantech sector of startups stands to benefit from the federal government's pandemic-era budget, which is loaded with ambitious environmental targets.

Here are 10 Toronto green buildings to get excited about.
Waterfront Innovation Centre: the tech ecosystem's new playground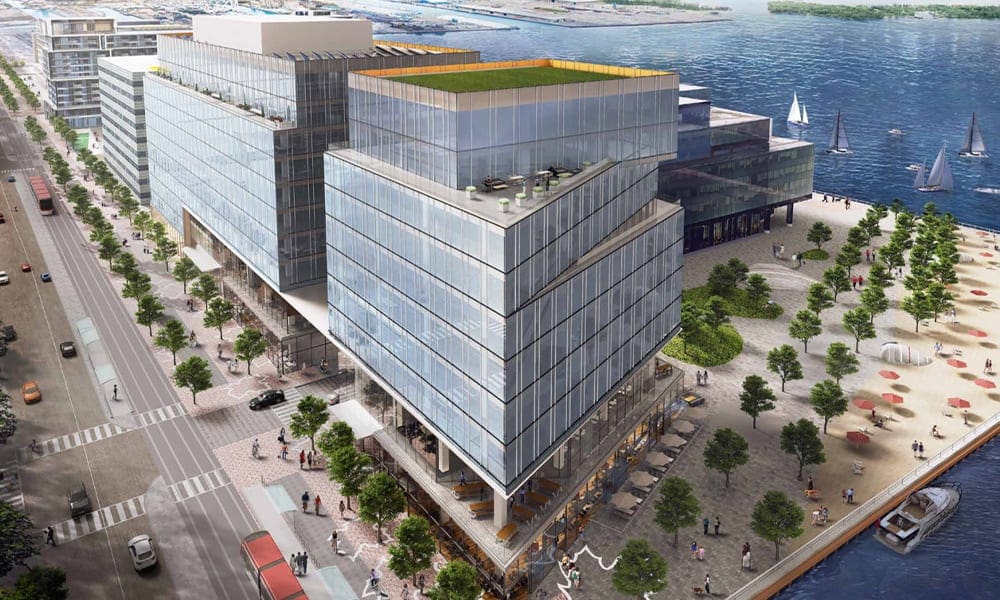 Canada's tech ecosystem just landed one of the country's most coveted bits of real estate. Located on the shores of Lake Ontario, minutes from the downtown core, the Waterfront Innovation Centre is a giant office complex, purpose-built for tech workers and those in creative industries. It's also the latest outpost for MaRS and the University of Toronto, two partners renting 50,000 square feet for startup programming and innovation-community collaboration. Targeting LEED Platinum certification (the top score from the world's most prevalent green-building rating system), the centre has under-floor air distribution, automation controls, and sensors to monitor occupancy and light levels. It will also boast ultra-high-speed broadband, beautiful amenities and lush surroundings. Plus, progress is being made at City Hall on the Waterfront East LRT extension, which will soon connect the Waterfront Innovation Centre to Union Station and the city's lakeside neighbourhoods.
Expected completion: 2022
Schwartz Reisman Innovation Campus: uniting the next generation of great minds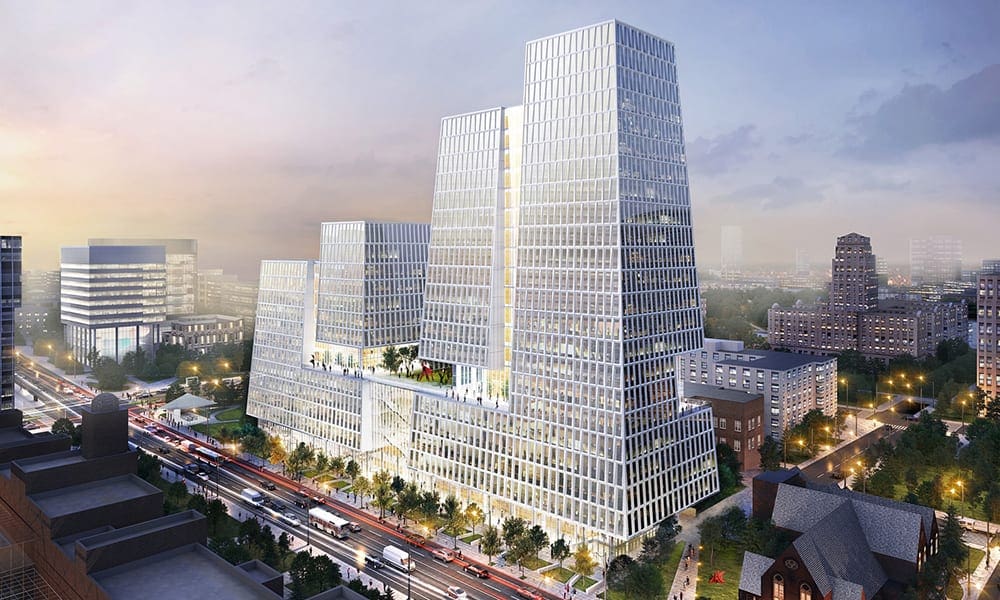 In March 2019, power couple Gerald Schwartz and Heather Reisman donated $100 million to the University of Toronto to accelerate discovery and entrepreneurship in Canada. And it's already happening. The Schwartz Reisman Innovation Campus — 750,000 square feet of lab, research and event space for the school's cross-disciplinary network of scientists, students and entrepreneurs — is being erected in the heart of Toronto's Discovery District at the corner of College Street and University Avenue. Toronto-based Teeple Architects is equipping the campus with such things as vertical gardens, radiant floor heating and storm-water capture, with the goal of hitting LEED Gold certification.  
Expected completion: 2022
EQ Bank Tower: high-tech offices for the east end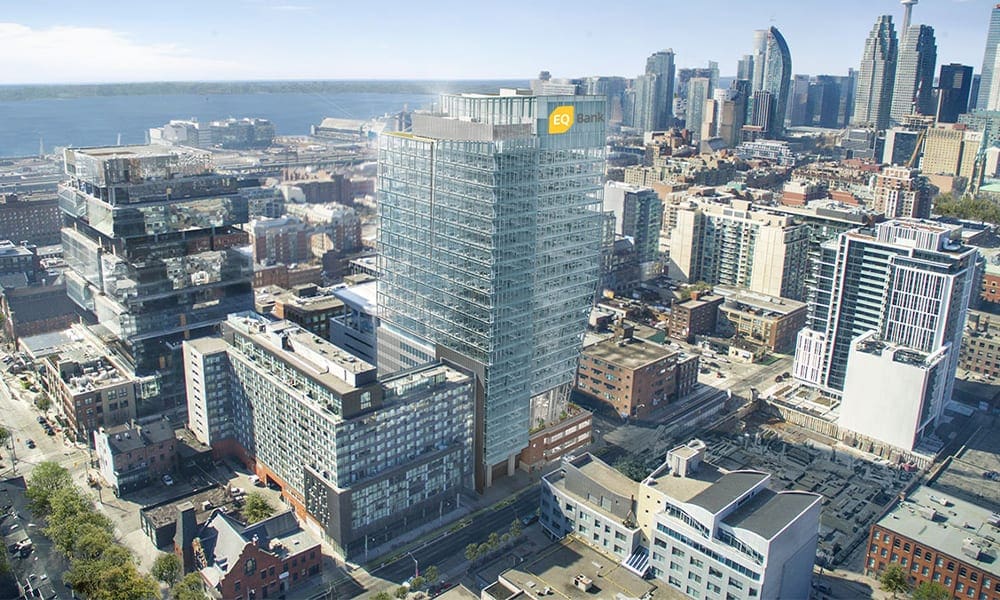 Health startup Think Research has been deep in the coronavirus fight, delivering life-saving clinical data and organizational tools to front-line workers. Connected, efficient and nurturing workplaces are essential to what Think Research does, and it's why the company chose to take up roughly 90,000 square feet at EQ Bank Tower. Designed by Sweeny & Co., the 24-storey high-rise borders Toronto's Corktown district, a new hot spot for tech workers. LEED Gold certification is the plan; EQ Bank Tower will feature energy-efficient ventilation, living walls and green terraces. Also coming to the neighbourhood: shiny new Ontario-Line and GO-Transit stations. 
Expected completion: 2022
Aquabella at Bayside: part condo, part power plant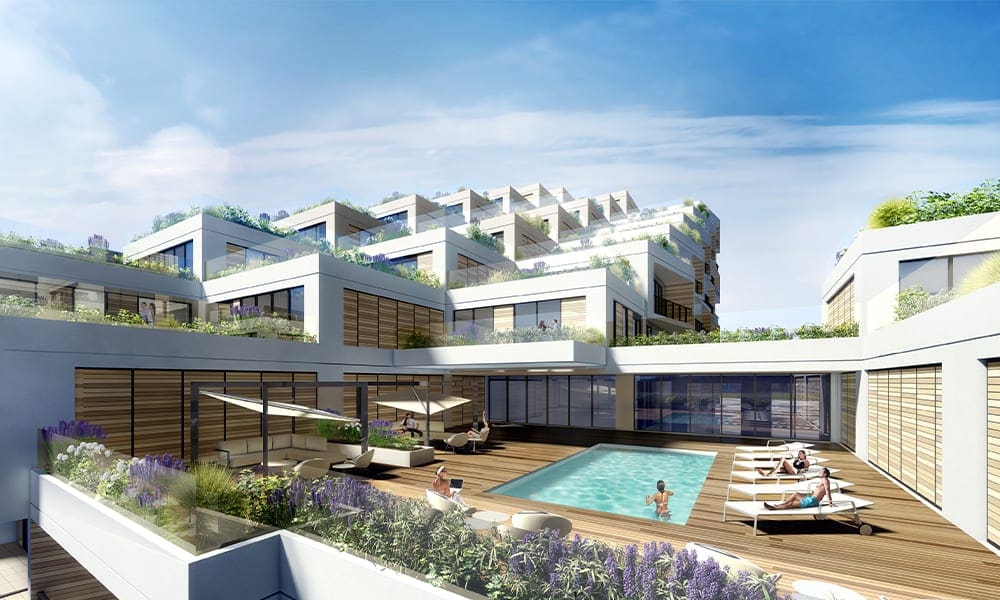 Solar power is one of the oldest forms of renewable energy and still one of the most effective. The problem: until recently, most photovoltaics were bulky, expensive and, frankly, ugly. But today, many towers in Toronto, like the Aquabella at Bayside condo, use stylish solar-panel cladding and glass railing systems (supplied by Toronto company Cladify) to maintain aesthetic vision while generating power. It's estimated that a similar-sized building — depending on jurisdiction and what type of panels are used — can generate something like 80 million kWh over 30 years. Other Canadian companies, such as Winnipeg's Solar Skyrise, offer software that can assess a skyscraper's surfaces for solar-power potential, and then financially advise users at every stage of the construction journey. All of this tech can be applied to both new builds and retrofits, meaning, Toronto can transform itself into a self-sustaining power plant — if there's a will.  
Expected completion: Fall 2021
Anishnawbe Health Toronto's Indigenous Hub: nature heals the city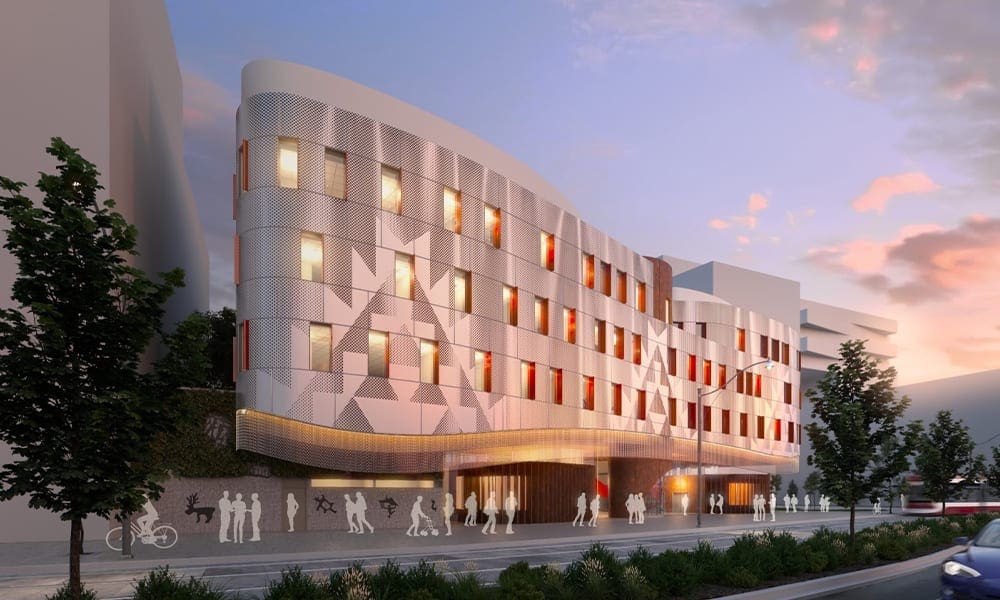 Nature has profound healing properties, and after more than a year of stress and economic strife, Torontonians need some help. Enter Anishnawbe Health Toronto's new Indigenous Hub — a centre for wellness, education, housing and childcare, fully informed by Indigenous design principles. For example: indoor "forests" for both air quality and aesthetics; exterior woodwork inspired by basket weaving to offer shading and cool the building; and an elevated, Indigenous Peoples Garden with a bioswale and hyper-local vegetation (think birch trees, tobacco, sage, cedar and sweetgrass) serves as the anchor of the 2.4-acre site. The Indigenous Hub also acts as a literal and spiritual gateway to Toronto's Port Lands revitalization, one of the world's largest urban renewal projects. 
Expected completion: 2024

Jane and Finch Community Hub and Arts Centre: building back better — with buildings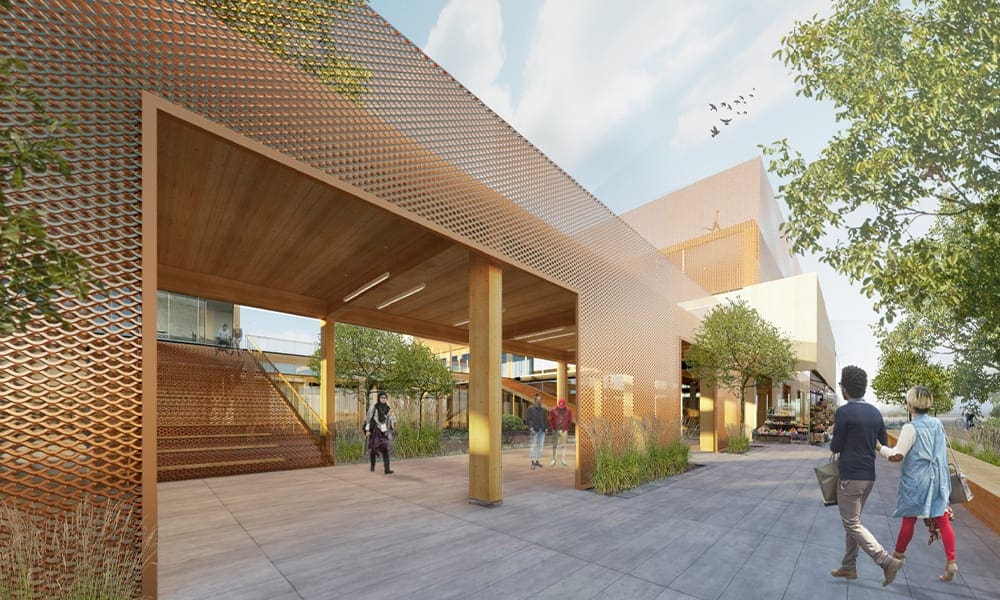 Jane and Finch wants to welcome the world. After years of hard work and activism, residents are eager to debut the Jane and Finch Community Hub and Arts Centre, an urban gem for the long-underserved quarter. Designed by firm Workshop, the centre features many sustainable elements, including rooftop gardens and soccer pitch, wood frames, energy-efficient systems and lots of trees. There's also a pool, community kitchen, theatre and offices for socially-progressive enterprises. Spaces are designed for many uses — an art gallery becomes a café; a basketball court divides into pods for events. And the Jane and Finch Community Hub and Arts Centre will be accessible. Situated on land donated by the Ontario Government, the building is part of the new Finch West LRT storage and maintenance facility. When complete, the high-tech streetcar line will link residents to the Yonge-University subway, Humber College and Pearson International Airport. 
Expected completion: TBD
The Arbour: Ontario's first mass-timber building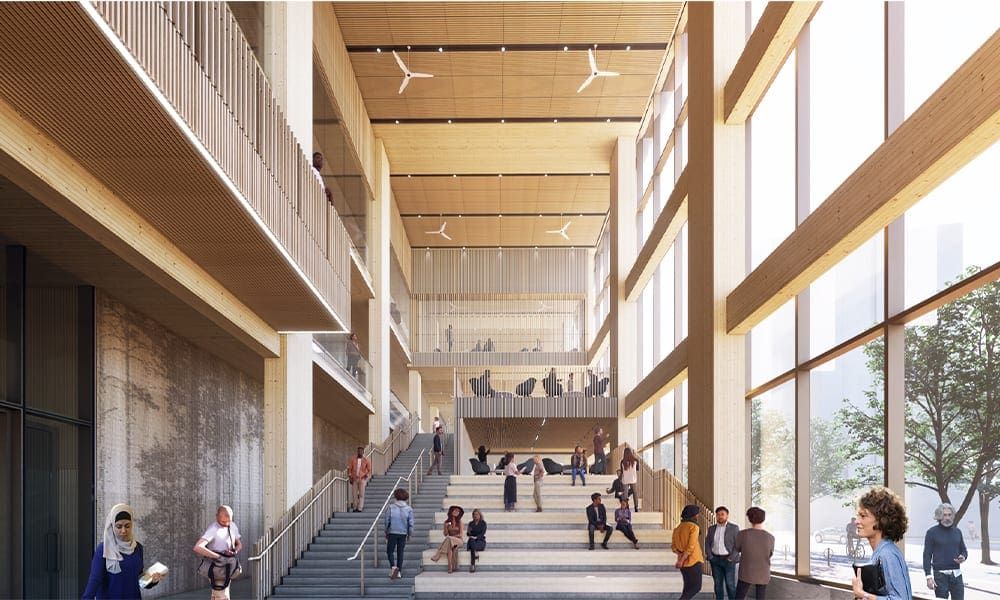 If you want to see the future of construction, shift your eyes to timber. The wood is relatively cheap, locally sourced and renewable. It's also durable, good-looking and insulating. And every year, scientists and engineers come up with new ways to make the stuff more sound for the coming timber skyscraper revolution. Consider George Brown College's The Arbour, Ontario's first mass-timber, low-carbon institutional building. Neighbouring the Waterfront Innovation Centre at an impressive 12 storeys, The Arbour has solar-chimney systems to harness light and air for natural ventilation, along with a slanted, solar roof. It will house the college's Tall Wood Research Institute, School of Information Computer Technology and a childcare facility.
Expected completion: 2024
North East Scarborough Community and Child Care Centre: sustainability as city building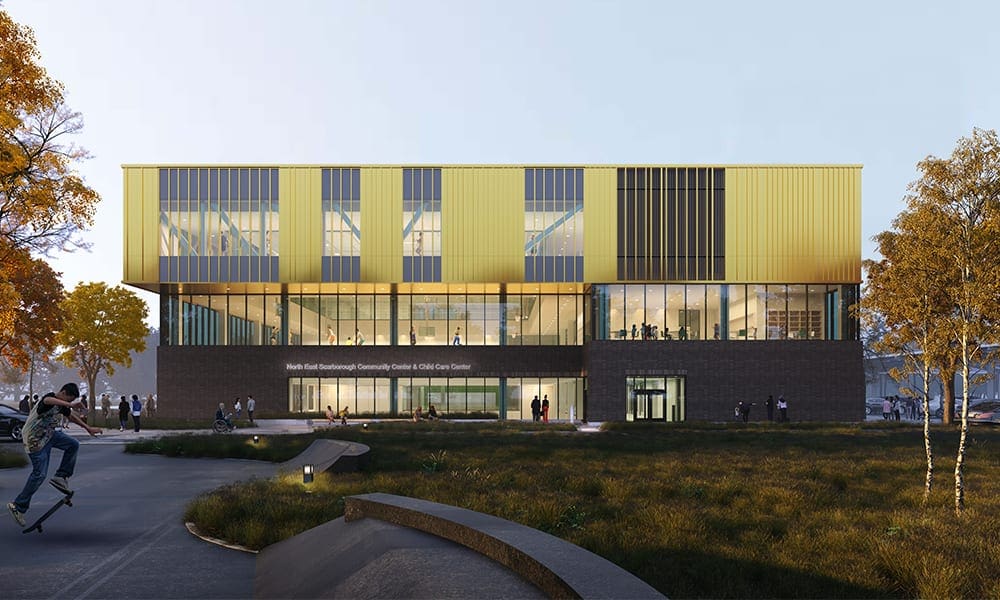 Scarborough is getting a city-building jolt, too. Toronto's largest borough by population (it's almost the size of Vancouver) will soon be home to the North East Scarborough Community and Child Care Centre, just south of the Toronto Zoo and Rouge National Urban Park. Architects Perkins and Will stuffed the project with plenty of environmentally-friendly components, such as brilliant-gold, corrugated-metal facades that reflect sunlight and capture heat; metal fins for shading above floor-to-ceiling windows; and a biodiverse green roof. Improvements are also coming to the surrounding Joyce Trimmer Park: more trees, a splash pad, a garden with a viewing deck, etc. Striking and full of free amenities, the community and childcare areas are designed to encourage health and outdoor activity. 
Expected completion: 2024
East Harbour: Union Station 2.0, built from scratch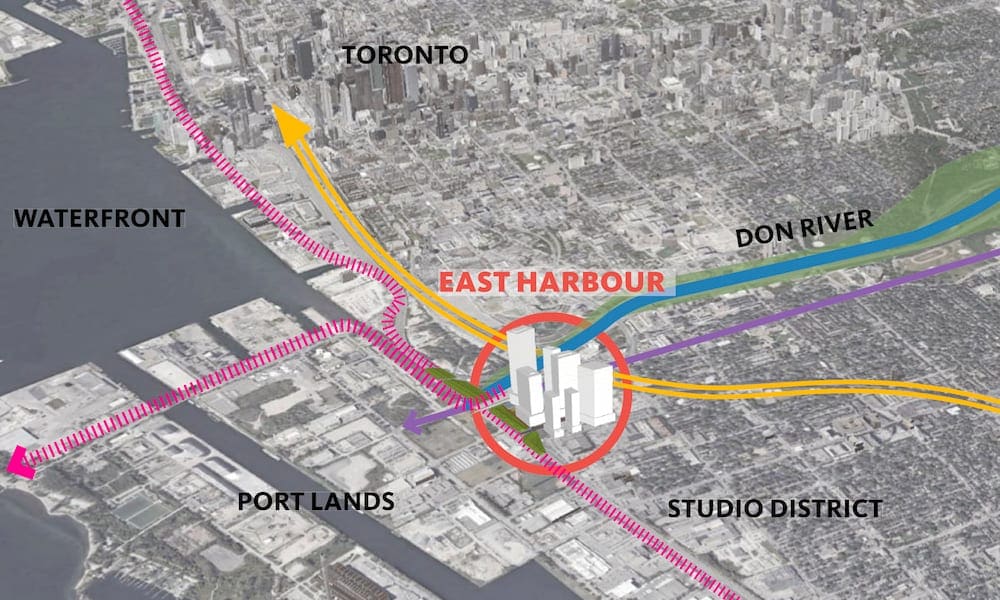 Buildings and mass transit are inextricably linked in the race for climate success. Good public transportation facilitates healthy density, makes neighbourhoods attractive, grows the economy and takes vehicles off the roads. In fact, public transportation is so important to urban well-being that Toronto has approved the construction of (essentially) another Union Station. East Harbour is a gargantuan, built-from-scratch project set to rise on the 38-acre former Unilever site by the lower Don River. It will service the Ontario Line, GO trains and VIA Rail, as well as connect to new streetcar, bus, bicycle and — yes — ski and kayak routes. The plan is to create about 10 million square feet of green apartments, condos, offices, hotels and stores mixed with institutional and cultural attractions. About a quarter of the land is earmarked for green space. Further design and construction specifics should be announced by summer 2021. 
Expected completion: TBD
Cultural Hub at Humber College: Etobicoke's new cathedral for the arts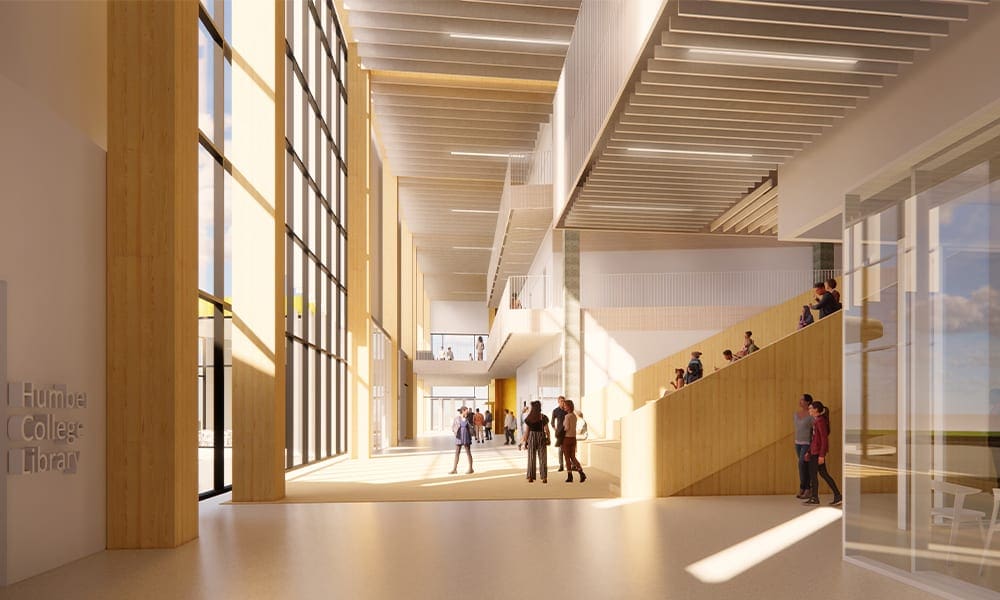 Humber College was seeking a world-class arts-and-culture facility for its students and local community. The vision: a Cultural Hub, rich with theatres, labs, studios and shared spaces, as well as tributes to Indigenous culture and environmentalism. The hub was designed to achieve LEED Platinum certification, net-zero carbon targets and the Toronto Green Standard. Architects Diamond Schmitt placed mass timber at the core of the design, with state-of-the-art HVAC, lighting and water systems hidden in the walls. Notably, Humber College wanted the building to provide enhanced "connectivity" to surrounding parklands. The school is, after all, the namesake of Toronto's historic Humber River, a stretch of natural infrastructure that, over hundreds of years, helped propel the city to its current status. 
Expected completion: 2025
Want the MaRS magazine delivered to your inbox? Sign up for our newsletter and never miss a story.