From floating parks to flying trains, these developments will benefit the planet — and the mental health of Torontonians — for generations.
---
The grass in Toronto will indeed be greener on the other side of this crisis. Though still in development, plans to reopen the city are currently being drafted. And the city will no doubt be ready to celebrate. With no disrespect to the Raptors' championship parade (a wild romp that saw millions of Torontonians flood the streets, mostly for better, but sometimes for worse), society's wariness for being in tight crowds will probably move parties to the city's green spaces, each of them set to play a big role in healing a citizenry longing to re-engage the world outside.
"Nature can have a profound healing power, allowing us to stave off depression and reflect on life," says Steve Joordens, a professor of psychology at the University of Toronto's Scarborough campus. Indeed, studies have shown that even short amounts of time in the great outdoors can reduce stress and anxiety and help improve focus and creativity. "What's more, creating and enjoying new green spaces is a great way to inspire social action, particularly as it relates to climate change," Joordens says.
In the coming months and years, Canada's largest city is set to unveil a treasure chest of developments that will nurture both the earth and people's mental health. From floating parks to flying trains, here are 10 Toronto green projects to enjoy when things go back to (some kind of) normal.
Rail Deck Park: a floating utopia in the downtown core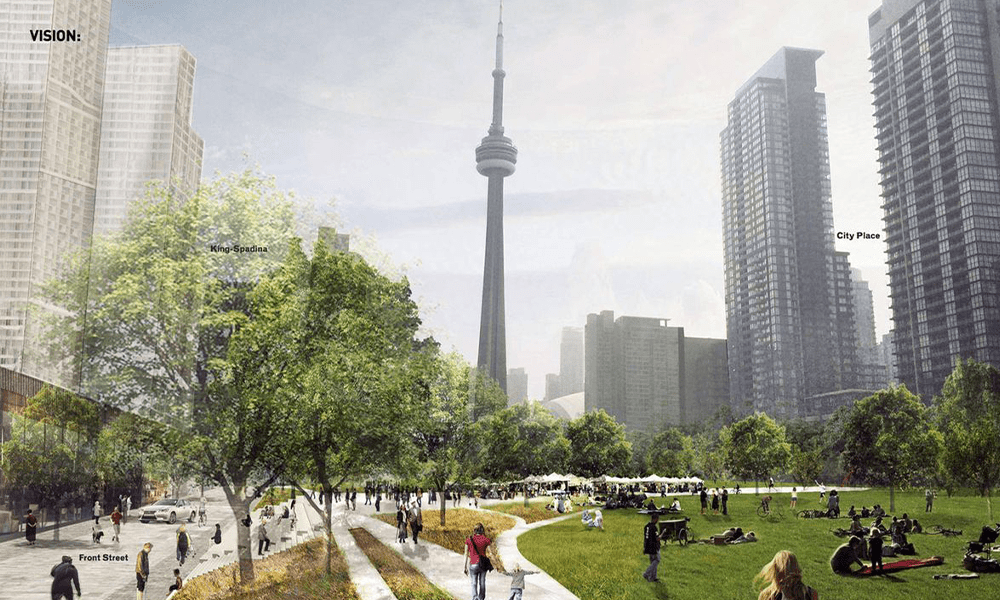 Designed to cover the train corridor between Toronto's Bathurst Street and Blue Jays Way, the 20-acre Rail Deck Park is one of the most ambitious public-space projects in Canadian history. Essentially a giant bridge, the park will unite about a half dozen neighbourhoods, as well as national historic site Fort York, and Toronto's most famous monument, the CN Tower. Arguments between the City and various railway companies over air rights made the floating park, at first, seem a flight of fancy. But in 2019, the Ontario government sided with city council, mandating that any development above this span of rail corridor be reserved exclusively for parks and open space. And with that, the City explicitly stated its intentions to expropriate the air rights at "fair market value." So, while Toronto may have to wait several more years for this park to manifest, Rail Deck Park is a go — so long as citizens are willing to pay for it.
Expected completion: TBD
Toronto Zoo maglev: high-tech transit for the concrete jungle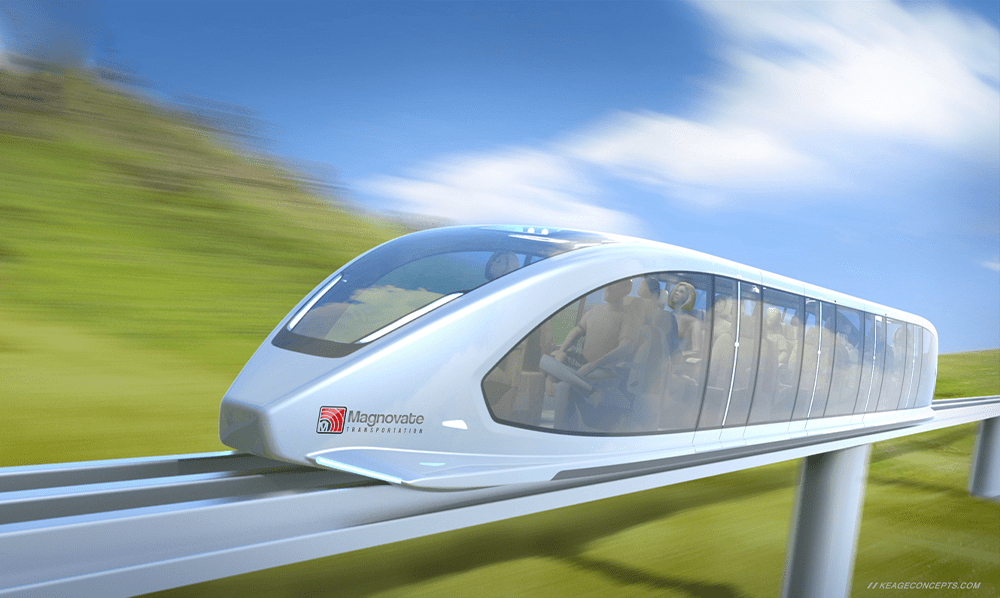 For decades, Torontonians of all stripes have longed for a shiny high-speed rail option to help propel the city to international alpha status. Still, no one predicted they'd be getting their first taste of such technology at the Toronto Zoo. Designed by Edmonton-based startup Magnovate, these maglev trains will hover over an existing guideway built for the zoo's failed monorail, whisking passengers off to see clumsy pandas, penguin pool parties, pygmy hippos and other animal attractions. Silent and frictionless with no carbon emissions, Magnovate's trains will cost the company $25 million to make, serving as a revenue and tourist draw for the zoo and its care facilities.
Expected completion date: 2022
Villiers Island: Lake Ontario's artificial oasis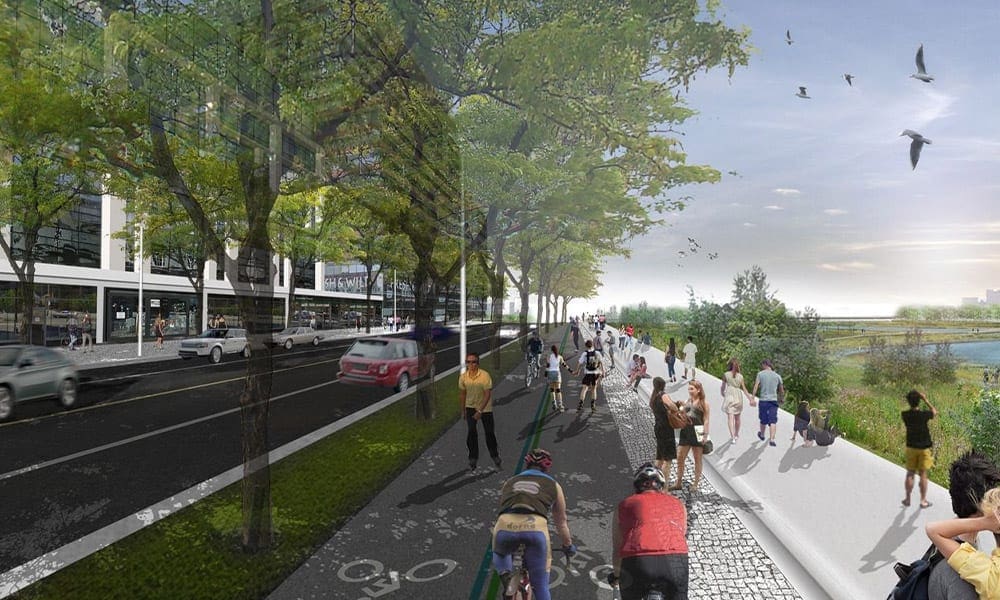 Generally, if you want an island to show up, you need to pitch your tent by an active volcano or wait millions of years for Mother Nature to do her thing. These days in Toronto, you just do it yourself. Sandwiched between the mouth of the Don River and Cherry Beach, Villiers Island is an artificial landmass that, when finished, will be one of the city's most green communities, and also a flood guard for the city's waterfront. Of the site's 88 acres, 34 will be dedicated to parks and public spaces, all accessible by streetcar, bike or a 30-minute walk from downtown. Villiers Island will serve as a gateway to the industrial Port Lands, previously neglected real estate soon to house 25,000 residents and support 30,000 jobs.
Expected completion date: 2024
The Loop Trail: 81 kilometres of cycling bliss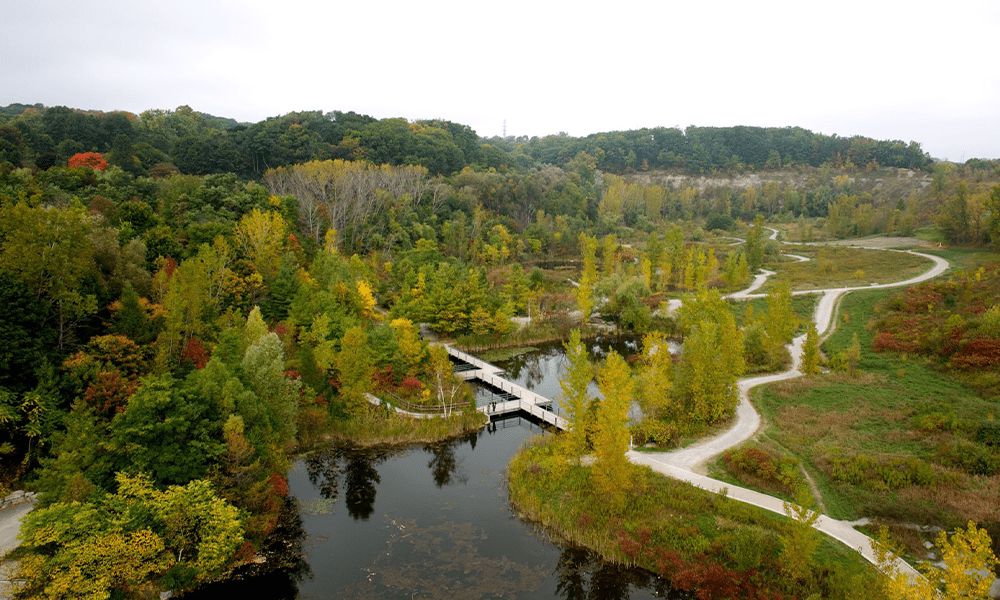 Toronto has been described as "San Francisco turned upside down" — where the latter has hills, the former has a ravine system representing 17 percent of the city's area. And now, thanks to a partnership between the City, Evergreen, and the Toronto and Region Conservation Authority (TRCA), a new 81-kilometre bike path is set to join the network for lovers of the outdoors. Named the Loop Trail, this new feature will connect five ravine areas, 22 neighbourhoods, the Humber and Don River ravine systems, the waterfront, and communities along the Finch Hydro Corridor. In addition to the cycling trail, $2.7 million annually is being allocated to litter collection and invasive species control, as well as $104.9 million in upgrades to various "priority" areas within the system.
Expected completion date: By 2030
The Meadoway: Canada's largest linear park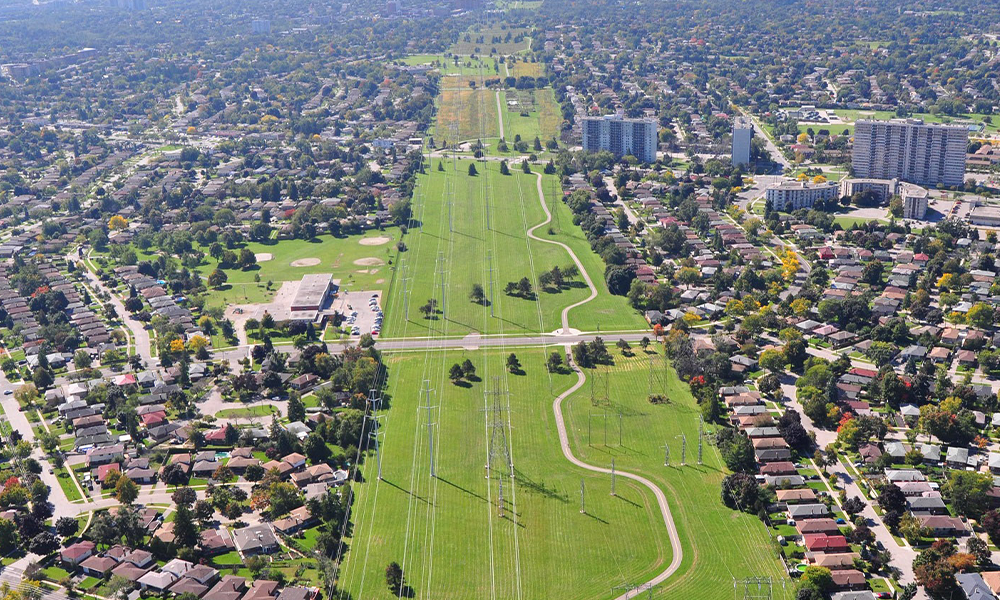 And speaking of green corridors, the Loop Trail will also link to the Meadoway, Scarborough's 16-kilometre park that will be the largest of its kind in Canada. To be developed in a massive hydro field, the Meadoway will connect 34 neighbourhoods, four ravines and 14 parks, including Rouge National Urban Park. Upon completion, this trail will boast 1,000 species of flora and fauna and 10 agricultural gardens, and it will also serve as ground zero for countless scientific research initiatives. As Toronto's largest suburb (with a population of about 650,000), Scarborough has long been underserved when it comes to transit and park space. Finally, the former municipality will have a world-class park to be proud of.
Expected completion date: 2025
St. Lawrence Market North: a modern landmark worthy of history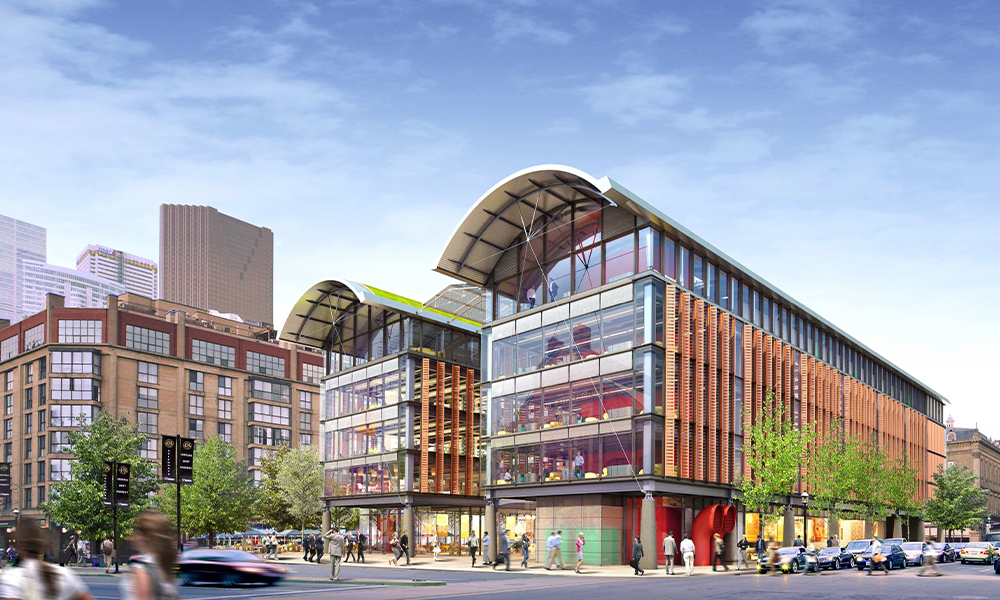 Home to the Carousel Bakery and its iconic peameal bacon sandwich, as well as hundreds of other purveyors and restaurants, St. Lawrence Market is one of Toronto's most cherished institutions. So, it's about time it got upgraded for the 21st century. Standing immediately north of the original brick and mortar, St. Lawrence Market North will soon contain farmers' and antique markets, Toronto Court Services, and City administrative offices. Notably, the new building is aiming to be certified LEED Platinum, the highest ranking of the most trusted green building rating system in the world. And there's more. Since work on the site began in 2015, farmers have been taking residence in a heavy-duty tent assembled atop a large parking lot on the neighbourhood's southern fringe. Once St. Lawrence Market North is operational, that lot will be converted into an extension of Toronto's sprawling David Crombie Park.
Expected completion date: 2022
Toronto Islands flood-proofing: buoyed by form and function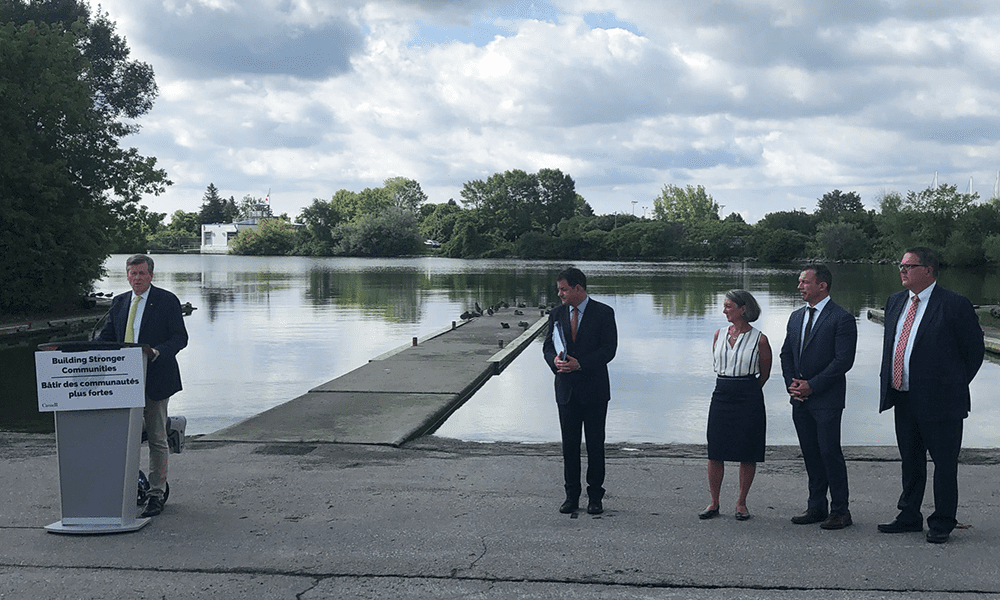 In 2017, the Toronto Islands experienced extensive flooding, forcing the City to shutter its prized getaway for the majority of summer. Since then, Mayor John Tory has been blunt, citing climate change as the primary reason that the islands and many other Toronto landmarks have been physically and economically devastated by floods. Still in the planning and design stages, the TRCA has proposed a $16-million project that will not only protect the island from disaster, but also beautify the community. Potential improvements include: raising the train tracks at Centreville amusement park, elevating low-lying arterial roads, constructing concrete flood walls, and creating up to three new beaches, as well as a waterfront promenade. Already underway is another anti-flood initiative, from Etobicoke to Scarborough, which involves planting trees and installing boulders to reduce erosion-causing waves.
Expected completion date: TBD
CIBC Square: public space by the private sector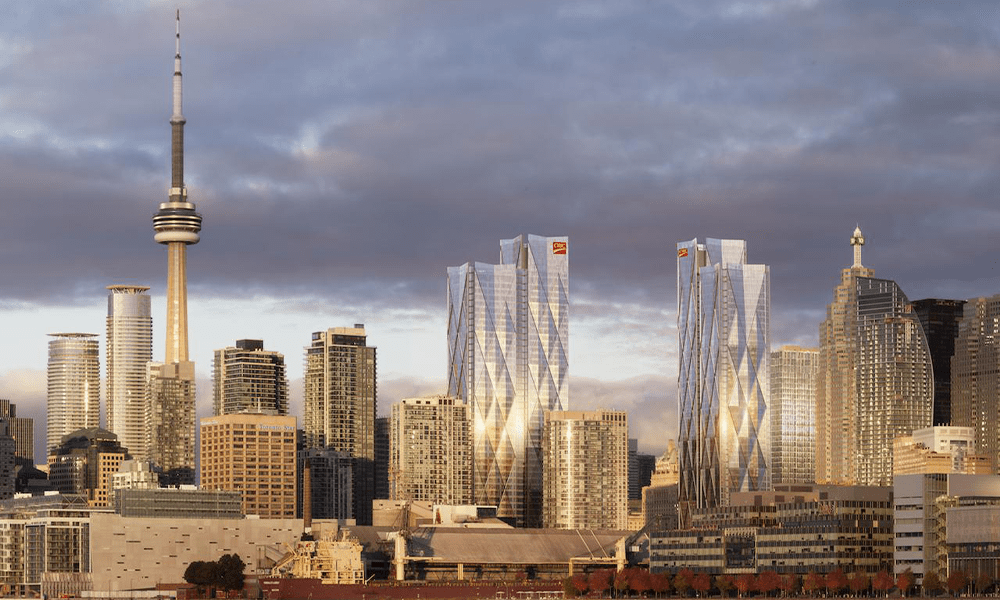 It was recently reported that Toronto boasts the most active cranes in North America. The crown jewel of the construction boom may well be CIBC Square, the bank's new 2.9-million-square-foot headquarters. Targeting LEED Platinum certification, the two crystalline towers will be connected by a public green space, elevated over the railway tracks like a mini Rail Deck Park. CIBC Square — with direct access to Union Station, Toronto's underground PATH network and Scotiabank Arena — will also house the city's central bus terminal, consolidating the old Union Station bus terminal (maligned for lacking protection against the elements) and the Toronto Coach Terminal (serviceable, but insufficiently connected to the broader transit network).
Expected completion date: 2022
Bike Share Toronto expansion: sustainable spin comes to the suburbs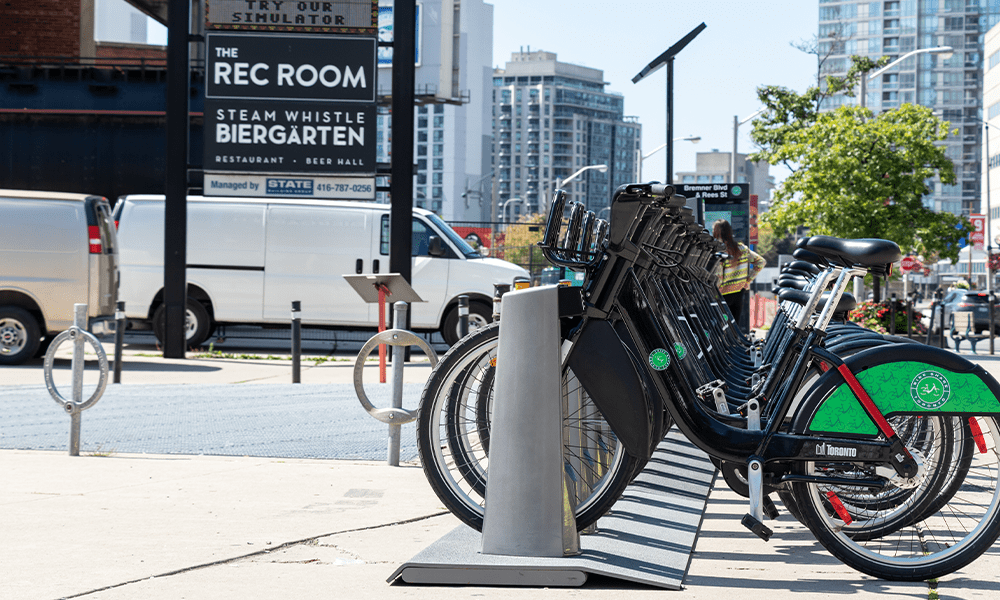 Once a bush-league operation compared to Montreal's renowned Bixi system, Bike Share Toronto has blossomed into a staple of the city's transit fabric, with 6,850 bikes, 625 stations and an annual ridership of close to 2.5 million. The project has been such a success that 2020 expansion is well underway, bringing new service to five more wards with kilometre coverage increasing by 50 percent. That means more healthy transit options for people in North York, Etobicoke, Scarborough, and even the Toronto Islands. Since launching in 2011, Bike Share Toronto ridership has rapidly grown every year, and it's estimated that the 8.1 million kilometres covered by users in 2019 offset more than 4.5 million pounds of carbon emissions.
Expected completion date: By 2021
Form Condos: concrete dwellings created from carbon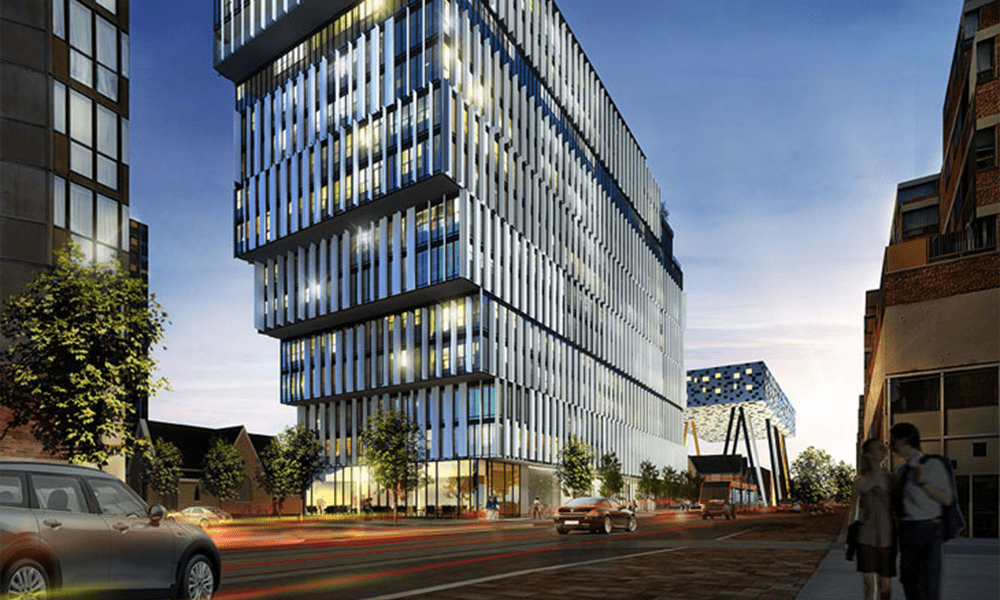 Finally, Toronto has a reason to celebrate a new condo development. Though not a green space proper, Form Condos represent a new benchmark in sustainable construction, adding to its already beautiful environs in OCAD University, the Art Gallery of Ontario and Grange Park. You see, the building's concrete skeleton was made by Halifax startup CarbonCure. The company recycles CO2 as a replacement for cement, infusing it into concrete and trapping it forever. The levels of innovation here can't be understated: concrete is the most abundant human-made material on the planet, and its traditional production accounts for seven percent of the world's total CO2 emissions. Should its tech be widely-adopted, CarbonCure estimates that up to 700 megatonnes of CO2 could be prevented from entering the air each year — the equivalent of taking 150 million cars off the road.
Expected completion date: By 2021
Trudeau's two billion trees: breathing new life into urban living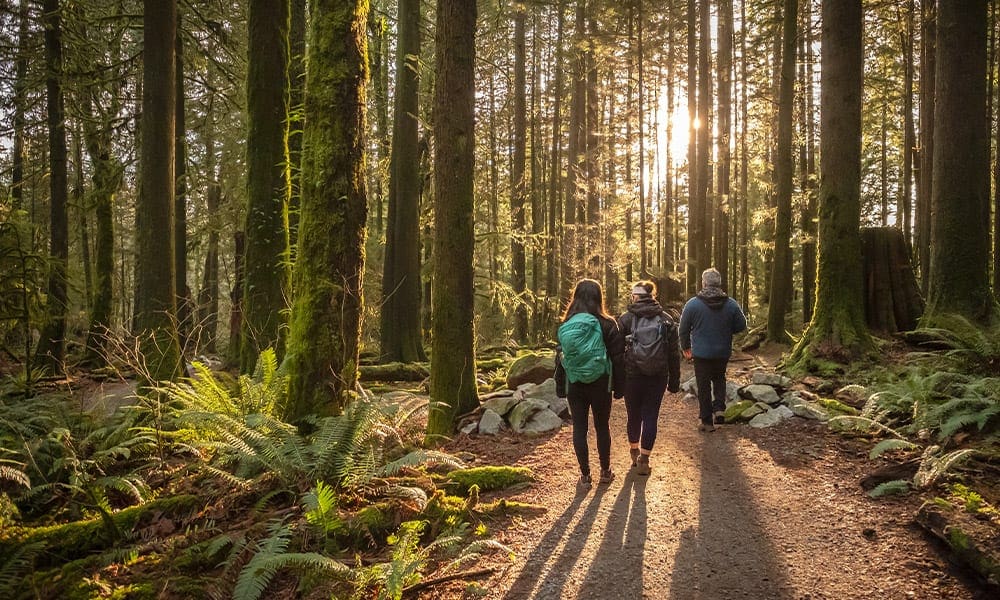 Leading up to the 2019 federal election, Prime Minister Justin Trudeau promised to plant more than two billion trees across Canada over the next decade, in addition to the roughly 600 million planted every year. Carbon-eating, affordable and self-recycling, reforestation is a relatively easy way to combat climate change, with studies suggesting that one trillion trees could be planted worldwide without affecting existing farmland and urban areas. Led by Canada's Environment and Climate Change department, the plan has yet to take shape, though, the Toronto region is a prime candidate for bolstered greenery, since a lot of its tree canopy is aging and under threat. And the City has reaffirmed its commitment to increase the canopy to 40 percent by 2050, an ambitious goal that will require members of all ecosystems to chip in.
Expected completion date: 2030
MaRS-supported cleantech startups are on the front lines of the climate change battle. Learn more about them.