On July 17, 2019, for only the fifth time in its history, the World Health Organization (WHO) declared a Public Health Emergency of International Concern, this time for the Ebola crisis in the Democratic Republic of the Congo (DRC). To date, the outbreak has killed nearly 1,700 people with about 12 new cases reported every day. While the virus has largely been confined to the DRC, there is concern that it could spill across borders, spurring political and economic unrest. In fact, just this week, the DRC's Ministry of Public Health reported a case of the virus in Goma, a city on the border of Rwanda, where tens of thousands of people pass through every day.
Dr. Kamran Khan has made it his life's mission to fight the spread of infectious diseases like Ebola. A practising infectious disease physician, professor, and founder-CEO of Toronto-based startup BlueDot, Dr. Khan sat on the WHO's Emergency Committee during the 2015 Zika outbreak. He also served as a clinician-scientist at St. Michael's Hospital amidst the 2003 SARS epidemic, and studied in New York City throughout the anthrax and West Nile crises. In short, Dr. Khan is an ideal person to make sense of the current emergency — and provide advice on how to stop it.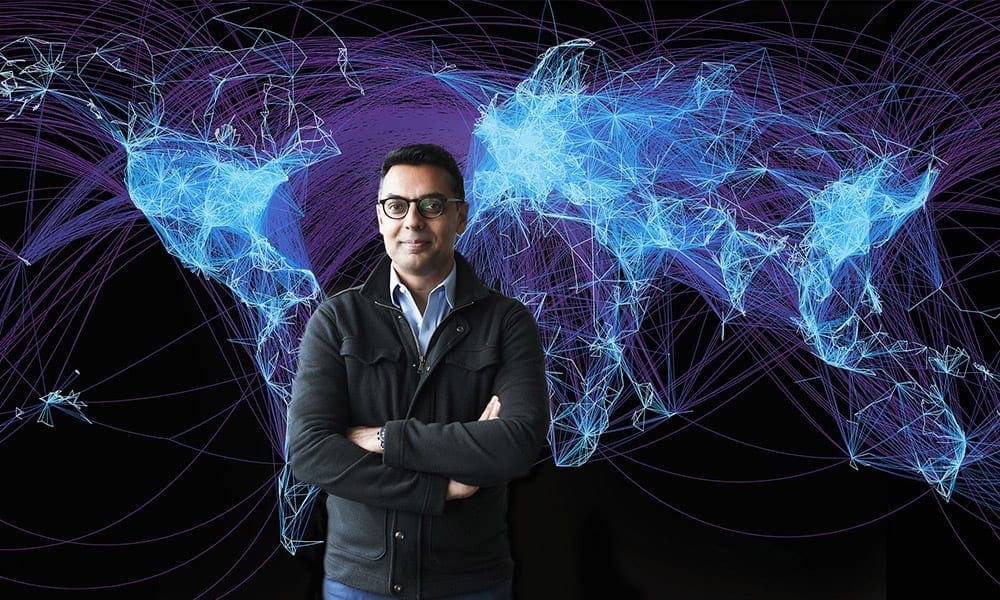 "This is a tragedy that, sadly, is occurring with greater frequency as countries and people become more connected," says Dr. Khan. "The good news is this: with advancements in big data and analytics, we can now spread information — empowering healthcare workers and saving lives —faster than the spread of any disease."
Being ready and resilient means delivering the right information to the right person at the right moment. "The quality of the world's healthcare systems is not the problem, necessarily. Our greatest challenge is figuring out how to spread global awareness and research to clinicians, policymakers, and the average citizen," Dr. Khan says. Any physician has the power to stop an outbreak, but no physician has all the knowledge and experience to detect every single virus out there. ("When I was in medical school, we spent one day studying tropical diseases," Dr. Khan says.) That's where BlueDot comes in.
The company uses human and artificial intelligence to protect the world from infectious diseases. Its solutions track, contextualize and anticipate infectious disease risks. In fact, six months before confirmed cases were reported, the company predicted that Miami would be afflicted by the Zika virus.
The company's product, BlueDot Insights, is a global alert system that uses official public health sources, moderated sources, mass media (10,000 articles per day in 60+ languages) and the world's flight itinerary data to track and anticipate the spread of infectious diseases, reducing the time to make a risk assessment from weeks to seconds.
The system sends notifications to hospital networks and public health officials to help them understand the risks of an outbreak, so they can improve emergency protocols and better communicate what might land in their own back yard.
"We want to remove chaos and surprise from the equation," Dr. Khan says. "Our solutions give any doctor anywhere tailored information and insight on over 100 infectious diseases — Ebola, measles, mumps, and more."
It's crucial Canadians remember that crises such as the Ebola outbreak are not particular to the developing world. While countries like the DRC indeed suffer from a lack of resources, supplies, and medical staff, Dr. Khan is quick to point out that the SARS virus crippled Toronto, a global healthcare leader and engine of a highly industrialized nation. Lives were lost, communities were demonized, and the world became fearful of one of its most cosmopolitan cities. "Because we live in a wealthy country, we have the luxury of bearing short memories," he says. "Microbes have a way of surprising us, even though we should know better."
For Dr. Khan, the reality is clear: threats can come at any moment and we need to be ready. And he believes the Canadian healthcare community, particularly those in a tech capital like Toronto, can and should make all the difference.
"Toronto is a microcosm of the globe, which means any manner of threat from the farthest corners of the planet could surface here. But we can be vigilant and mindful of our international friends and colleagues. It's our ethical duty."
MaRS supports hundreds of Canadian companies that help people enjoy longer, healthier lives. Learn more about them here.