GovMaker: Public Innovation Telepresence Series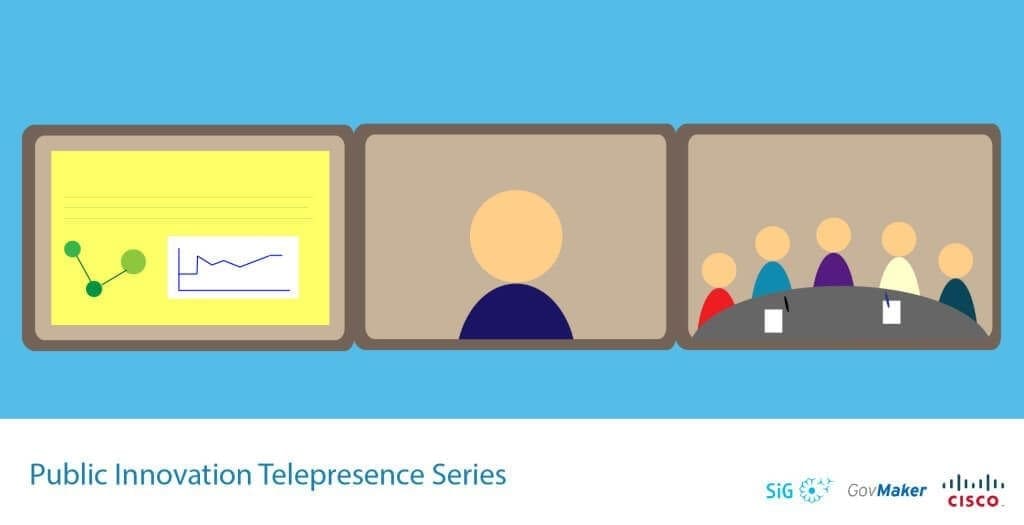 If you are a current public servant in Canada, please email Idil Burale at iburale@marsdd.com  to register for future sessions.
Around the world governments are recognizing that we need a new way of operating. At federal, provincial and local levels in Canada, we witness an increase of interest and activity within the government to open up data, set up innovation lab teams, adopting social innovation as a policy strategy, and redesigning public services to create greater impact.
The Public Innovation TelePresence Series aims to support public sector innovators in understanding how social innovation methods and tools can support the design of effective public policy and service delivery. This series is uniquely set up for individuals working in the public service sector to share, learn, and grow the innovative potential in the public sector.
By showcasing international examples from leading public innovators around the world, Social Innovation Generation and MaRS Solutions Lab have designed a series that particularly focuses on how those working within the Canadian public sector can integrate social innovation into a broader public innovation strategy.
We are delighted to partner with Cisco to host this monthly Telepresence series and bring together civil servants from across Canada, including Halifax, Montreal, Ottawa, Toronto, Winnipeg, Edmonton, Vancouver, Victoria. The series is part of the GovMaker Network.
Topics and speakers from past sessions are:
Sept 2014: Introduction to Social Innovation and Systems Thinking, with Dan McCarthy (SiG Waterloo) and Allyson Hewitt (Sr Fellow Social Innovation, MaRS)
Oct 2014: Communicating Innovation, with Stian Westlake (Director Policy and Research, Nesta, UK)
Nov 2014: Partnership Brokering, with Mary Pickering (VP Toronto Atmospheric Fund)
Dec 2014: Public Sector Innovation Teams with Phillip Colligan (Deputy Chief Executive of Nesta and Executive Director Nesta Innovation Lab, UK)
Jan 2015: Systemic Design with Alex Ryan (Senior Systems Design Manager, Alberta CoLab)
Feb 2015: Rules, Procedures, and … Innovation! with Jorrit de Jong (Academic Director, Innovations in Government Program at the Harvard Kennedy School)
March 2015: Hacking the Public the Public Sector with Stéphane Vincent (Director, le 27e région, France)
April 2015: The New Age of Government Innovation, Lessons from BC with Al Etmanski( President + Co-Founder, PLAN) and Molly Harrington (ADM, Policy + Research Division, BC)
May 2015: (Topic TBD) with Lucie Stephens (Head of Co-production, New Economics Foundation, UK)
September 30: Government Labs with Trajan Schulzke (Service Lab, Industry Canada) and Christopher MacLennan (Innovation Hub, Privy Council Office)
December 2015: Behavourial Economics with Cynthia Abel and Justin House (Treasury Board Secretariat's Behavioural Insights Unit) and Julie Greene (The Public Health Agency of Canada)
February 2016: Open and Big Data for Policywith Mark Diner (Chief Advisor and Executive Director, Open Government for the Governmenf of Alberta) and Joe Greenwood (Director, MaRS Data Catalyst at MaRS Discovery District)

May 2016: UX Design for Policy with Ryan Hum (Chief designer and Data Scientist at Government of Canada's Central Innovation Hub) and Dilip Soman (Professor at the Rotman School of Management and the co-director of the Behavioural Economics in Action (BEAR) research cluster.)
If you are interested in the series and work outside the public sector, our partner at Social Innovation Generate have 3 public series that are equally compelling:
1. Social Innovation and Resilience in Cities with Cities for People
2. How do we get to change? with InWithForward
3. Inspiring Action for Social Impact Series
Learn more about our GovMaker Network and GovMaker Day here.

Please email Idil Burale at @iburale@marsdd.com if you are a current public servant in Canada and would like to register for future sessions.