Donald Trump makes no secret of the fact that he's anything but an environmentalist. Where his regressive policies will lead is the subject of constant debate, but it stands to reason that they may cloud the future for Canada's clean-technology sector.
Yet the situation is far from black and white. Close examination shows that not all the fallout from the "Trump factor" is bad. In fact, the controversial U.S. President's greatest impact on cleantech may not even come from all the eco-backtracking he has done.
That backtracking is hard to ignore. During the G20's Hamburg summit in July, he made good on his threat to withdraw from the Paris climate accord. That leaves the United States as one of just three nations not taking part in the UN-led agreement to combat global warming by reducing greenhouse-gas emissions. (The other two? War-torn Syria and Nicaragua, which generates all of 0.03 per cent of the world's emissions.)
Since moving into the Oval Office, the President has also issued an executive order to roll back the climate-change policies of his predecessor, Barack Obama, put a climate change denier in charge of the Environmental Protection Agency (and cut Its funding considerably), loosened restrictions on coal-fired power generation, and introduced a budget that would defund a popular, renewable-energy program.

Trump's eco-backtracking a boon for Canadian cleantech companies
"What Trump is doing is bad for the environment — there's no question about that," says Tom Rand, managing director of Toronto-based ArcTern Ventures, which invests in climate-focused startups. "How much impact will this have on global efforts to fight climate change? That remains to be seen."
However, he adds, despite Trump's insistence that oil and "clean coal" remain vital to America's economic growth, his policy reversals do create opportunities for Canadian cleantech companies. Why? Because Ottawa is doing what Washington is not.
"This is a nascent industry that's just beginning to grow and, for any industry to grow, it needs government support," Rand says. So, with Prime Minister Justin Trudeau focusing on a sector that Trump is ignoring, "we'll have a much healthier cleantech ecosystem in Canada. We will take market share."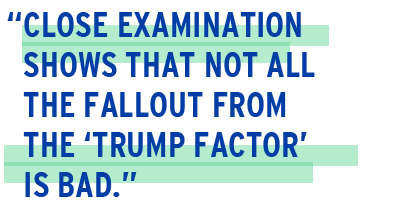 Without public programs such as low-cost debt for early commercial deployments, American cleantech is likely to weaken, if not shrink. Private investors could fill the void, Rand admits, but few seem interested these days. "Investor interest in cleantech has waned over the years," he says, adding that at one time, as many as 300 venture funds were in the sector. "Today there are five."
According to the Brookings Institution, a Washington-based public-policy research agency, venture-capital investment in U.S. cleantech last year was 25 per cent below that of 2011, falling from $7 billion U.S. to $5.24 billion. Cleantech's share of the overall venture-capital pie dropped even more, from almost 17 per cent in 2011 to just below eight per cent in 2016.
"Returns were better in traditional software," explains Marty Reed, chief executive officer of Vancouver-based cleantech fund Evok Innovations. "It's a competitive world and, if VCs can invest elsewhere with a much higher return than they would get from cleantech, why wouldn't they?"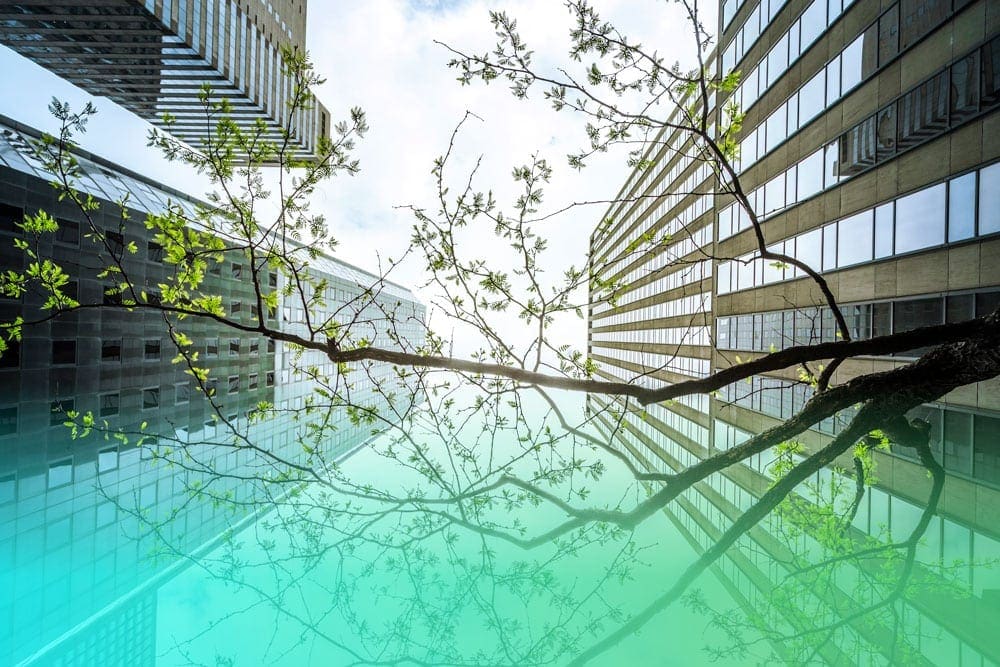 Canadian companies set to clean up in U.S. market
On a more positive note, says ArcTern's Rand, a diminished U.S. industry will leave a space that Canadian companies can fill, especially with demand for clean technologies growing in Europe and the developing world.
Also, despite the Trump administration's stance, the U.S. likely will remain a solid market. Not only is there state-level green legislation in places such as California, Colorado and New York, Reed says he also expects U.S. corporations to make significant cleantech investments in the near future.
"Walmart, for one, is committed to reducing their greenhouse-gas emissions by a gigaton by 2030," he explains.
One gigaton, or a billion metric tons, is equal to a year's worth of emissions from no fewer than 211 million passenger vehicles. To meet such an ambitious target, Walmart plans to reduce its own carbon output by 18 per cent while, more importantly, asking its major suppliers to make up the rest.
The move is "being driven purely by economics," Reed says. "The average Walmart shopper may not be environmentally focused, but Walmart is dedicated to delivering value goods, and achieving efficiencies with clean technology can help them with this goal."

Ottawa fills the void left behind by Washington
The Canadian government is also very focused on the environment, and offers innovative cleantech companies an array of grants, tax credits and other financial aid. The 2017 federal budget has committed $430 million to research and development for clean energy, transportation and natural-resource innovation, with an additional $14.5 million set aside for a national cleantech-data strategy.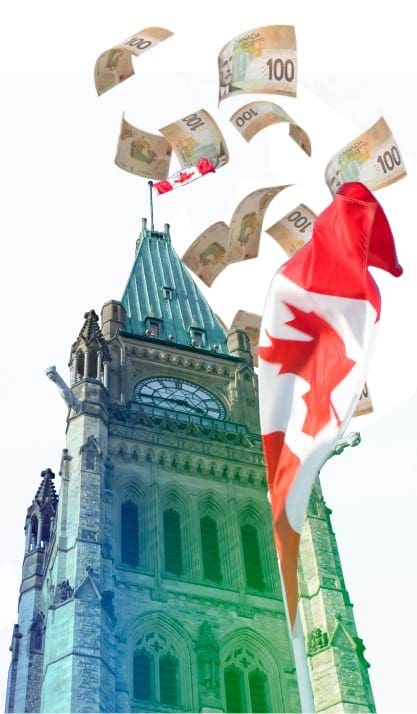 The budget will also channel close to $1.4 billion over three years to the Business Development Bank of Canada (BDC) and Export Development Canada (EDC) in a bid to leverage private-sector investment and give cleantech firms more access to equity financing, working capital and project financing.
Both BDC and EDC are still working to finalize the scope of this investment project. EDC spokesperson Phil Taylor notes that the 2017 budget stipulates the money should go to enabling "first-of-its-kind, capital-intensive, early-commercial-scale clean technology deployment."
As well, the feds have earmarked $400 million for Sustainable Development Technology Canada, an arm's-length federal government foundation that funds innovation and cleantech demonstration projects.

Hurdles remain for Canadian cleantech entrepreneurs
But even with such a supportive ecosystem, there are still obstacles for Canadian cleantech entrepreneurs.
One big challenge, says Evok's Reed, is the general reluctance of Canadian businesses and governments to try new technologies. Another challenge is money. Even with the new funding, when compared to the U.S., there aren't as many funds available here for early-stage companies trying to get commercial projects off the ground.
This can have a dangerous ripple effect, he explains. "What you'll see with the majority of cleantech companies is their first customer is in the U.S., so they set up their sales and marketing firms over there, then hire a CEO from the U.S. and, the next thing you know, the whole company is there."
"If we don't get more aggressive," Reed argues, "we'll produce great science and a decent number of small companies — funded largely by Canadian taxpayers — and, when they reach a certain level, U.S. companies will acquire them."

Could Trump spark a brain drain to the U.S.?
One of Trump's election promises could accelerate this potential migration despite the fact it has little to do with the environment — and despite reports that his strict, new immigration policies may enrich Canada with global tech talent otherwise bound for Silicon Valley.
This X factor, says Vancouver lawyer Cheryl Slusarchuk, is Trump's vow to lower the tax rate for U.S. corporations.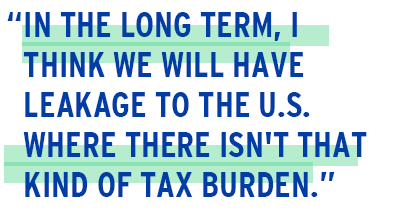 A specialist in cross-border mergers and acquisitions, Slusarchuk took part, along with Rand and Reed, in a recent Globe Series debate on the Trump factor. She pointed out that, because the corporate tax in Canada is 28 to 39 per cent, "in the long term, I think we will have leakage to the U.S., where there isn't that kind of tax burden."
But there is also an upside. Slusarchuk said that even if companies resist the siren's cross-border call, they will still likely cash in on the plan to drop U.S. corporate taxes as low as 16 per cent. For those that have their technology ready, she explained, the tax cut "will free up money for capital expenditures." Which could mean big sales.
Walmart isn't the only big U.S. firm in the market for tech that's clean and green — no matter what Donald Trump has to say about global warming.