Roy Pereira, a serial entrepreneur building a new AI venture, was intrigued by an unusual recruiting pattern he witnessed in Toronto last year. Instead of sifting through a pile of local graduates, the founder of Zoom.ai, a chat-based employee productivity tool, found himself reviewing dozens of resumes from U.S.-based applicants. What started as a trickle of inquiries from global tech talent following the H-1B visa changes in the U.S., has turned into a tsunami of international interest in the region.
"In the last year alone, we've seen an unprecedented number of qualified applicants applying from overseas and the U.S. I see this influx not only due to our higher education institutions and thriving startup scene, but also because we welcome diverse talent," says Pereira.
That influx of people is being matched by a new flow of international capital. In September alone, U.S. firms announced investments of nearly $1 billion in the Toronto Region to build out global operations and research capabilities. One of the blue-chip names on the list was ride-hailing giant Uber. During the announcement in Toronto, CEO Dara Khosrowshahi spoke about his vision for the future of urban mobility: "We really want Uber to be the one-stop shop for mobility in any city."
But while the company's ambitions obviously are not focused on a single locale, there was a reason it chose to invest $200 million to locate its facility in Toronto: talent.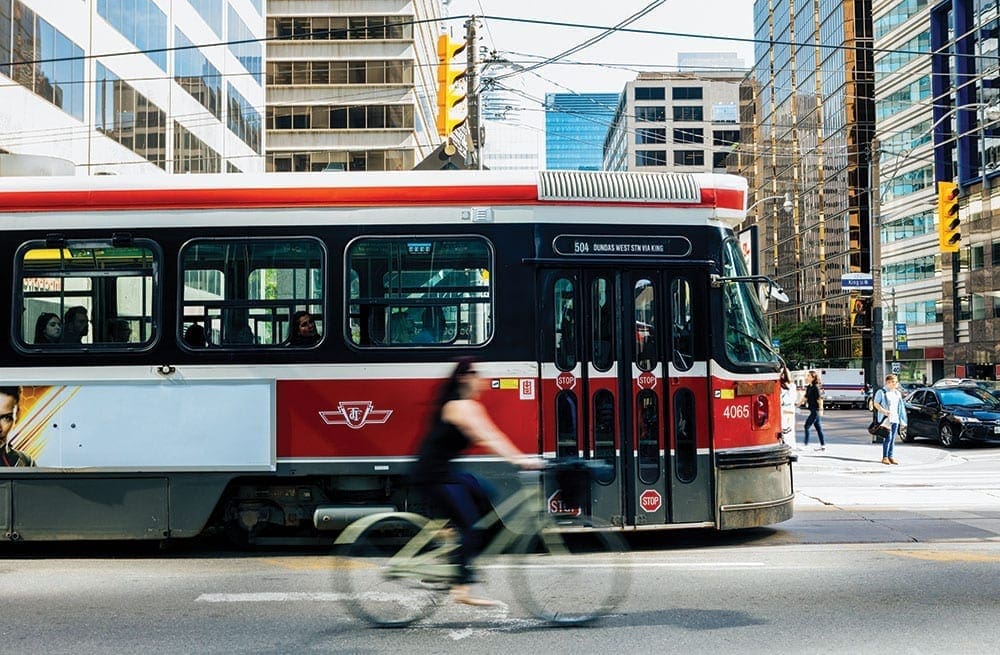 The Toronto Region has long been an international hunting ground for graduates as the area's post-secondary institutions turn out a steady supply of engineers, software developers and data scientists. What's changed is that U.S. corporations are no longer just siphoning talent out of the country to work in Silicon Valley, New York or Seattle, but instead increasingly looking to co-locate their research labs with Canada's centres of excellences to work alongside these experts.
In selecting the location for its new research hub, Uber tapped the co-founder of the Toronto artificial intelligence accelerator, the Vector Institute, to head its operation known as the Advanced Technologies Group. As Toronto Region Board of Trade (TRBOT) CEO Jan de Silva puts it, Raquel Urtasun, a former University of Toronto machine vision researcher, is seen as being "on the tip of the point" when it comes to one of the key technologies required in autonomous vehicles. The decision to expand here is all about her, she adds.
In fact, AI is becoming one of the city's core capabilities—with multinationals such as Autodesk, Microsoft, General Motors and Samsung setting up AI research labs in the city. Other bets on Toronto include Sidewalk Labs, the smart city arm of Google parent Alphabet Inc., which is pioneering its urban technologies on the city's waterfront as part of a larger development called Quayside. Pull back the view a little further, and these arrivals represent the latest, strongest pulse in a growth story that has been building over the past decade, a period in which the city has emerged as a fast-growing economic powerhouse in tech, manufacturing, banking, mining, finance and food processing. It's a growth story built around homegrown innovation both fueling and fed by the influx of international players.
This corporate nearshoring trend explains why de Silva and others feel that the Toronto Region is having what she calls "a moment," despite ongoing uncertainty—before and after the announcement of the United States-Mexico-Canada Agreement (USMCA)—about trade relations with the U.S. It's also a "moment" that, when seen in the context of the shifting tides of international investment, has arguably put Toronto at the vanguard of "the rest"—second-tier global cities challenging the world's financial and technology capitals for a consistently larger share of future economic opportunity.

Toronto and the surrounding region—which extends from Waterloo to Oshawa and Hamilton—is home to about 6.4 million people, half of whom were born outside Canada. It houses almost 40 per cent of all Canadian head offices and generates fully 18.5 per cent of the country's GDP. It consistently ranks near the top of global livability rankings. And its momentum is palpable.
In 2016, Ontario saw an almost 50 per cent bump in venture capital deals. The province now ranks fourth in North America in terms of the dollar value of VC financings, after California, New York and Massachusetts. Not coincidentally, the Toronto-Waterloo corridor has also become home to a very active network of incubators and accelerators, including MaRS Discovery District, OneEleven, the DMZ, Communitech and the Creative Destruction Lab at the University of Toronto's Rotman School of Management, that are together attracting angel investors and founders. Other organizations like Toronto Finance International are working on initiatives to improve the regulatory environment and help fintech startups grow.

Toby Lennox, president and CEO of Toronto Global, the region's economic development agency, adds that he's seeing a rapidly growing number of firms choosing to locate in the area as a means of solving complex human resource recruitment and retention challenges. In 2017, Toronto was the fastest-growing market for tech jobs, according to CBRE Group's annual survey, with 28,900 jobs created—more than the San Francisco Bay Area, Seattle and Washington, D.C. combined. In addition, tech employers accounted for more than a third of demand for the city's office space.
"There's a stampede toward talent," says Lennox, pointing out that the region as a whole can offer solutions to the full range of recruitment needs facing firms of all sizes.
But this corporate migration also follows the trend noted at the outset: the reverse brain drain from the U.S. to Canada first identified by Pereira and confirmed in a research project conducted by MaRS. The survey, which polled over 100 startups in the ecosystem, showed a significant spike in international applications from highly skilled professionals and graduate students over the past two years.
The spike coincides with the rising anti-immigrant sentiment in the U.S., plus the imposition of tough work visa restrictions during the Trump administration. It also parallels initiatives such as the fast-track visa for tech talent created by Canada's federal government.
"The world's geo-economic map is being redrawn around us…and the capital cities of this new economy will be the global centres of innovation," says Yung Wu, CEO of MaRS. "All this is happening at the same time as politics have become more turbulent."
Where once governments looked to build bridges to the world, now they are building walls. This trend gives Canada, which is doubling down on its commitment to multiculturalism and diversity, an edge on the world stage. In Toronto's case, the recent wave of tech applicants represents a growing slice of the giant population influx to the region—about 100,000 new residents annually. And, as Yung Wu notes, these newcomers inject an enormous amount of entrepreneurial energy into the region's economy and its labour force. "Immigrants don't come here with much and they must do whatever they can to overcome challenges. That's the essence of what it is to be an entrepreneur."
But despite the metrics, Canada is not a nation comfortable trumpeting its success. After wrapping his fireside chat with Al Gore in Toronto in October, Eric Schmidt, former executive chairman of Google and Alphabet Inc., remarked to a handful of tech executives that he was surprised at how all the speakers preceding him on stage talked not about the region's greatness but its need to continue to build on its momentum. This struck him as defensive. "Toronto has already arrived," he told a group backstage, referring to the massive projects in the works. "Remember," he said, referring to the Sidewalk Labs project, "we chose you."

With files from John Lorinc