According to BMO Capital Markets, the Greater Toronto Area's tech sector has grown by more than 50 per cent in five years, now employing more than 241,000 people — and it's nowhere near done. With a continued influx of talented workers, venture capital and corporate partners, it's set to continue its rapid growth.
Crucially, though, Canada's tech story isn't just about innovating quickly, it's about innovating well. Our edge is that we build new technologies not only to create jobs and economic prosperity, but to solve real problems for real people. For us, innovation isn't a buzzword. We make it mean something.
While Silicon Valley made its reputation on moving fast and breaking things, we prefer to grow fast and fix things. It's innovating with impact. Skeptical? Here are five Canadian ventures taking a run at solving some tough problems and improving quality of life for people in communities around the world.
Deep Genomics: Accelerating drug discovery with AI
Prescription costs are rising rapidly — and the traditional, time-consuming approach to creating new drugs is partly to blame. Deep Genomics is using AI to speed things up. Using an AI-powered platform that understands the molecular basis of genetic diseases, it analyzes candidate drugs and identifies those that are most promising for further development by researchers. Its system is currently throwing 69 billion molecules against one million cellular processes to create a shortlist of 1,000 potential drugs. These digital simulations run infinitely faster than real-world experiments, saving scientists vast amounts of time as they search for the therapeutic needles in molecular haystacks.
Hydrostor: Turning polluting industries into clean power
As cleaner forms of electricity generation come online, old coal-fired power stations are being shuttered across North America and Europe. Instead of seeing these facilities demolished, Toronto-based Hydrostor wants to give some of them a new lease on life as storage facilities for clean energy. Their innovative system pumps large volumes of air into small underground shafts during off-peak hours and then releases it to run turbines when energy demand goes up. Old coal power stations already have the infrastructure in place to connect to the grid, making them attractive locations for this technology. Hydrostor is also looking at reusing old mines and has signed a AUS$30-million deal in Australia to build a demonstration facility at a disused zinc mine near Adelaide. Figuring out sustainable energy storage — to fill in the gaps at times when wind or solar power aren't available — is the last barrier to creating a 100 per cent clean energy grid.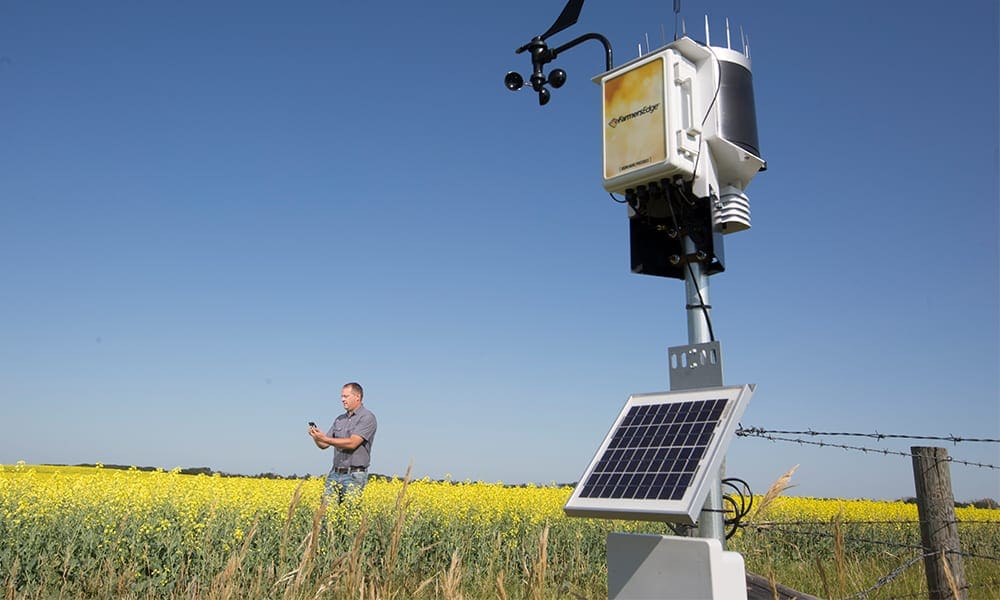 Farmers Edge: Using data to make farming more efficient and harvests more fruitful
Agriculture consumes vast amounts of resources. Globally, farming accounts for 70 percent of freshwater use and around three billion kilograms of pesticides are sprayed on crops each year. Farmers Edge helps farmers operate more efficiently with a powerful digital platform to manage their crops. The company deploys sensors in fields and combines the data they gather with information like weather patterns, soil samples and satellite imagery to give farmers incredibly precise information about the best times for crop spraying and exactly how much pesticide and fertilizer to use on each section of a field. The result: better crop yields, fewer resources used and more sustainable agriculture.
Maple: See a doctor without visiting a doctor
Instead of patients going to their doctor, Maple is bringing doctors to their patients — virtually, at least. The company provides online chat or video consultations with a real physician through a smartphone, tablet or computer. The doctor can remotely diagnose many non-emergency issues like the flu, skin conditions, minor eye and ear infections or sexual health concerns, and then send a digital prescription to the patient's pharmacy. For city-dwellers, the service is more convenient than a visit to a doctor's office, but in rural areas it can be a real lifeline, providing vital access to healthcare in areas with little or no medical staff. In PEI, for instance, the company has started a pilot project providing telemedicine coverage to Western Hospital, a small facility which has nurses and lab technicians on staff but no doctors. By enabling patients and nursing staff to consult with physicians in other hospitals via video, it avoids the need for sick people to travel long distances for care.
Miovision: Smarter intersections for safer driving
Any driver who has waited at a red light at a deserted intersection knows that traffic signals are hardly cutting-edge technology. In Detroit, Canadian company Miovision has created what it calls the world's smartest intersection, using advanced sensors and image-interpreting technology that can save time and prevent accidents. Its system uses AI to determine what is happening on the road and adjusts signals accordingly. When it recognizes an event like a collision or stalled vehicle, it alerts the city's traffic control centre and warns route-finding apps that drivers should avoid the area. It can even take preventive action when it predicts that disaster could strike, such as holding a green light longer if it detects that a cyclist might not clear the intersection in time. Smoothing traffic flows through intersections could also help stem rising commute times, which have now reached almost an hour each day for the average North American worker, and have been proven to have a negative impact on health and well-being.
To learn more about the impact MaRS and the companies in our network have, read our Impact Report.
Jon Dogterom is the new senior vice president of MaRS Venture Services. He takes on the role after nearly eight years as the head of MaRS Cleantech. Learn more about Jon here.