Five years after he began teaching high school, Ryan Burwell found himself facing the sort of career crunch that those in his profession rarely encounter.
It was not long after the 2008 financial crisis and the small Toronto independent school where he worked had to shut its doors.
He and a few teaching colleagues decided to launch a new school where they would offer a variety of creative experiences, including a fully equipped music studio run by students and teachers. Burwell was so keen that he took an apartment nearby so he could maximize the time he invested in the business.
Having embraced the entrepreneurial lifestyle, he promptly smacked into one of its defining experiences: "I made a classic entrepreneurial error," he says. "I thought it was too good to fail."
But fail it did; after two-and-a-half years, the new school also went bust.
Burwell, 35, concedes the closure was "a bitter moment," yet also a profoundly educational one. "It taught me the value of not falling in love with your ideas — they need to keep evolving as you learn what does and doesn't work."

These days, Burwell is running a MaRS "entrepreneurial thinking" program aimed at training teachers not only to act entrepreneurially, but also to develop pedagogical techniques that push students to generate ideas, form collaborative networks and take risks — in short, fostering the sorts of skills that are valuable in startups and corporations alike.
Launched in 2012 by Joeri van den Steenhoven, director of the MaRS Solutions Lab, along with a team of educators, the program has been road- tested at MaRS summer camps and with teachers at 13 Toronto District School Board sites. It includes online teaching materials and coaching supports, entrepreneurship boot camps and hackathons, and a two-week Summer Institute for teachers who want to hone their entrepreneurial-thinking skills by experimenting with new techniques. Teachers who attend the Summer Institute are invited back to join specialized training sessions with colleagues in the fall, with the goal of building a critical mass of innovation-minded educators within a given school.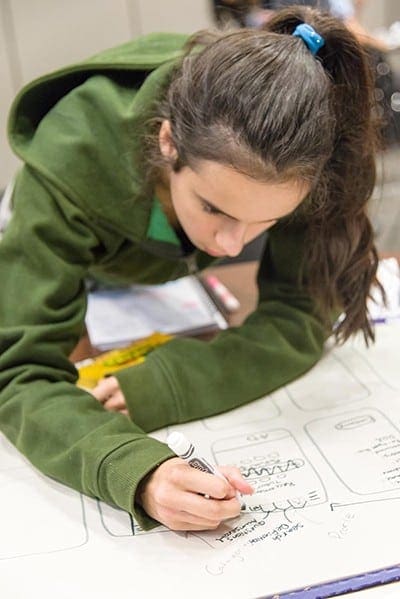 The next step is to scale the program, says van den Steenhoven. "I hope in future years that more schools will adopt it."
For many years, MaRS has offered entrepreneurship training to adults through a variety of training programs. But van den Steenhoven says the organization decided about four years ago to involve youth by developing an entrepreneurship camp geared to Grade 9 students.
The rationale was clear, says Burwell, who points to sobering studies that estimate almost two-thirds of today's elementary-school students will wind up working at jobs that don't yet exist. That dynamic is very much in evidence now: Startups and smaller firms provided almost all the jobs that have been created in Canada since the 2008 credit crisis, says Joe Wilson, who helped to develop the program and is now director of business development at Spongelab Interactive, a learning technology company based in Toronto.

The curriculum evolved through a lot of trial and error. "In entrepreneurial fashion, we tried a lot of things," recalls Wilson. "We got feedback from the kids and doubled down on the stuff that worked."
One critical element, he says, was a series of brainstorming activities that encouraged students to see themselves in one of three key positions found in most entrepreneurial startups: hackers, hustlers and designers. "The kids get that," Wilson observes. "You need someone who can get their hands dirty and take things apart. You need a kid who is good at talking. And you need someone with deep customer empathy who is thinking about the user experience."

The program's content is also based on insights Burwell gleaned while working with Twenty One Toys, a fleet-footed startup that makes wooden toys designed to teach social and emotional skills to both children and adults. He was hired for his education experience but soon realized how an entrepreneurial environment could help teachers.
Burwell acknowledges that some teachers are willing to try new ideas and draw on resources outside the school. But many more rely on well-practised techniques.
While they must satisfy the expectations of administrators and parents, "teachers have to recognize that they can do all those things, but not in the way it says in the binder," he explains. "A teacher who is entrepreneurial will try things that may not work, and involve students in the experiment."
<

But Burwell is also quick to point out that many of these principles are firmly rooted in the longstanding traditions of the Socratic approach and critical thinking. "I don't think we're re-inventing the wheel here."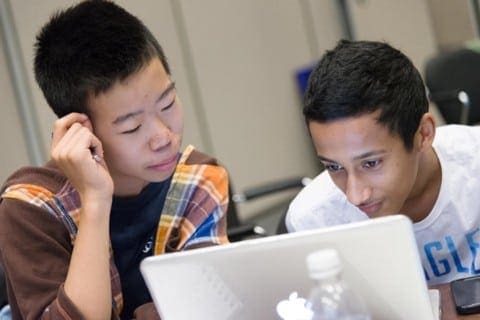 One of the program's activities — an exercise to show students what it means to have an effective brand — is nothing more, Burwell points out, than a promise to deliver a certain value. The students build brands for themselves based on some personal reflection of their own skills.
Participants then pitch themselves and create networks, which happens frequently with startups and, in the process, learn to "pivot" as they discover how their skill-sets intersect with those of their teammates. "We're asking students to treat collaboration as an active skill, not a passive one," says Burwell.
Adds Wilson: "We want kids to imagine themselves as problem-solvers … contributors or creators, not just consumers."
Teachers who participate in the program try the new ideas, and then reflect on what works. The resources are downloadable but everyone is encouraged to adapt them to suit their classrooms.
"We ask the teachers to act like entrepreneurs, too," Burwell says, but adds that it's critical that they — and ultimately their students — be persuaded this approach is relevant. "You need to tell them what value it can add," he says.
This past spring, Burwell had a chance to put all these ideas to the test in an intriguing experiment that also involved the Ontario Ministry of Education's Innovation, Creativity and Entrepreneurship program and the Toronto Catholic District School Board — which a few years ago developed The Next Lesson, a plan for delivering 21st-century education.
The lengthy document, Burwell observes, contains useful ideas, but remains firmly rooted in the 20th century. "We asked the question, 'What if students had a chance to look at the material and present their ideas?' We left it open to the students to answer the question, 'What's the problem with this document?'"
The kids' response was trenchant and thought-provoking. Burwell and team began to work with a select group of them on new teaching ideas. When done, the students pitched them to a panel of board administrators and educators that has pledged to support the best one.
Students teaching their teachers — the experiment seems as edgy and surprising and insightful as anything a startup might produce, which, Burwell allows, was precisely the point.