It takes more than one label to describe Toronto-based InteraXon Inc. That's because the eight-year-old startup fits not in a single category but rather in an intersection between wearable technology, application development, and health and wellness.
The prongs in that intersection are likely to multiply in the near future, as InteraXon applies its technology to other sectors that could include automotive, public safety and law enforcement.
"There are so many potential applications for our platform," says Derek Luke, CEO of InteraXon, which sells a brain-sensing headband, called Muse, that works with an app to help people meditate better. "For example, our technology can be embedded in a car to detect your eye movement and see if you're not paying attention or if you're falling asleep while driving. So if you're a transportation company with a fleet of trucks, you can see if one of your drivers is getting fatigued and [you] can swap in another driver."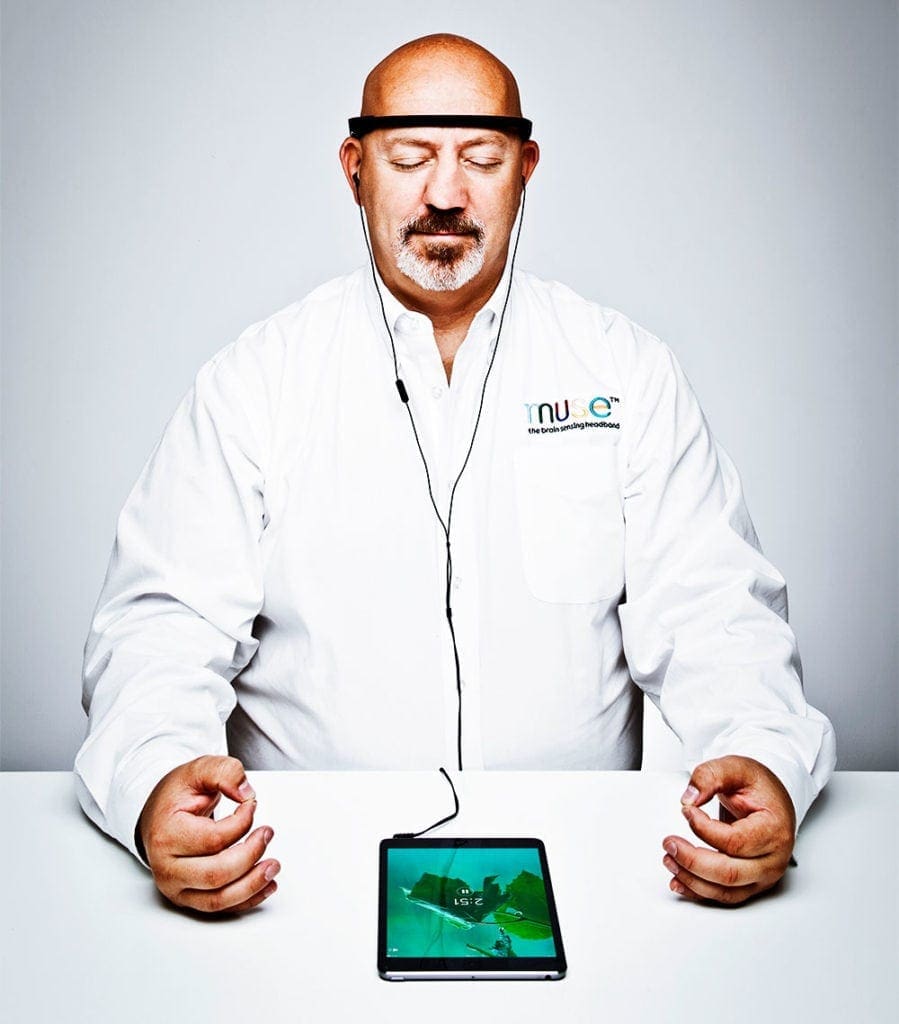 Zayna Khayat, senior advisor of health system innovation at MaRS, says these convergences and "weird pairings" are becoming increasingly common, especially in health care.
"More and more, we're seeing convergence, as software and digital technology bleed into traditional industries," says Ms. Khayat, who is also director of MaRS EXCITE, a program that connects health technology innovators with leading industry researchers.
"We're seeing blockchain and telecommunications companies moving into health care, and even sports companies like Under Armour, which has become a digital health company with its wearables and clothing that can monitor fitness."
This convergence in health and in other sectors is driven largely by digital technology, which has become more prevalent and accessible in recent years, notes Ms. Khayat. This has made it easier for startups and smaller businesses to gain a foothold in the hybrid spaces that have, for years, been the domain of larger companies.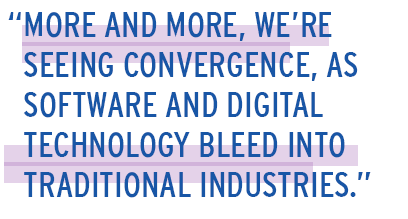 Many startups have taken digital technology and overlaid it onto a traditional space — from Law Scout, an online platform where businesses can hire lawyers, to SnapEDA, which accelerates electronics design by giving electronic engineers access to a library of ready-to-use patterns and schematics.
"The tools of digital technology have become so democratized [that] the InteraXons of the world can catch up really quickly," notes Ms. Khayat. "I think that's one of the reasons why we're now seeing this volume of technology integrators coming up, and they're smart, hungry, agile and extremely capital-efficient."

Gregory Levey, CEO and co-founder of Toronto-based Figure 1 Inc., says the intersections between digital technology and traditional industries provide fertile ground for innovative companies that can identify and address unmet user needs.
In health care, where Figure 1 is applying its technology, most systems are disparate. Computers and networks don't talk to each other, and institutions lack the platforms that could allow practitioners to share information with their peers in other hospitals or even other parts of the world.
Enter Figure 1, an app which allows doctors to consult with other doctors around the world by posting — with their patients' permission — an image and short summary of the case in question. The app even lets users "page" and solicit input from particular specialists.
"What we're doing is bringing social media and consumer technology to health care," says Mr. Levey. "We're bringing the world of Snapchat to a world that's been generally reluctant to embrace technology."
Mr. Levey says Figure 1 now has more than a million registered users, with up to 10,000 users active during any given time — proof that the company has tapped into a collective need, particularly among millennial health-care workers, who are used to sharing information with a quick swipe on their mobile devices.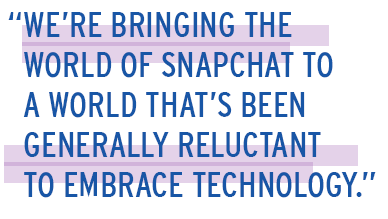 "There are the kids who grew up on Snapchat and Twitter, and when they get to the hospital they're told they have to fax something," says Mr. Levey.
Figure 1 sees potential convergences with other sectors. As its user base continues to grow, the company could expand into polling, research and data analytics. Figure 1 is also looking to layer machine learning — a type of artificial intelligence — over its product, notes Mr. Levey.
As today's hybrid startups continue to grow and explore convergence in other spaces, the challenge for some will be how to choose and stay focused on the best opportunities.
"We've created this very powerful platform that has so many potential applications," says Mr. Luke. "What we're doing now is just the tip of the iceberg."

Two startups working at the intersection of health and digital technology:
Deep Genomics: Combining AI and the study of genes in ways that will transform medicine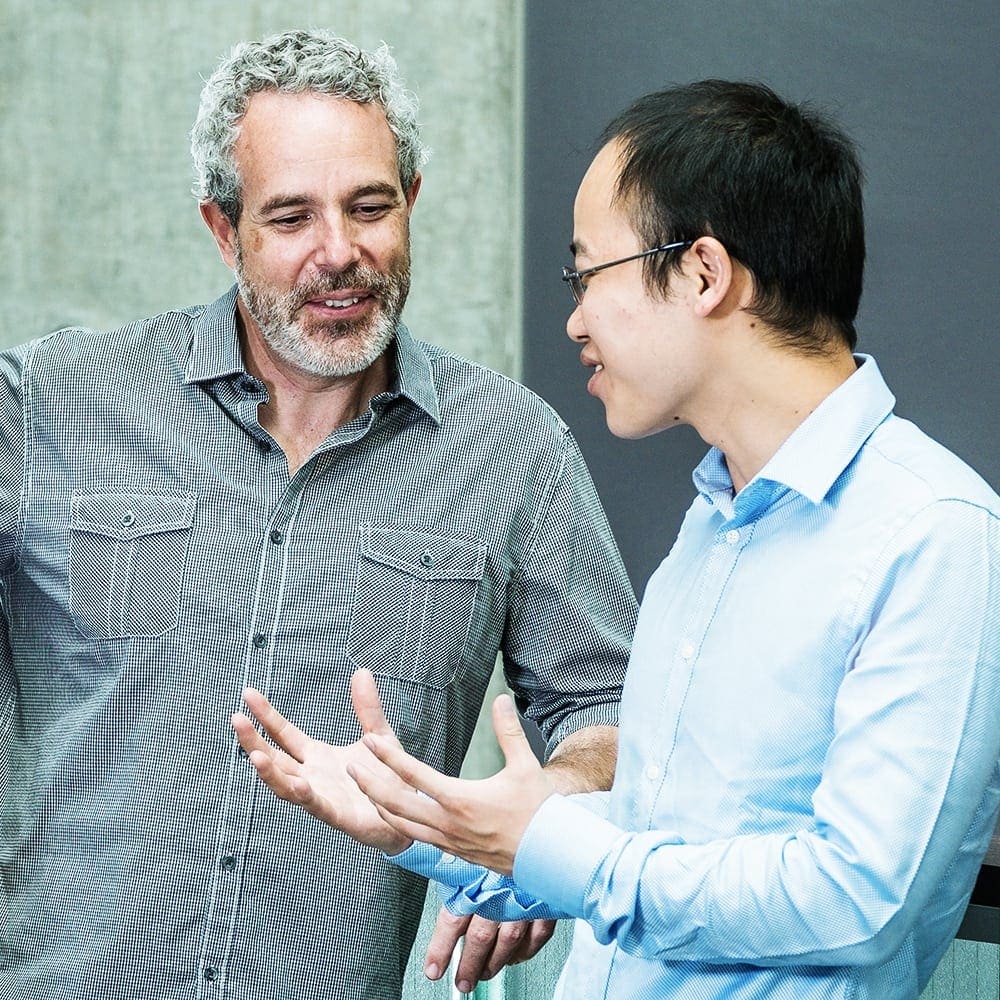 What do you get when you combine artificial intelligence with the study of genes and their functions? At Deep Genomics, this convergence of disciplines has led to next-generation technologies that can predict the development of disease and lead to highly-precise customized treatment.
"Anyone can combine deep learning with genomics," notes Brendan Frey, president and CEO of Deep Genomics, a Toronto-based startup. "What's different about our approach is that, unlike others that are really just focused on collecting data, we're using artificial intelligence to make sense of that data in a way that's reliable, scalable and trustworthy."
The industry standard, says Mr. Frey, lines up the genomes of people who share a disease and look for mutation patterns. By comparison, Deep Genomics' technology looks inside cells and maps out what will happen when DNA is altered by genetic variations introduced naturally or through medical therapies.
"There are a number of possible ways your genetics can lead to problems," Mr. Frey explains. "That's why we need AI to search through all these possible ways in which things can go wrong."
Deep Genomics is currently testing its technology as part of two research projects and is lining up a third project by this fall.
"Imagine a doctor prescribing you treatment based on your unique genetics," says Mr. Frey. "That's what we're working towards — a technology platform that can really transform medicine."

League: The Founder of Kobo creates new mobile platform that gives employees Uber-like access to a network of health and wellness providers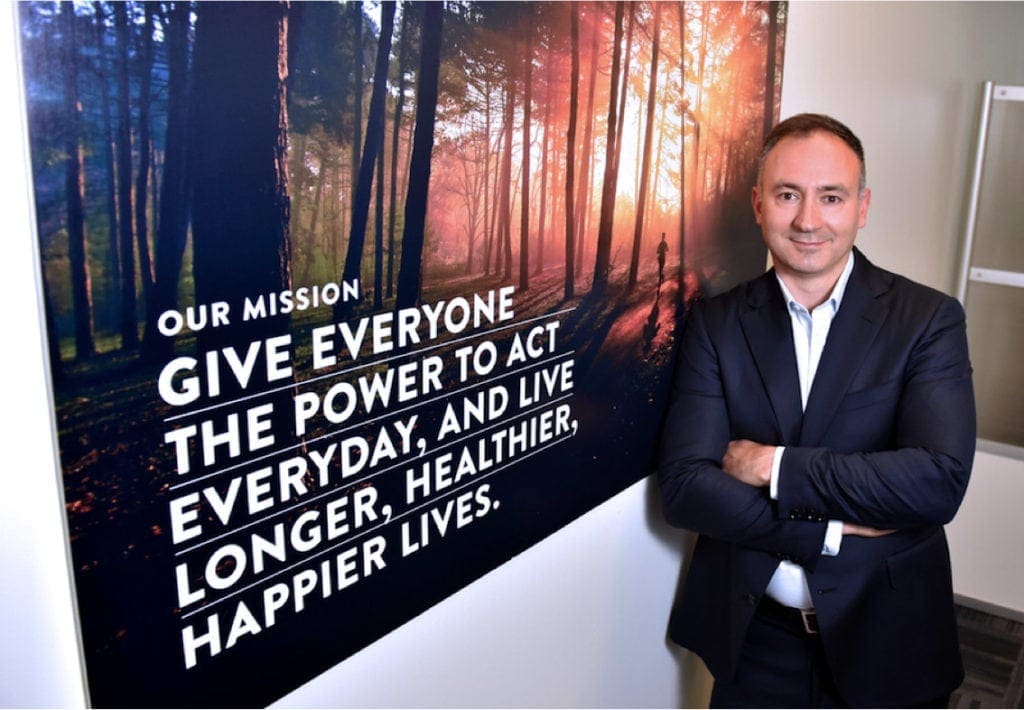 Getting a ride these days is as easy as swiping to Uber. So why is it still so hard for Canadians to use and pay for the health and wellness services provided by their employers?
Mike Serbinis asked himself this question during a talk about the future of medicine, which highlighted cutting-edge innovations such as personalized, DNA-based therapies.
"As I was hearing about all these futuristic Star Trek-like innovations, I thought: I can't even get an appointment at certain clinics and when I finally do, I need to spend so much time filling out all these forms," recalls Mr. Serbinis, a Toronto entrepreneur well known for building two highly successful companies: Kobo and DocSpace.
And that was how Mr. Serbinis's newest business venture began. In June 2015, he launched League Inc., a digital company whose mobile platform gives employees Uber-like access to a network of health and wellness providers.
Need a chiropractor, osteopath or Pilates coach? Just swipe and tap. No forms to fill out and no credit card needed to cover deductibles. With the League app, users get a digital wallet loaded with a preset amount provided through their employer-sponsored health plan.
Using League translates into convenience and cost savings for both employees and employers, according to Mr. Serbinis. To make this happen, he and his team at League needed to work across multiple sectors, from health care and insurance to mobile applications and financial technology.
"We started out with this idea that we could transform the consumer health-care experience by empowering people to be healthy everyday," says Mr. Serbinis. "I think we've accomplished this with League."


This article appears in our special report on Urban Innovation, which highlights how downtown density is driving the new economy. This report examines all the elements that fuel innovation at MaRS, showing how our building and location, corporate and academic partners, and the tenants and the startups in our network all contribute to getting high-impact solutions to market faster, both in Canada and beyond.