The world is on the verge of a cleantech revolution. While international jurisdictions grapple with challenges of adoption, Canadian startups charge ahead, building cutting-edge technologies while earning unprecedented profits. Roads made from recycled plastic, carbon-neutral coal and so much more—these innovations are serving a more sustainable, prosperous world.
Carbon-neutral coal? It's real
As a graduate engineering student in Toronto in 2010, Andrew White had cleantech on the brain. In particular, he wanted to develop a product to filter out hydrogen sulfide from the natural gas generated in biogas plants and other similar operations, and in the process, produce purer methane that could be burnt to generate electricity or upgraded and added to the natural gas grid. As an added bonus, he thought, the residue could be used as a fertilizer.
To develop it, he created Char Technologies Ltd., and called his product SulfaChar.
"Finding lead users who trusted the data and technology enough was a bigger challenge than any of the funding," says White. Char cleared that hurdle in 2013, when it secured its first pilot project at a Grober Group farm near Cambridge, Ont. Once companies started using SulfaChar, private money was much easier to get. "Paying customers are the best market validation you can ask for."
White's ambitions went beyond one product, however. While developing SulfaChar, he decided to tackle an even bigger cleantech challenge—greenhouse gas emissions from coal. Using the same processing equipment, he created a carbon-neutral coal replacement, called CleanFyre, which heavy industries can use in their blast furnaces without retrofitting or loss of performance. This year, steel producer ArcelorMittal Dofasco agreed to be part of a 20-tonne trial.
To boost Char's capacity, White took the company public in 2016. Earlier this year, using cash and shares, it bought Altech Group, a local firm with technology that complements SulfaChar, and engineering and consulting expertise in clean air and clean water. Toronto-based Char, which White started from his parents' kitchen table, now has customers in Ontario, the U.S., China, Chile and Brazil. It also has 18 employees.
And while the political will to tackle environment issues ebbs and flows, White is optimistic about Char's prospects. "Private industries are pursuing greenhouse gas reduction with or without policy," he says. "Cleantech is definitely a growth area."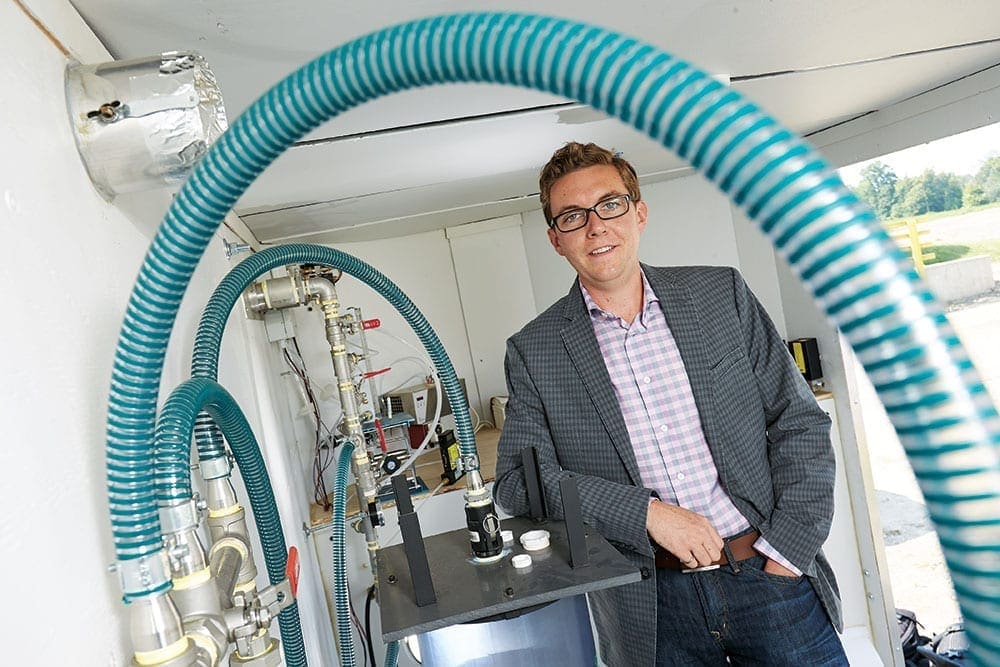 Your trash, their treasure
Plastic is indispensable, filling the convenience gap, so people can continue buying and consuming without pause. But it's also indestructible, clogging our oceans, leaching into drinking water and inundating landfills.
Many Canadians think they're in the clear because they're dutifully filling their blue bins. However, according to Environment and Climate Change Canada, less than 11 per cent of waste plastic in this country is actually recycled. The rest becomes garbage. To make matters worse, most recycled plastic is "downcycled"—converted into a less valuable product—which makes expensive recycling processes a tough economic proposition.
GreenMantra Technologies, based in Brantford, Ont., turns this logic on its head by "upcycling" plastic.
Using breakthrough technology that originated in India and was perfected in a lab at MaRS, the company converts four types of post-consumer and post-industrial recycled plastics into valuable waxes, polymer additives and specialty chemicals. Sold commercially under the Ceranovus brand name, these products are worth far more in industrial applications than the original material.
"Every entrepreneur likes to claim that what they are doing is unique, but I think in our case, it's actually true," says Jodie Morgan, a specialty chemicals executive for over 30 years who became GreenMantra's CEO in January 2018.
Commercial production began in 2016 and GreenMantra's products are already used in a range of applications: asphalt roofing and paving, polymer compounding, plastic and rubber processing, ink, foam insulation and plastic composites. The company exports the majority of its output, but Morgan is also working to expand its domestic market.
Much of the company's technology, which generates no waste, has been developed by lead research scientist Benjamin Scott, who received the Young Leader Award from the Canadian Plastics Industry Association in October. Morgan considers it paradigm-breaking: "We have low capital [needs], a small footprint per unit of output and an environmentally friendly, chemically elegant process."