Whether it's students, frontline employees or corporate leaders, people today demand (and deserve) an engaging environment where they can thrive. Because when people are engaged—when they're thrilled to learn and develop on their own—performance increases and potential is realized. Here are three startups that have mastered the enterprise game by helping clients build winning cultures.
Game play for serious learners
When it comes to learning, the more control kids have, the better they respond.
That's the core tenet behind Burlington, Ont.-based startup Prodigy, which provides free curriculum-aligned math games for kids, allowing for customization, gamification and gradual learning to improve confidence and skill-building.
Co-founders and co-CEOs Alex Peters and Rohan Mahimker met while studying Mechatronics Engineering at the University of Waterloo. The pair launched the company in 2011, based on a school project. "I don't think that would have happened at another university," says Peters.
Today, the program has over 7.5 million monthly active students around the world. And they're growing.
Prodigy will soon open their first international office in Bangalore, India, to focus further on mobile development.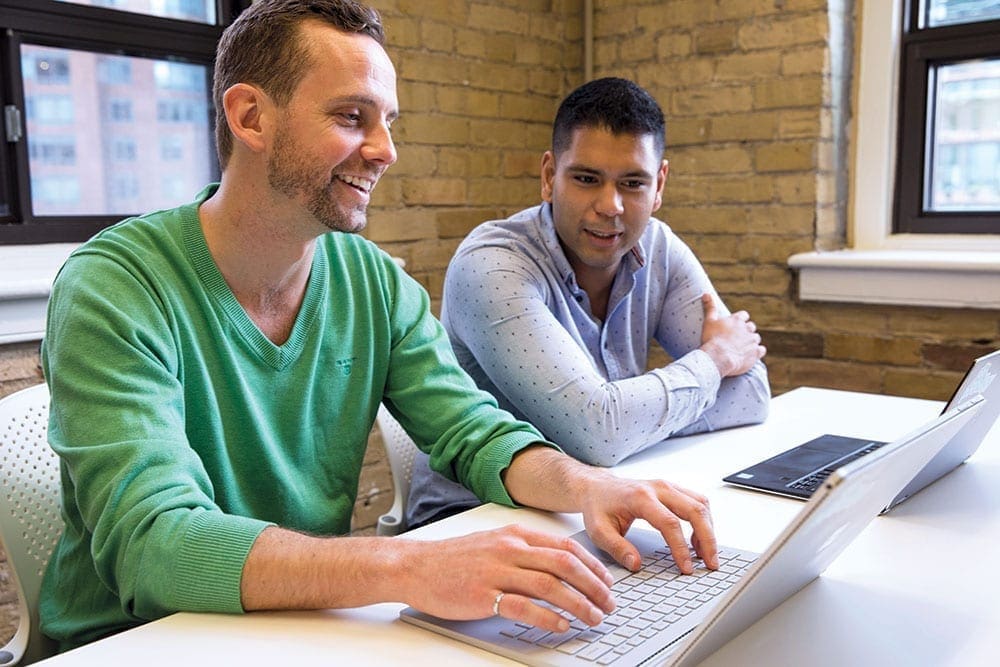 Helping employees up their game
As the fight for talent intensifies, it's not just salary and benefits that attract employees. Companies must also find better ways to engage, empower, train, manage and retain their personnel. For one group of service providers, the solution lies in tools that focus on "microlearning"—an approach that marries brain science, mobile technology and gamification.
Nudge Rewards is an aptly named Toronto company that blends mobile technology and behavioural psychology to help clients in the retail and hospitality sectors reach employees through their mobile devices. Instead of using static materials and traditional methods for training, education and day-to-day interaction, managers and team leaders connect with staff through an app, using pictures, short videos and interactive questionnaires.
Similarly, clients of Axonify Inc. can use its platform to create "snack-sized" multimedia learning modules, three-to-five minutes in length, to educate and test their employees on things like safety knowledge, compliance awareness, and product and sales knowledge. Axonify CEO Carol Leaman says her firm's technology "makes the learning experience a lot of fun and drives voluntary participation."
Both companies use game theory to increase involvement, with rewards and incentives for those who participate and achieve goals. Jordan Ekers, Nudge's chief customer officer and co-founder, says his company's software achieves over 70 per cent employee engagement and 60 per cent adoption on programs, well above traditional forms of employer communications, such as newsletters, Intranets, email and manager briefings.
"Regardless of generation, employees will happily engage if it is simplifying their lives," says Ekers.