While traditional manufacturing has always been a pillar of Canada's economy, advanced manufacturing stands to take our country to new heights. Startups are developing new technologies—circuit board printers, autonomous robots, even materials that can absorb and enhance light—only recently thought to be the stuff of science fiction. The machines are, indeed, rising. And they're bringing us all along for the ride.
Shorter circuits
Necessity is often the mother of invention. The founders of Voltera were so fed up with the weeks-long wait and hassle associated with getting a custom circuit board printed, they invented a way to do it on a desktop in minutes.
Today Kitchener-based Voltera is among the firms on the Canadian Business Startup 50 list of Canada's top new ventures. The company, founded in 2013 by four University of Waterloo mechatronics and nanotechnology engineering students—Alroy Almeida, Katarina Ilić, James Pickard and Jesus Zozaya—has grown to 16 employees and offers a suite of desktop products that helps academics, researchers, entrepreneurs and hobbyists make prototype circuit boards.
In 2015, the company's flagship product, the V-One circuit board printer, won the $45,000 James Dyson Award, an international student design competition, and the $50,000 TechCrunch Hardware Battlefield competition. The V-One uses paste extrusion technology to dispense silver nanoparticle conductive ink and can also dispense solder paste, fundamentally simplifying the process of creating circuit boards.
"[The V-One] eliminates the frustrations all hardware developers have faced with tradition- al fabrication processes and can cut development time from months to days," Almeida, the company's CEO, told TechCrunch.
The company remains headquartered in Kitchener because of its unique support system.
"Kitchener-Waterloo is a microcosm of the Canadian mentality that success for one of us is success for all," said Almeida. "Its tech sector and culture as a whole have been flourishing over the last few years. That being said, it has many years of growth ahead and we want Voltera to be part of that story."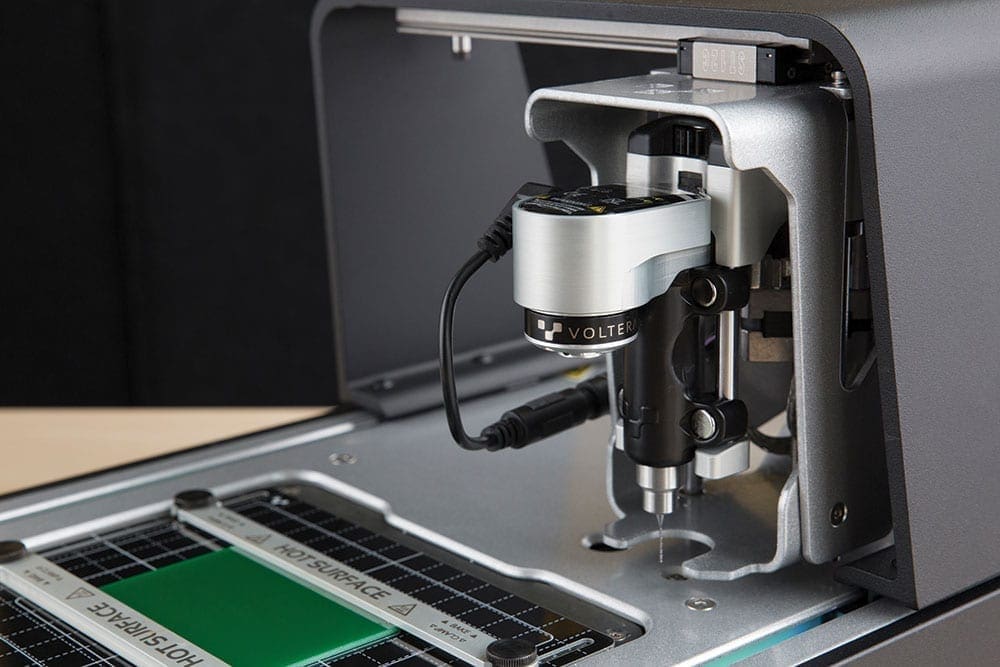 Robots on a roll
While studying engineering at the University of Waterloo, four friends tinkered in a basement with what would ultimately become a self-driving vehicle. With that success, an idea—and a company—were born. Nine years later, Clearpath Robotics Inc. is a leading maker of research robots and unmanned vehicles for industrial applications.
With the International Federation of Robotics projecting that global robotic shipments will reach $68 billion by 2025, there's no question it's a rapidly growing field, and Clearpath has developed specializations in two particularly high-growth areas.
First off, the company began creating research robots for academic and R&D purposes: rugged, customizable, generic base platforms that can be used to test software and algorithms. When combined with third-party components, they can also be used in mining, surveying, mapping and industrial automation. Clearpath's research robots are now found in labs in 40 countries.
In 2016, the company launched a division for self-driving vehicles, creating purpose-built platforms used in factories, warehouses, logistics centres and transportation hubs. Their distinguishing feature is their flexibility; they require no beacons, tracks or barcodes. Christopher Bogdon, Clearpath's marketing specialist, sees no limit to this market: "Factory automation that boosts productivity and requires no fixed infrastructure is just huge."
William Melek says Clearpath's founders have "the right formula figured out." As director of mechatronics at the University of Waterloo, he knew them as students: "They have a true understanding of the marketplace, technical expertise, very competent management" and a reputation for quality "that speaks for itself."

"Crazy science" creates material marvels
When your company can create materials with properties not found in nature, it helps to have a limitless imagination.
Just ask George Palikaras. A few years ago, the founder and CEO of Metamaterial Technologies Inc. (MTI)—a Dartmouth, Nova Scotia manufacturer of "nanostructured" smart optical materials that can block, bend and absorb light—heard about a new hazard for airlines. Commercial pilots were being temporarily blinded by high-powered lasers being aimed at them during night landings.
He had an idea: create a transparent filter that can be applied to cockpit windows to deflect lasers and render them harmless. "There were nearly 7,000 of these attacks last year in the U.S. alone," he says.
That idea is now a product called metaAir. Made of customized polymers engineered at a sub-microscopic, near-molecular level, it was named Best New Commercial Product at the 2018 Annual Laureate Awards honouring extraordinary achievements in aerospace and is now being developed by MTI in a partnership with Airbus, the French aircraft manufacturer. Palikaras foresees a market for the technology worth $300 million in five years.
"We want to solve big problems and use crazy science to create life-improving applications," explains Palikaras. The turning point in MTI's eight-year evolution was its invention of a faster, less expensive method to make these nanostructured synthetic composites with other-worldly properties, known as metamaterials. "What previously took 24 hours to produce could now be done in 20 minutes," he says.
The new method, called "rolling mask" lithography, dramatically expanded MTI's commercial scope. In addition to metaAir, it also has pioneered applications for defogging and deicing windows or goggles, reducing the thermal management cost of LED lighting, and boosting solar cell efficiency by eliminating the need to track the sun, an advance that led to a $5.6-million agreement with Lockheed Martin to develop solar materials for use on aircraft.
Although MTI currently has only 37 employees, it is intent on growing. To date the company has raised $17.9 million, some of which it spent on two recent acquisitions boosting its manufacturing and wireless capabilities. "Ultimately we want to grow a Canadian business into a global champion," says Palikaras.