The past two years have seen some big developments in MaRS Cleantech Venture Services' activities.
In 2013, MaRS Cleantech venture clients raised $112 million in capital and earned $83 million in revenue. Jane Kearns and Jen Stoneburgh have worked tirelessly with our volunteer advisors and partners to help these ventures in their efforts. And Lance Laking has pitched in to help serve cleantech ventures from a satellite desk in Ottawa, Ontario.
The ventures, in turn, have worked closely with MaRS Cleantech and our private- and public-sector partners to really step up Ontario's efforts in cleantech innovation.
Together, we have set out to solve some daunting cleantech challenges, including:
mobilizing early-stage capital in the cleantech sector;
selling innovative solutions into conservative, infrastructure-heavy cleantech systems around the world; and
demonstrating leadership and talent to ensure that MaRS Cleantech is the first stop as other jurisdictions look for suppliers.
Mobilizing early-stage capital for cleantech innovators
Two years ago, the MaRS Cleantech Venture Services group partnered with ArcTern Ventures (formerly MaRS Cleantech Fund) to help alleviate the challenge of finding early-stage capital in the cleantech sector. ArcTern is a $30-million private capital fund that makes investments in some of Canada's leading cleantech ventures. Thanks to the dynamic duo of Tom Rand and Murray McCaig, ArcTern has become the most active, early-stage, privately backed cleantech fund and it has already invested in eight of our future cleantech leaders, giving them the capital they need to advance to the next stage of their development.
Opening global markets for energy innovators
Earlier this year we also formally announced another pillar in our strategy: a new public-private partnership called the Advanced Energy Centre, which will exploit Ontario's early lead in energy technology and help our energy innovators to sell their solutions in international markets. Our core belief is that sustainable, long-term job creation will result from exporting new, innovative products that transform the global energy market. The Advanced Energy Centre brings together the best of the best from the public and private sectors of our energy industry, uniting the Ontario Ministry of Energy and the Ministry of Economic Development, Employment and Infrastructure, with Capgemini and Siemens as initial founding partners.
Demonstrating leadership and top talent in the cleantech sector
As with any new initiative, the vision of the Advanced Energy Centre is only as strong as the people executing it. As any of our venture clients know, finding top talent is a challenge, but we've managed to bring in some of the best.
Putting the pieces in place never would have happened without these individuals from our Cleantech Venture Services team, ArcTern Ventures and the Advanced Energy Centre working together under one roof with a common mandate of economic growth and sustainable job creation in the cleantech sector. The team amazes me in its ability to focus on that long-term mandate while also ensuring that we meet our stakeholders' specific and immediate needs. The team members are individual masters in what they do and, when combined, they function like a finely tuned orchestra creating a roof-raising sound.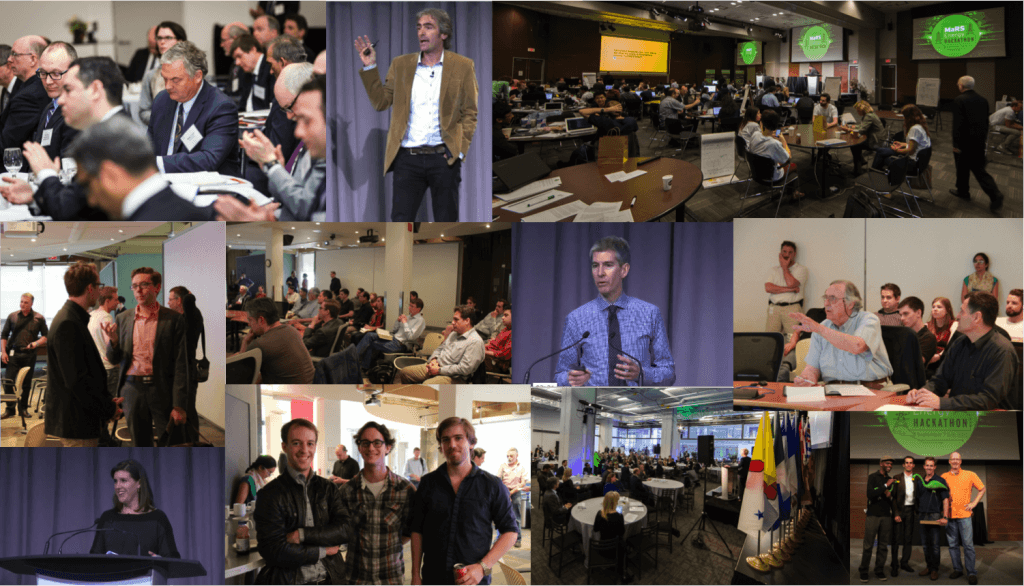 And announcing the new leader of the Advanced Energy Centre…
Just as a strong band never has a shortage of great musicians wanting to join in, today we are happy to add even more harmony to the team with the addition of Ron Dizy as the managing director of the Advanced Energy Centre. Ron is like one of those diverse musicians who can pick up several different instruments. He contributes the experience and skills that he developed as a venture capitalist, entrepreneur and CEO to the various parts of our orchestra, helping us continue to achieve bigger and better things than we could achieve as solo artists or standalone entities. For more information about Ron's appointment, read the press release.
With the addition of Ron, this brings the number of experienced, successful entrepreneurs on our team to six, making it all the easier for us to offer practical, useful guidance to cleantech innovators.
We have set our sights on solving the biggest challenges in the cleantech sector and, to do so, we have pulled together an A Team of core staff and have partnered with fantastic individuals in the public and private sectors. With the ongoing support of Ontario's energy stakeholders, I am confident that together we will lead and help create a healthier and economically stronger Canada. I could never find a better group of people to help execute this vision.